Scholars, Formerly Incarcerated Citizens Discuss Reforming Prison Labor
Posted in Events | Tagged ACLU, Arthur Rizer, Ban the Box, Chandra Bozelko, David Fathi, Events, Marc Howard, Mass Incarceration, Patrick Dixon, Prison Industrial Complex, Prison Labor, Prisons Justice Initiative, R Street Initiative, Returning Citizens, Sekwan Merritt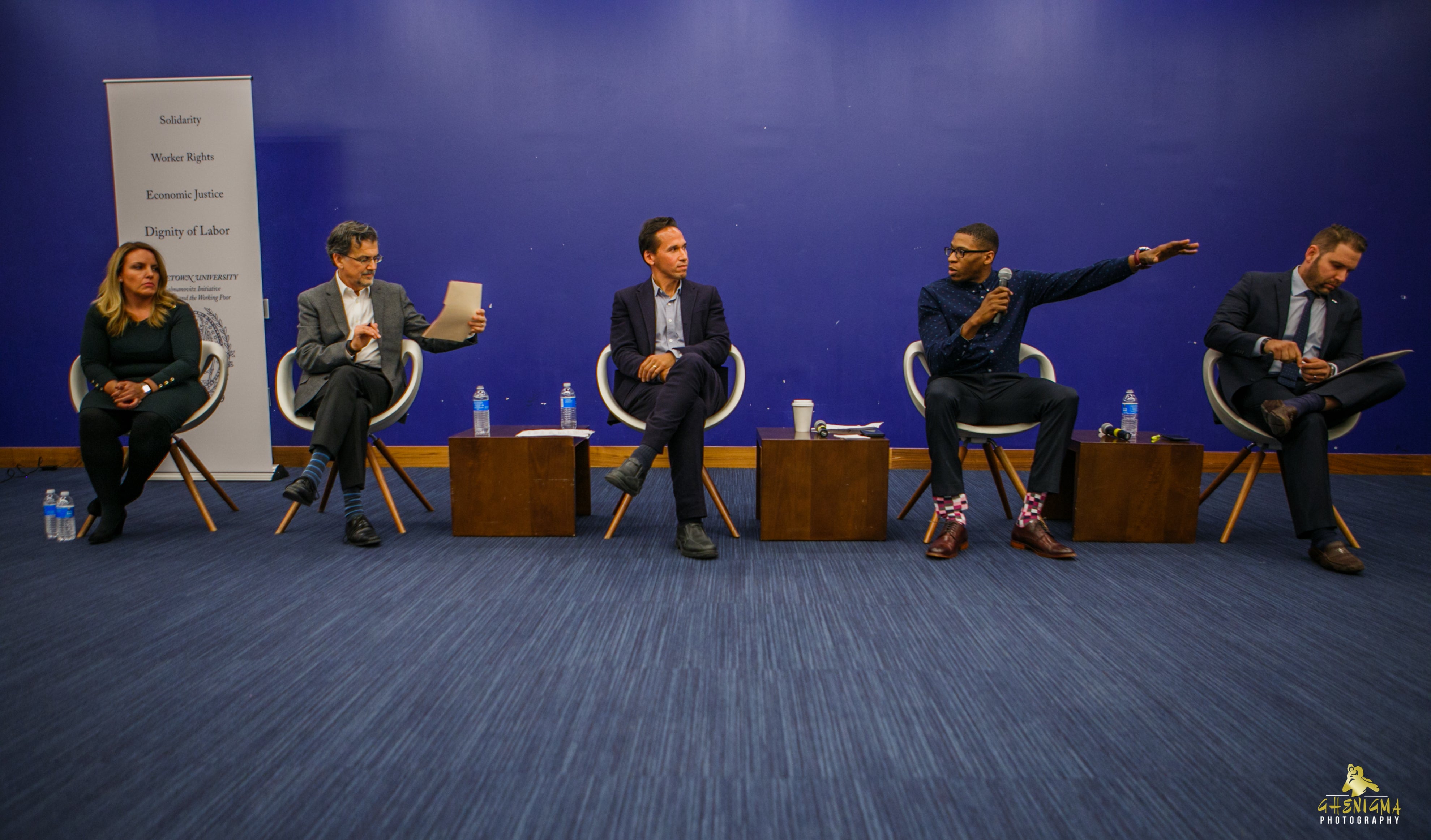 On Tuesday, November 28, the Kalmanovitz Initiative and Georgetown's Prisons and Justice Initiative co-hosted a panel discussion entitled Prison Labor: Reform or Abolish?
---
Chaired by Marc Howard, Professor of Government and Law, this timely gathering touched upon an enormous segment of the workforce whom are largely hidden from public view. Besides cleaning, cooking, and doing the laundry within prisons themselves, many are leased out to state owned or private companies where they may be manufacturing a highly diverse array of products including clothing, processed foods, office supplies, license plates, and even American flags, often for less than $2 per day. During the recent California wildfires, as many as forty percent of the firefighters that were drafted in to beat back the flames would have listed a prison as their present residence.
A diverse panel represented a range of different perspectives. Chandra Bozelko served six years at York Correctional Institute in Connecticut and is now an award-winning journalist whose work has appeared in the Wall Street Journal, Washington Post, Guardian, and National Review. She now blogs about her experiences at Prison Diaries. When she was first directed to wake up at 3.30am and work in the kitchen at York she considered refusing, but risked being placed in solitary confinement and losing access to extracurricular activities if she did so. Over time she found some value in this role though, and saw that it created an established working routine for some who had never experienced one before. "It humbled me and it taught me and many other inmates how to work hard though."
Like Bozelko, fellow-panelist Sekwan Merritt found that the minimal wages provided in prison made it very difficult to afford human necessities though. Merritt was sentenced in 2012 to 25 years for possession with intent to distribute of 2.4 grams of heroin. He was successful in appealing his case and was recently released from Jessup Correctional Institution in Maryland. While there he learned the skills required to construct furniture for Maryland Correctional Enterprises, the state prison system's profitable manufacturing arm. "In prison, we wake up early and bust our tail for 30 cents an hour. We need to do it because that's the only way we can afford access to basic goods like deodorant in commissary. At the same time, the companies that employ us as inmates are making billions in profit," he said. Merritt would arise at 4am and eat dinner at 4pm, meaning that he was dependent upon his earnings to purchase any supplementary food for the intervening twelve-hour period. He now works as an electrician.
David Fathi is the Director of the National Prison Program at the ACLU and has for a long time been one of the strongest legal and moral voices for improving conditions and inmate's rights in American prisons. He sees the present conditions facing prisoners as part of the historical legacy of exploiting African-American workers that stretches back before the Civil War. Many rights that protect American workers are stripped from the incarcerated. "They are not covered by minimum wage laws, worker's compensation, health and safety protections, or even disability laws," he pointed out, warning, "there is great danger of exploitation." There are many internationally agreed upon standards that could be applied, Fathi said. "We can look to guidance from the United Nations, which adopted the Nelson Mandela Principles in 2015. The basic principle is that prisoners should have access to the same protections as other workers."
Arthur Rizer is the National Security and Justice Policy Director at the R Street Initiative, a free-market think tank here in Washington, DC. Prior to this he was a decorated army veteran, a former police officer and federal prosecutor, and he has also taught law at West Virginia University and Georgetown. "There is no doubt that people of color are mistreated by our criminal justice system," he said. Rizer went on to argue that, "part of our social compact involves punishment for crimes. If people will be incarcerated, labor can greatly reduce recidivism and provide valuable vocational training for inmates." Rizer stressed his belief that wages were not necessarily the fundamental problem, but that the monopoly enterprises, like telephone operators that exist within prisons for example, often take advantage of inmates. The legal barriers that exist for returning citizens compound this inequity. "It doesn't offend me that the inmates fighting fires in California only made $2 a day," he said. "What offends me is that these individuals are not able to find jobs after their sentence with the skills they've acquired," he continued, referring to the fact that many fire services exclude applicants with criminal records. "They're being locked out from the American dream," Rizer concluded.