Worker Organizing Roundtable features Lane Windham's Knocking on Labor's Door
Posted in Events Our Staff Women Innovating Labor Leadership | Tagged 1970s, AFSCME, Elissa McBride, Erica Smiley, Jane Fonda, Jobs with Justice, Joseph A. McCartin, Knocking on Labor's Door, Lane Windham, Organizing, WILL Empower, Women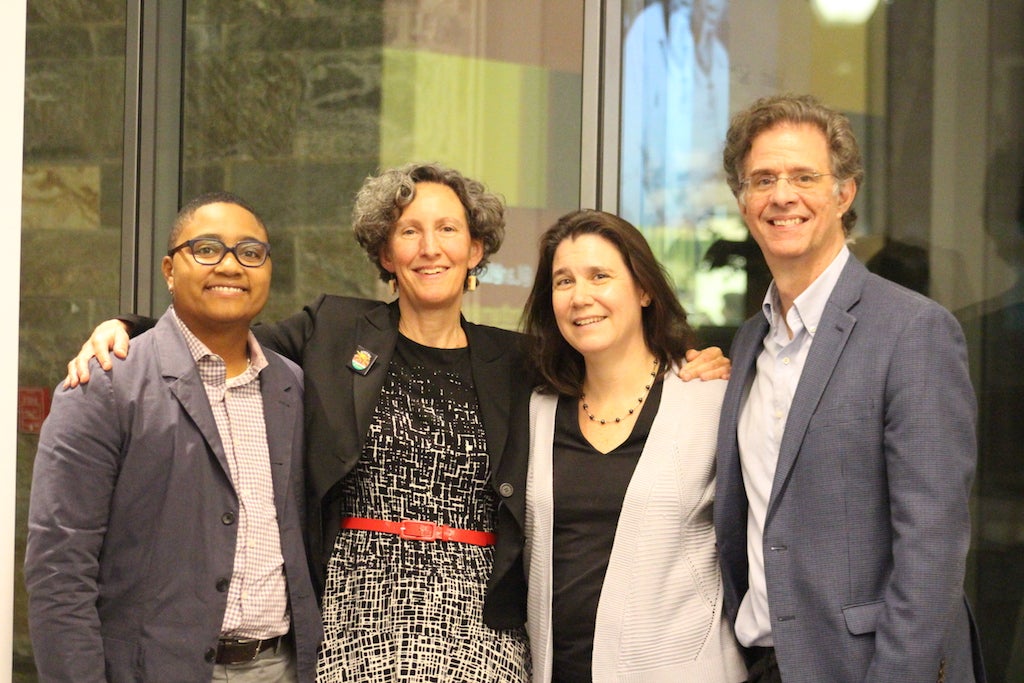 How can working people build power today when organizing a union is so difficult? That question was at the heart of a KI roundtable discussion on strategic twenty-first century worker organizing with AFSCME Secretary-Treasurer Elissa McBride, Jobs with Justice Organizing Director Erica Smiley, and KI Associate Director Lane Windham. The springboard for the panel discussion was Windham's new book, Knocking on Labor's Door: Union Organizing in the 1970s and the Roots of a New Economic Divide, just released from UNC Press on Labor Day.
Windham told the group of about forty attendees how the book grew out of her experience as a union organizer among clothing and textile workers in the South; she organized alongside McBride in the 1990s. Her efforts to uncover how union organizing became so arduous took her to the pivotal decade of the 1970s, when women and people of color powered a previously unseen wave of union organizing. Employers ramped up their resistance to organizing in this decade and took advantage of weak labor law, thus turning back workers' surge of unionizing efforts and helping to hasten the nation's economic divide.
McBride drew a line from private-sector employers' fierce resistance to workers' organizing to current right-wing efforts to roll back public sector union membership levels, efforts that KI Director Joseph McCartin posits may mark a watershed moment for the labor movement. Using a soccer analogy, Smiley urged today's unions to work as a team with "alt-labor" organizations that also focus on building workplace power. Smiley pointed out that Knocking on Labor's Door details an example of how women office workers built such a tandem model through the 9to5 association in the 1970s. During a recent KI forum, Jane Fonda credited 9to5 as the inspiration for her blockbuster 1980 movie, Nine to Five.
McCartin's advance praise for the book captures its significance:
"Lane Windham takes a fresh look at a phenomenon that many of us thought we understood – – the decline of U.S. trade unionism. With meticulous research and graceful prose, she challenges our outworn perceptions. Her narrative of labor's recent past deepens our understanding of its present challenges and helps us imagine its future. Rarely have I felt as great an urge to stand up and cheer when reading a work of history as I did while reading this one."
You can see glimpses of the event in this tweet thread.