Bargain for the Common Good: Lessons from LA and Beyond
Posted in Bargaining for the Common Good Events | Tagged AFSCME, AFT, Bargaining for the Common Good, BCG, CIWO, Fix LA, Fix Los Angels, Los Angeles, NEA, Rutgers, SEIU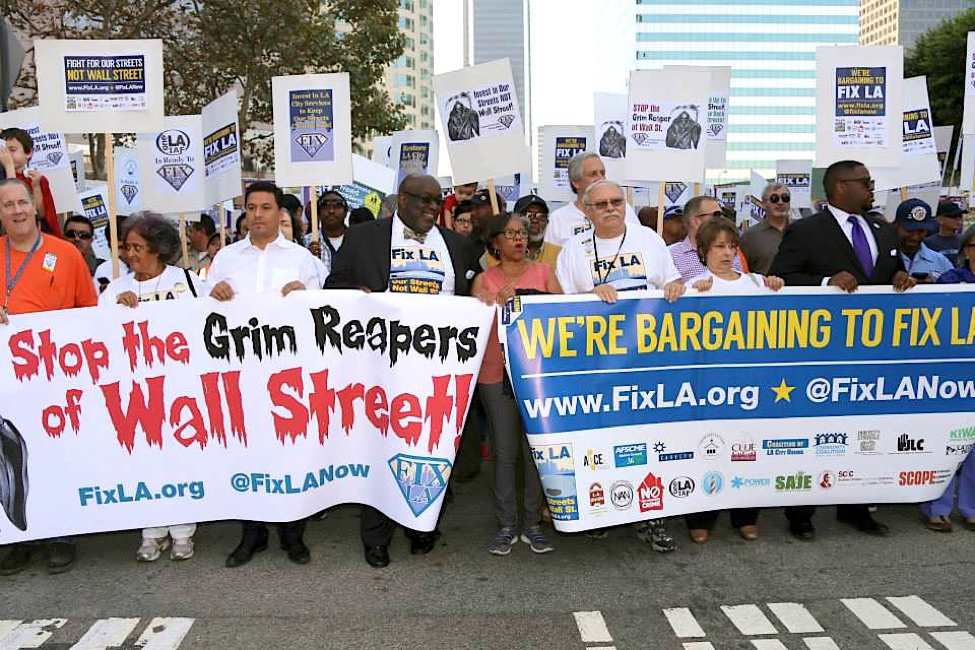 —
The Kalmanovitz Initiative and Rutgers SMLR Center for Innovation in Worker Organization, with support from AFSCME, AFT, NEA, SEIU, Center for Popular Democracy, Jobs with Justice, National People's Action, and PICO National Network, invite you to an event highlighting the success of Bargaining for the Common Good (new window) in Los Angeles and beyond.
Find out how the Fix LA Coalition united labor and community groups, broke the mold on collective bargaining, and WON BIG – and how the Bargaining for the Common Good strategy used in LA is helping workers and their allies around the country roll back austerity, win new revenues for public services, and build power together.
.
The event will also mark the release of the Kalmanovitz Initiative's case study detailing the many innovations, challenges, and achievements of the Fix LA campaign.
Bargaining for the Common Good:
Lessons from Los Angeles and Beyond

.
Wednesday, July 13, 2016
2:30 PM – 5:00 PM
Reception to follow


.



Georgetown University School of Continuing Studies
640 Massachusetts Ave NW, Washington D.C.