WCP: A Date in a Diary
Posted in Visiting Scholars | Tagged Geoff Revell, John Russo, Labor Leaders, London, Sherry Linkon, Tim Strangleman, WCP, Working-Class Perspectives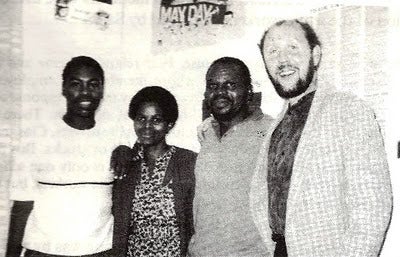 The labor movement depends on our collective strength and solidarity, but it is built on the backs of giants willing to stand up for these principles. Geoff Revell, a long-time labor leader from London who passed away recently, was one of these giants. In this week's Working-Class Perspective, Tim Strangleman remembers the man who first encouraged him to get involved in his union.
While Geoff was gifted in many ways, he was not unique in the workplace culture from which he sprang. Contemporary accounts of working class identity, both in the UK and the USA, sometimes treat it as damaged, a position that any rational person should aim to leave as soon as they could. But Geoff and people like him made being working class attractive, something that many would want to be.  It was a badge of achievement not shame. I know this was true for me. I spent just five short years on the Underground in the 1980s, but I grew up in those years in a rich and stimulating environment. For at least a few years, I was lucky enough to see and be part of a self-confident working-class culture, it had lots of faults, to be sure, but it was simultaneously enriching and empowering for those who enjoyed it.
Take a minute to read the post in its entirety (new window) and check out other Working-Class Perspectives posts on our website.
The renowned Working-Class Perspectives blog (new window) is brought to you by our Visiting Scholar for the 2015-16 academic year, John Russo, and Georgetown University English professor, Sherry Linkon. It features several regular and guest contributors.