Introducing Our 2016 Summer Organizing Interns
Posted in Organizing Internship Student Leaders | Tagged Bria Wade, Citlalli Velasquez, DC Jobs with Justice, DC JWJ, Esmeralda Huerta, Many Languages One Voice, MLOV, ONE DC, Organizing Internship, Pam Escalante, Summer Organizing Internship, Vincent DeLaurentis
The Kalmanovitz Initiative is delighted to welcome these six awesome students to our Summer Organizing Internship! Vincent DeLaurentis, Esmeralda Huerta, and Citlalli Velasquez will be building power with ONE DC, Pam Escalante and Angie Valenzuela will be organizing with Many Languages One Voice (MLOV), and Bria Wade will continue with DC Jobs with Justice.

---
Vincent DeLaurentis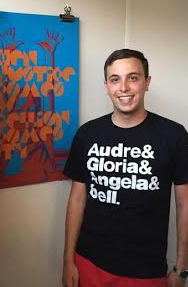 Vincent DeLaurentis (SFS '17) is a senior studying Culture and Politics and Women and Gender Studies in the SFS.  His studies look to movement history and radical political theory to search for revolutionary solutions and alternatives to capitalism, white supremacy, queerphobia, and other manifestations of systematic violence.  He hopes to use his studies to make himself useful in the historic struggle against these violences and to better understand what it means to act in solidarity with communities resisting domination.  On campus, Vincent organizes with the Georgetown Solidarity Committee and H*yas for Choice and this Fall he will lead the Worker Justice DC ABP Trip.  During his time at ONE DC, Vincent hopes to gain a deeper understanding of solidarity, participatory democracy, and the violences facing communities of color in a DC bent on "development".  Vincent comes from a military family and has lived all over the country.  At this moment, he is from Fairfax Station, Virginia where he lives with his father, mother, sister, Ariana, and a goldendoodle named Hassie.
Esmeralda Huerta (SFS '17) is a first-generation student from South Texas. She is a rising senior in the School of Foreign Service and is a CULP major concentrating on labor and immigration. This summer Esmi is excited to learn about methods of organizing student and worker power, as well as examining alternative and more equitable ways of doing labor. She will be working with ONE DC to build the Black Worker Center and interpret for a group of Latinx residents who are starting a child care co-op. In her spare time Esmi enjoys playing Dungeons and Dragons, taking photos around DC, and learning how to play the jarana.
Citlalli Velasquez (COL '17) is excited to build power with the DC community particularly communities of color. Citlalli is pursuing an Arabic major with a minor in Philosophy. Citlalli's upbringing in East Los Angeles and exchange year in Cairo, Egypt fueled her to fight for justice through an anti-imperial lense as she realized that the current and past state of people of color in the U.S. is parallel to those in historically colonized countries. Citlalli strongly believes justice should be sought through a racialized lense because imperial and colonial decisions were racialized. Citlalli looks forward to building enough power with the community to challenge institutions and demand their rights to live and thrive in a juster society.
Pam Escalante (SFS '17) has worked as a DC Reads tutor through the CSJ, served on the steering committee for the Student Farmworker Alliance, organized with DC Fair Food, and advocated for students and workers on Georgetown's campus as part of the Georgetown Solidarity Committee. This summer she is a KI Summer Organizing Intern with Many Languages One Voice doing work with the DC Language Access Coalition, the Know Your Rights campaign, and the Student Multi-Ethnic Action Research Team (SMART) and their summer institute for student organizing (SISO). Pam hopes to write a book someday on the intersections of race, gender, and socio-economic status as they apply to women's rights and queer theory in Mexico. She hopes to get her PhD in this topic, perhaps one day directing an LGBT center in Mexico.
Before beginning her third year at Georgetown as a Justice and Peace Studies major with a certificate in Latin American Studies, Angie (COL '18) will be organizing with the grassroots organization Many Languages One Voice. She hails from Los Angeles, California and is the daughter of Salvadoran immigrants. Since entering Georgetown, Angie has developed an interest in a range of intersecting social justice issues, showing a more specific interest in issues relating to immigration and labor/worker rights. She most recently became introduced to the world of organizing through the university's labor justice group and is excited to learn more about the line of work and develop her skills as an organizer. 
Bria Wade (COL '19) is majoring in African American Studies and minoring in Women and Gender Studies. She is a tutor for DC Reads and a member of the DC Reads Diversity and Inclusiveness Committee, has participated in the Young Leaders in Education About Diversity (YLEAD) program, and has been involved with student activism for the #BuiltOn272 campaign at Georgetown. This summer, Bria will build on the work she did in the spring (new window) when she started organizing with DC Jobs with Justice as a KI organizing intern.