The Uber Workplace in Washington, D.C.
Posted in Publications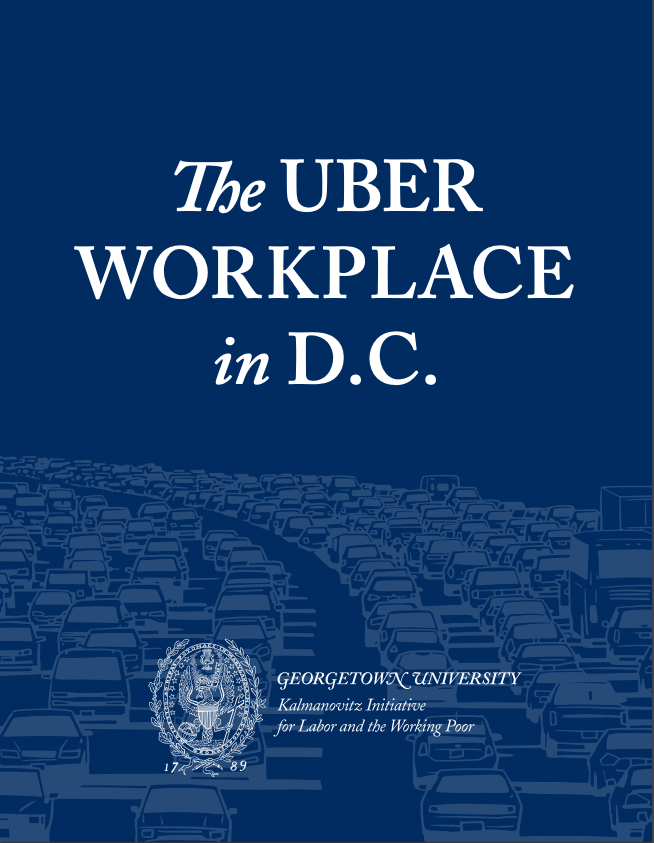 The on-demand ride-hailing industry that has emerged in recent years presents sobering challenges for its new workforce. These challenges include: drivers not knowing how much they truly earn; increased financial risk and debt; and dangers to drivers' health and safety.
In keeping with the mission of the Kalmanovitz Initiative (KI) for Labor and the Working Poor at Georgetown University to advance public policy that improves workers' lives, Dr. Katie J. Wells' report about a two-year investigation of the working conditions of 40 Uber drivers in the Washington, D.C. area reveals the following:
Uber drivers do not know how much they earn or lose.
• 100% of drivers experienced difficulties with, or barriers to, calculating their actual compensation.
Data about the Uber workplace is limited.
• Regulators and researchers do not have access to basic information about labor conditions.
Uber drivers are encouraged to take on financial risk and debt.
• 33% of drivers took on debt as a result of their work on the ride-hailing platform.
Uber drivers report challenges to their health and safety.
• 30% of drivers reported physical assaults or safety concerns.
Despite these challenges, the Uber workplace remained attractive.
• 50% of drivers would recommend the job to a friend.
• 45% of drivers planned to keep working the job for at least six more months.