Kalmanovitz Initiative Ten Year Anniversary Summary & Report
Posted in Publications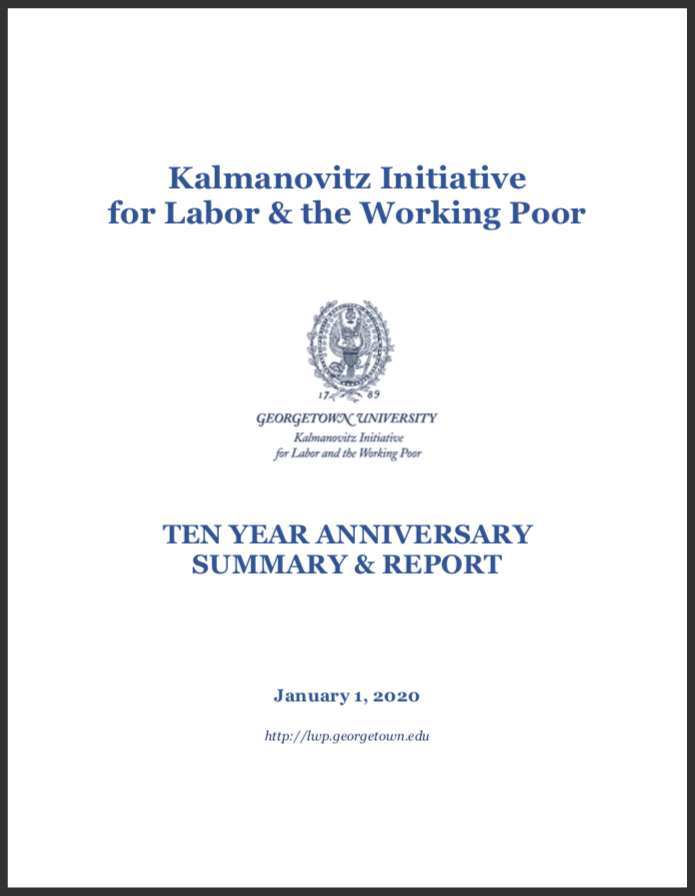 Since it was officially launched on November 10, 2009, with a gift from the Kalmanovitz Charitable Foundation, Georgetown University's Kalmanovitz Initiative for Labor & the Working Poor has established itself as a unique organization. Its distinctive identity and contribution stem from its simultaneous fulfillment of a broad spectrum of roles not duplicated by any other entity in the United States. It is at once a conservator of Catholic social teaching on the rights of workers, the dignity of work, and the ideals of a just and sustainable economy; a producer of pathbreaking and award-winning scholarship on workers, unions, and labor relations; an incubator of new and innovative ideas, organizations, and networks; a trusted convener capable of drawing together organizations and actors who are otherwise unable to convene themselves; the most impactful university-based research center on labor relations policy in the nation's capital; a trainer of future leaders, with a special emphasis on women, immigrants, and people of color; and an advocate for the rights of the working poor, especially those most on the margins.
Among university-based labor centers, the Kalmanovitz Initiative (KI) stands out for the wide range of roles it undertakes, its rootedness in the nation's oldest Catholic and Jesuit university, and its presence in the nation's capital, where it has forged close relationships with national unions, worker advocacy organizations, and think tanks. It also stands out for its commitment to the application of historical insights to contemporary problems. No other university-based labor center matches the depth of historical knowledge of the KI's staff.
In undertaking its diverse roles, the Kalmanovitz Initiative (KI) has helped Georgetown University fulfill its commitment to fostering ideals of social justice. It has aided the labor movement in its efforts to reconfigure its ideas and structures in response to the demands of the twenty-first century. And it has worked to define and lift up just employment practices and promote the work of just employers.
This report outlines the activities and achievements of the KI since its founding in 2009. As it shows in great detail, these accomplishments were the work of many hands. They would not have been possible without the generous financial support of the Kalmanovitz Charitable Foundation and the steadfast institutional support of Georgetown University.