Call Center Workers Fighting to Lift Up Families and Hattiesburg
Posted in Publications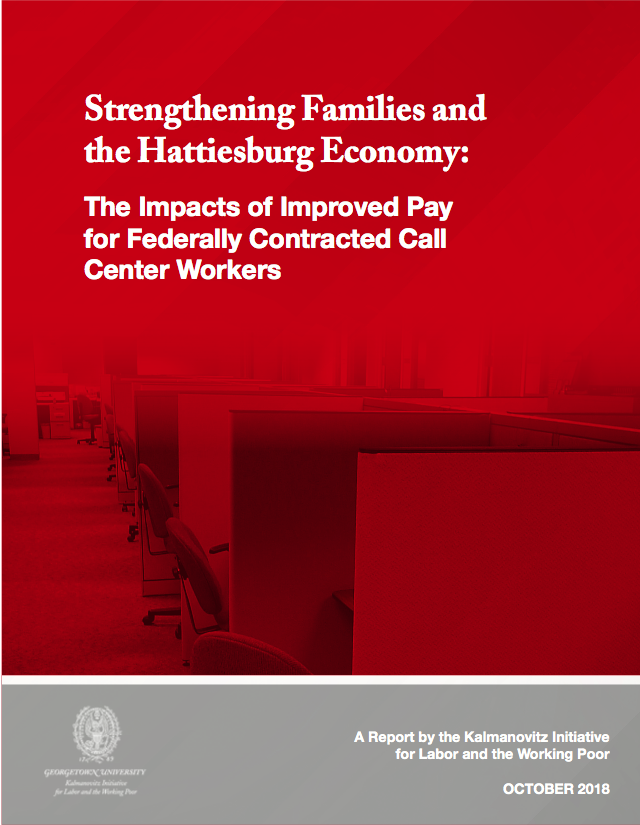 This week the Kalmanovitz Initiative releases a new report, Strengthening Families and the Hattiesburg Economy: The Impacts of Improved Pay for Federally Contracted Call Center Workers.
Developed with cooperation from customer service agents in Hattiesburg, Mississippi, the report is focused on their ongoing campaign to unionize with the Communication Workers of America as employees of General Dynamics Information Technology (GDIT), a contractor to the Centers for Medicare and Medicaid Services (CMS).
Based on interviews with over a dozen call center workers and surveys of hundreds more, the report spotlights job misclassification, unfair labor practices and inadequate rates of pay by the third largest federal contractor GDIT, a company that is in the process of selling its call center division to Maximus, Inc. Through union recognition and collective bargaining, call center contractors have the opportunity to make substantial investments into communities like Hattiesburg and relieve deep set racial and gender disparities for a workforce that is predominantly female and African American.
"It is so hard to pull yourself up out of the situation that you're in. You have some single parents, male and female. They are struggling, black and white. The poverty here does not know a color," said Tracy Wolverton, a trainer at the call center.
We estimate that GDIT workers would see their income increase 37.2%, or $7,531 per year for full-timers, by 2022 if they were properly reclassified under the SCA and formed a union to bargain for annual raises of 55 cents. 
What is more as a federal contractor subject to the Service Contract Act, the company can seek price adjustments to cover the increased costs of wages that might result from union negotiations, meaning that the federal government would pay to improve workers compensation at no additional cost to GDIT or Maximus.
Customer service agents in Hattiesburg are employed to receive difficult calls from Medicaid patients and ACA Marketplace customers, some of whom are sick and many of whom are in a state of distress. Managing these calls with tact and care, agents navigate complex federal healthcare rules in order to provide solutions, absorbing the emotional impact of many patients' frustrations with the system.
"We get paid less than Wal-Mart workers do, even though it's a position that requires trying to determine what the best direction for a person is. There are very high stakes involved. We have people's lives on the line," emphasized James Finnemore, a worker at the Hattiesburg call center.
Their workplace is afflicted with environmental hazards ranging from dripping ceilings to dirty carpets, from termites to spiders, with many agents observing that they return home from work to discover insect bites that weren't there that morning.
When a company like GDIT moves to town with the promise of employment through large federal contracts, it is reasonable for local residents to expect these jobs to meet clearly described federal guidelines and to pay a living wage. Mississippi, like all states, issues substantial subsidies to companies to incentivize their relocation. This was the case in Hattiesburg in 2015. Yet with inadequate oversight the promise doesn't always meet with the reality. This report highlights the ongoing efforts of workers in Hattiesburg to lift their families out of poverty and to transform their community.
Read the full report, Strengthening Families and the Hattiesburg Economy: The Impacts of Improved Pay for Federally Contracted Call Center Workers. Also, watch the release of the report featuring powerful testimony from workers and report author, Dr. Patrick Dixon.