Michelle Miller and Coworker.Org Selected for Echoing Green Fellowship
Posted in Practitioner Fellows
As a Practitioner Fellow at the Kalmanovitz Initiative, Michelle Miller planted the seeds for Coworker.org, a digital organizing platform for workers. Last month, Michelle and her co-founder Jess Kutch were selected by Echoing Green as 2014 Global Fellows to continue growing Coworker.org.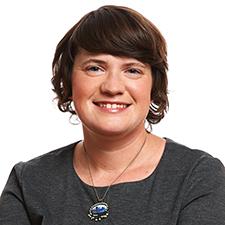 Coworker.org is a digital platform that provides the tools to any worker, anywhere to join with fellow employees and advocate for change in the workplace. The website allows workers to start campaigns to improve their workplace and educates them about their rights. Mobilisation Lab profiled Coworker.org as a game-changer in the world of organizing and people-powered campaigns.
Before coming to the Kalmanovitz Initiative, Michelle spent a decade at the Service Employees International Union (SEIU) directing union-wide programs for member engagement. She focused her energy on fostering the talents of rank-and-file union members, creating projects that welcomed new kinds of worker-leaders and integrated their voices into campaigns through art, culture and media.
Inspired by her tenure at SEIU, Michelle came to the KI to research historical precedence for alternative organizing models, implications for the project under current labor and employment law, and potential partnerships, strategy, and direction for the project. Learn more about her experience as a KI Practitioner Fellow here.
Founded in 1987, Echoing Green has provided nearly 600 promising social entrepreneurs working in over forty countries with $33 million in start-up funding and support. Through a two-year fellowship program, Echoing Green identifies individuals with ideas for social change and provides them with seed money and strategic support to help them launch new organizations.
"It'll provide critical early stage support for us as we grow Coworker.org and is a great step forward," Michelle said. "The application and interview process allowed me a lot of time to reflect on the past two years and I can't tell you how grateful I am for that first vote of confidence from Kalmanovitz."