Preregister for Social Justice in the Spring Semester
Posted in Labor Studies | Tagged Georgetown University, Labor Studies, Preregistration, Social Justice, Working-Class Studies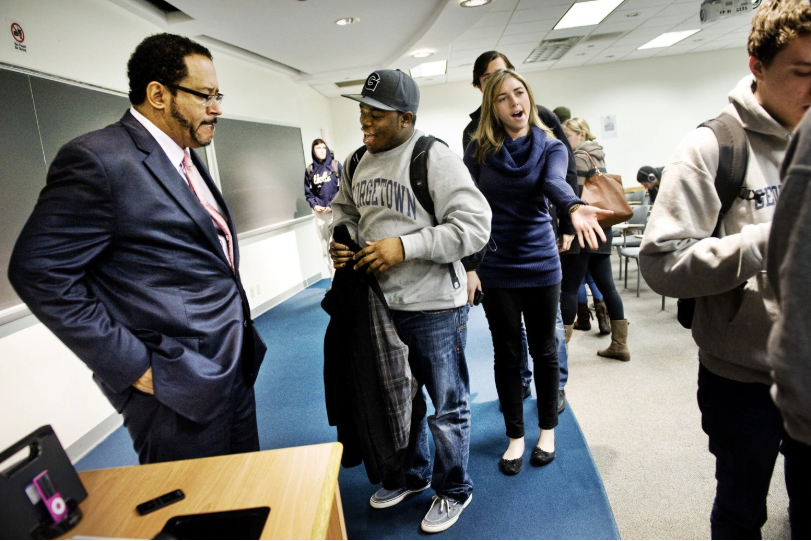 Georgetown offers an array of courses delving into issues of social justice taught by brilliant professors with expertise and real-life experiences in their field. We've highlighted some of these courses to help with preregistration – or to persuade you to enroll if you're not yet a Hoya!
Know of a course we missed on this list? Let us know at kilwp@georgetown.edu.
African-American Studies
Black Artists Imagining the Nation – 35813 – AFAM 137 – 01
Prof. Soyica Diggs Colbert | MW 12:30 pm – 1:45 pm
This course will consider song, fiction, and drama of the 19th and 20th century that explicitly engages with the concept of America.
Race & Radical Feminisms – 33759 – AFAM 214 – 01
Prof. Rosemary N Ndubuizu | TR 2:00 pm – 3:15 pm
Using primary and secondary sources, this undergraduate course examines post-1960s radical feminists' efforts to address and theorize race. While this course centers and highlights the theories of race feminists of color, particularly radical black feminists, this course will address how various radical feminists theorized how race impacted their feminist theories and praxis. In order to understand how radical feminists articulated their radical politics domestically and globally, students will review these feminists' efforts to understand how race shapes their understanding of bodily integrity, sexuality, labor, gendered embodiment, anti-colonial/liberation struggles, and feminist solidarity.
Disciplining the Poor – 35814 – AFAM 225 – 01
Prof. Rosemary N Ndubuizu | TR 3:30 pm – 4:45 pm
A 20th century review of social welfare policy and its relationship to race.
Baldwin, Hansberry, and Simone – 35817 – AFAM 350 – 01
Prof. Soyica Diggs Colbert | MW 2:00 pm – 3:15 pm
This course will explore the art and activism of three artists key to the Civil Rights Movement Period. Engaging fiction, drama, and music, among other genres, we will consider the domestic and diasporic impact of their work.
Black Women Filmmakers – 35815 – AFAM 230 – 01
Prof. Lamonda Horton-Stallings | MW 9:30 am – 10:45 am
This class will investigate the imagery, aesthetics, themes, and politics of how black women filmmakers throughout the African Diaspora narrate, translate, and adapt black experience, histories, and cultures to the big screen.
Black Sexuality – 35816 – AFAM 280 – 01
Prof. Lamonda Horton-Stallings | MW 11:00 am – 12:15 pm
This class will introduce students to social and political constructions of race and sexuality, while also charting how black representations and constructions of genders and sexualities in popular culture of Black people in the U.S., Canada, South Africa, and the Caribbean have addressed the sexual violence, medical exploitation and apartheid, and sexual colonization of Eurocentric ideals of sexuality and eroticism rooted in racism, capitalism, and erotophobia.
American Studies
Facing Georgetown's History – 31436 – AMST 272 – 01
Prof. Adam Rothman | TR 11:00 am – 12:15 pm
The American Studies Program will host a new course in Spring 2017 – AMST 272: Facing Georgetown's History. This course will revive the Program's longstanding commitment to exploring and commemorating Georgetown's history of slavery. Students in this course will examine Georgetown's roots in the Maryland Jesuits' slave economy and its legacies; contribute to the Georgetown Slavery Archive by identifying and interpreting archival materials; and develop memory and reconciliation projects related to Georgetown's ongoing efforts to reflect on our own school's history.
Gender/Race/Nationalism – 35556 – ANTH 219 – 01
Prof. Nell Haynes | MW 9:30 am – 10:45 am
This course explores the articulations of gender, sexuality, race, ethnicity, and nationalism in different world contexts. We will explore the conceptual frameworks of gender, race, and nationalism, then look at specific ethnographic accounts. The aim is to understand how particular historical, political, economic, and social processes influence these articulations. We will ask: How do popular conceptions of gender and race shape the ways nationalism is represented and experienced? Why is the management of gender and race important to the maintenance of the nation state? and How does nationalism become a key mode of inequality along lines of gender and race?
Anthropology
Africa / Anthropology / Public Policy – 35561 – ANTH 393 – 01
Prof. Gwendolyn Mikell | T 2:00 pm – 4:30 pm
This seminar course uses anthropological approaches to examine how culture affects the issues of 'public policy' that continue to play out in Africa today. We examine these subjects in two ways: first, we use ethnography and case studies to examine the dialogues between local, national, and regional cultures in Africa to see how policy concerns have been discussed; second, we use public policy articles, speeches, and visuals (both domestic and foreign affairs) to assess how policy makers have conceptualized and implemented African policies. Differing configurations of power groups and/or cultural groups, as well as differing national interest may affect how African countries think about and respond to policy problems. The issues with which we are concerned include governance and leadership transitions, peace-conflict-and security dynamics, HIV-AIDS and health crises, development and trade dynamics, gender and human rights, and Muslim-Christian dynamics. We rely upon seminar readings, guest speakers, audio-visuals, and student research projects.
Justice and Media – 35554 – ANTH 205 – 01
Prof. Amrita Ibrahim | TR 12:30 pm – 1:45 pm
How do racial, gender, and sexual inequalities frame political and social life? Using ethnography – the medium by which anthropologists present their findings – both in book and film form, we explore how anthropology approaches problems of structural inequality and injustice. In both, the anthropologist or filmmaker is the primary medium through which the reader gains an intimate glimpse into the lives of others. Explore how anthropology goes beyond the headlines to connect you to the real people caught up in powerful, often unequal, global forces.
English
Senior Seminar: Toni Morrison – 36054 – ENGL 481 – 01
Prof. Angelyn L Mitchell | W 12:30 pm – 3:00 pm
In 1993, Toni Morrison became the eighth woman, first African American, first African American woman, and first Black woman to win the Nobel Prize in Literature, the most coveted literary prize. In its citation, the Swedish Academy praised her as one "who, in novels characterized by visionary force and poetic import, gives life to an essential aspect of American reality." This senior seminar–Toni Morrison–seeks to identify and to examine that "essential aspect of American reality" in Morrison's novels and short story—Black lives. For Morrison, Black lives have always mattered, and the essential aspect of her work is her commitment to the experiences, intricacies and complexities of Black lives in American society. In her novels, Morrison chronicles African American experience from slavery to post-integration. In so doing, she has added not only to the African American literary and cultural landscape but also to the American literary and cultural landscape. We will explore the ways Morrison writes history, nation, family, race, gender, class, sexuality, and religion.
Film Studies & Media
CBL: Social Justice Documentary – 22345 – FMST 399 – 01
Prof. Bernard Joseph Cook | W 2:00 pm – 4:30 pm & U 6:00 pm – 9:00 pm
The course will enable students to collaborate with members of DC-based Community Organizations in order to create documentary video projects and learn about non-fiction video as a tool for social action. Students in Social Justice Documentary will work in small teams to produce short documentary videos about social justice issues as related to the work of Washington, DC-based Community Organizations. At the end of the course students should be able to define, summarize, and interpret documentary theories; have a working knowledge of pre-production, production, and post-production processes that are part of making a documentary video; and be able to formulate and demonstrate ways through which documentary video can be used to meet social justice ends. In addition, students will have gained experience in working as members of video production team—as successful video production heavily depends on cooperation, collaboration, and respect among team members. This is a 4-credit course and will require substantial time outside of scheduled class meetings. This course will include hands-on workshops on camera, lighting, sound, and editing scheduled in additional to regular course meetings.
Global Business
Ethical Decisions: Global Business & Government – 31586 – GBUS 493 – 01
Prof. John Kline | M 11:00 am – 1:30 pm
International business helps drive globalization trends that are reshaping political, economic and socio-cultural values. Increasingly, many governments and civil society groups urge corporations to go beyond traditional business roles to help improve human rights, labor conditions, and environmental impacts in countries around the world. Such actions can pose serious policy dilemmas, involving difficult value choices.
Should foreign companies try to influence a country's domestic political process on issues such as democratic elections, religious freedoms, the treatment of indigenous peoples, or the domestic allocation of tax revenue? Should large international retailers seek to impose "living wage" standards on their foreign suppliers? Do the marketing practices of international companies impose inappropriate choices on vulnerable consumers in developing countries, or enhance their free choice of products? Should corporations decide how a developing country balances trade-offs between current economic growth and longer-term environmental goals? Who should decide, What should be done, When and Where? Why?
This course studies the application of ethics to contemporary issues of international business operating in different economic, political and cultural settings. Drawing on established ethical theory, the course uses normative criteria to evaluate "best choice" options for real-world decisions. Consideration of global economic justice and corporate social responsibility are examined, along with mandatory and voluntary methods of influencing business behavior. Students will examine these issues from the perspective of corporate employees and managers, home and host government officials, and civil society activists.
Trade & Worker Rights – 31575 – GBUS 464 – 04
Prof. Jeffrey Wheeler | W 3:30 pm – 6:00 pm
The evolving world of work is central to trade and foreign policy. Labor standards have become deeply integrated into trade agreements and preference programs, often triggering epic battles about whether they favor American workers and business, including the Trans-Pacific Partnership (TPP). They have also served as pillars in foreign policy and foreign assistance aiming at promoting human rights, good governance and economic growth through the labor sector, sometimes effectively and sometimes with unintended consequences. In the private sector, labor rights principles are being more deeply integrated into supply chain management and applied for responsible business practices and impact investment in private equity. The class will also explore the growth of joint private and public sector initiatives, including the incorporation of corporate social responsibility (labor, OSH and conflict minerals) into environmental electronics procurement requirements. It will take an interdisciplinary approach, focusing primarily on developing countries but there will be latitude to address countries, regions and subtopics in the students' interest. Guest speakers will be invited to address key topics.
Government
Religion, Ethics, World Affairs – 36605 – GOVT 313 – 01
Prof. Drew Christiansen, SJ | R 3:30 pm – 6:00 pm
The course will explore the intersection of religion, ethics, and world affairs. Among the central questions will be: What is the relationship among religious, ethical, and political values, actors, and issues? How do political, ethical, and religious forces help frame global challenges such as human rights, democracy, peace, economic justice, and environmental responsibility? Particular attention will be given to religion as a source of conflict and/or peace, to religious communities as transnational agents for the protection of human rights, to ethical norms for the use of force; to ethical and religious contributions to reconciliation and peacemaking, and to religious and ethical dimensions of global distributive justice and environmental responsibility. These topics will be illustrated through several specific cases where religious and ethical questions arise, especially concerning the protection of human rights, the use of force, and distributive justice in the global economy. We will address these questions through close reading of texts, class discussions and debates, case studies, and the writing of several papers. This course serves as a capstone seminar for the Certificate on Religion, Ethics, and World Affairs, which the Berkley Center administers, but is open to others as well.
Prison Reform Project – 30498 – GOVX 400 – 01
Profs. Marc M Howard & Martin Tankleff | F 9:30 am – 1:50 pm
This course is part of a recently-created line of courses in the Department of Government (designated as GOVX) that follow a non-traditional structure and format, based on different methods and schedules of instruction and learning. The Spring 2016 course involved extended class meetings and interactions with a group of incarcerated individuals, leading to a major public event and the cover story of the Washington Post Sunday Magazine. The Spring 2017 version focused on societal reentry, as Georgetown students worked with people who had recently returned from prison and were adjusting to free society. The Spring 2018 class will center on the issue of wrongful convictions. A small group of Georgetown students will work together to expose the legal mistakes and human tragedies that resulted in a set of likely wrongful convictions. The course will be co-taught by Professor Howard and his childhood friend Marty Tankleff, who was himself wrongfully convicted and incarcerated for almost 18 years before being exonerated.
GOVT 330 – Department Seminar: Democracy & Education
Prof. Douglas Reed | T 3:30 pm – 6:00 pm
This course explores the relationship between democracy and education by examining four questions: How should our educational system advance the interests and activities of democratic politics? In what ways do schools advance or inhibit the civic engagement of youth? Should we conceive of democratic politics as educative? What does a democratic education look like? We will explore these questions by reading examine normative and and empirical work that explores the interrelationship between political action and knowledge. In part, the class will model democratic education by entrusting students with the task of developing and leading class discussions based on the week's readings, as well as collectively determining the nature of the final assessment. This course will have a Community Based Learning component. For Education, Inquiry and Justice minors who wish to use this course to satisfy the Praxis II requirement, the CBL component is mandatory. For non-EDIJ students the CBL component is optional, although encouraged. Although plans are not yet finalized, the mandatory CBL component for EDIJ minors will involve curriculum development for civic engagement workshops with the After School Kids program (ASK) at Georgetown. In addition to short papers, reactions to readings and presentations, the course will culminate in a major project to be determined by students.
History
US History Since 1865 – 20670 – HIST 181 – 01
Prof. Katherine Benton-Cohen | TR 11:00 am – 12:15 pm
This course traces the past 150 or so years of American history, covering the nation's development from the end of the Civil War through the recent past. Over the past century and a half, the United States has undergone myriad social, political, economic and cultural transformations, and has assumed a decisive role in international affairs. This semester, among other topics, we will examine the United States' development of an industrial economy, its forays into imperialism, its embrace of reform, its experiences of economic catastrophe and war, and its career as Cold War-era superpower. We will also look at how various groups of Americans have struggled for rights and equal treatment, attempting to get the United States to live up the promise of its founding ideals. The United States has been in many ways defined by Americans' basic disagreements over the meaning of founding American principles – liberty, equality, freedom – and in this class we will consider the ways in which Americans' conflicting definitions of these principles have defined the nation's history.
Hist Focus: American Activism – 25881 – HIST 099 – 01
Prof. Marcia Chatelain | TR 9:00 am – 9:50 am with Friday Discussion Section
The general aim of HIST 099 is to introduce students to various elements of historical work and thinking, within the context of looking at a particular historical period, event, or theme in some depth. Though lectures and discussion will focus on particular topics, there will also be class exercises, assignments, and readings that will allow instructors and students to explore how historians identify, define, and employ primary sources of all types, how historians analyze those sources, how they formulate questions, how they engage with the work of prior historians, and how they aim to reconstruct various elements of the human experience in particular times and places.
History of Russia II – 13469 – HIST 171 – 01
Prof. Gregory Dmitrievich Afinogenov | TR 3:30 pm – 4:45 pm
The Old Regime: society, industrialization, revolution, war. The Bolshevik Revolution. The Great Transformation. World communism, World War II, and the Stalinist Empire. Post-Stalinist politics and society. The Gorbachev revolution.
HIST 684 – Readings in African-American History
Prof. Maurice Jackson | W 2:00 pm – 4:30 pm
The study and historiography of African American history and its interaction with American and world society, as a whole, will be the mission of this class. History, politics, culture (music, literature, theater, art, poetry and the aesthetics) will be our guide. Political and philosophical debates about the nature of the Black struggle for equality will be issues that we explore. Each week we will have a central theme (slavery, anti-slavery, emancipation, labor, civil rights, women's equality, urban studies, decolonization and foreign affairs, race/racism, Blacks in the Americas) will be topics of concern. Where relevant and possible we will be joined by subject specialist in the GU history department.
Gender and Sexuality in US – 35892 – HIST 689 – 01
Prof. Marcia Chatelain | R 2:00 pm – 4:30 pm
Gender and Sexuality in US explores the theoretical texts that have shaped the history of gender and sexuality, and how these texts have influenced the ways historians write about identity and politics. Students will also engage with how interdisciplinary texts are used in the service of writing of history. Students will consider how discourses on psychology, feminism, intersectionality, capitalism, and race provide historians with frameworks for studying notions of the family, human rights, sex, gender, power, and the state.
Health Studies
HSCI 358 – Global Worker Safety & Health
Prof. Rosemary Sokas | T 9:30 am – 12:00 pm
Decent work is key to achieving the United Nation's 2030 agenda for sustainable development, which requires increased access to jobs that are safe, afford dignity and a fair income, and are free of exploitation. This advanced seminar will use a public health approach to explore the workplace safety and health challenges that face workers throughout the globe, including identifying hazards and the circumstances that drive these hazards, as well as potential interventions and methods to evaluate them. We will identify the strengths and weaknesses of peer-reviewed and gray literature and other sources of information that will frame the selection of weekly readings. Discussions will address safety and health hazards associated with migration, forced labor, and child labor, including examples from artisanal mining, fishing, agriculture, construction, domestic work, and other specific industries. We will review case examples of interventions, such as community based participatory action research and supply chain programs. We will also use this time as a structured opportunity to reflect on personal goals and discernment about how we each incorporate contemplation in action and social justice in the search for vocation.
Environmental Justice – 35655 – HSCI 419 – 01
Prof. Rosemary Sokas | TR 12:30 pm – 1:45 pm
The world we inhabit, including cities, transportation systems, food supply, energy production, and other aspects of modern life are the product of the work of human hands, as are the wastes and hazards produced. Disparate exposures to the hazards and unequal distribution of the benefits of modern life cause injustice that leads to health disparities. This course will explore how to critically explore hazards, develop collaborative solutions using community-based participatory research principles, and evaluate those solutions to promote environmental justice and reduce environmental and occupational health disparities. Students will work in groups in collaboration with community members impacted by environmental and occupational health issues, utilizing the principles of Community-Based Learning.
International Affairs
Theory and Policy in Africa – 29740 – INAF 559 – 01
Prof. Scott D. Taylor | T 5:00 pm – 7:30 pm
This course serves as the gateway requirement for students pursuing the Graduate Certificate in African Studies. The focus is on Africa in the World, using various lenses of theory, policy and the disciplines, exposing students to core arguments in the literature. The course will establish a foundation in the key theoretical, historical and policy issues that pertain to Africa. The course will build upon traditional disciplinary offerings but go beyond them to explore and integrate with professional and practitioner- oriented studies. Assignments and assessments will focus on a range of practical and research-based skills such as analysis of primary sources, preparing policy papers, editorials and opinion pieces, and possibly other online or "public writing." Students will utilize creative and rigorous writing and presentation tools, such as electronic portfolios as a tool to prepare, present and share a range of writing projects. Students are expected to utilize these assignments to reflect on diverse and interdisciplinary approaches to the study of Africa. At the end of the semester students will emerge with a set of writing projects that could advance their intellectual and professional goals.
Journalism
Telling the Truth – 36420 – JOUR 400 – 01
Prof. Elizabeth Bruenig | R 3:30 pm – 6:00 pm
Telling the truth is the foremost obligation of journalists. But approaching, discovering, understanding and communicating the truth are all more complicated processes — technically and philosophically — than they may initially seem. This course aims to help young journalists establish a clear view of truth as an idea and as a professional principle to guide their work from a moral standpoint as well as a technical one.
The course will be split into two phases. In the first phase, we will consider the challenges of conceiving of the truth in contemporary American society. There will be short, accessible readings from John Rawls and his commentators, Stanley Fish, and Jean Bethke Elshtain, which will help us make sense of how we think and speak of truth in America today. We'll go over the readings in class discussions, and also connect the themes under consideration to current events as they unfold in the news.
In the second phase, we will address problems in discovering and interpreting the truth in investigative journalism scenarios, using some of my own work as case studies. We will talk though reporting challenges, ethics in truth-telling, and the application of opinion-style analysis to reported material. Case study materials will include audio, video, visual and written elements. We will discuss each item in class, and I will also invite colleagues of mine who have worked with me on these projects to come and speak with students as well. Evaluation will be based on classroom participation and two medium-length written assignments.
Management
Imagination and Creativity – 24219 – MGMT 277 – 01
Prof. Robert Bies | TR 9:30 am – 10:45 am
Businesses operate in a competitive global marketplace that judges them against the standards of "more, better, faster." If a business is not doing more, or doing it better, or doing it faster, the chance of it surviving in the competitive global marketplace will become remote. Those companies that not only survive, but also thrive, recognize that to do it "more, better, faster" requires imagination and creativity. The purpose of this course is to help you master the skills of imagination and creativity. Toward that end, we will identify common "blocks" to creativity and innovation in business. In addition, we will upgrade your imagination skills and identify strategies and techniques to enhance your personal and professional creativity. To achieve these objectives will not only require hard work and discipline, but also a renewed appreciation for foolishness and play.
Men, Women & Gender in Workplace – 36199 – MGMT 296 – 01
Prof. Marcia P Miceli | MW 5:00 pm – 6:15 pm
No course description available.
CBL:Courage & Moral Leadership – 26740 – MGMT 278 – 01
Prof. Robert Bies | TR 11:00 am – 12:15 pm
The course has three key objectives. First, we will explore the importance of reflection in action, which is central to moral leadership. In addition to the course readings and exercises, this objective will be served in an off-campus retreat conducted by the Reverend Steve Spahn, S.J., Director of Ignatian Programs at Georgetown. Second, we will analyze when and why people engage in moral leadership, including the role of courage in undertaking such action—and how those actions changed the course of history or influenced the day-to-day quality of life in local communities, organizations, and nations. This objective will be served in the "Daring to Resist" and the "Moral Leadership Project" papers. The final objective of this course focuses on how you translate values into actions. More specifically, how to act on one's beliefs—to resist that which is wrong or unjust, and convince others "to stand for something you believe in, the good, the right thing to do" (Coles, Lives of Moral Leadership, p. xxi). This objective will be served in the Community-Based Learning (CBL) project in this course.
University-Wide Cross Discipline
CBL: Social Action – 30585 – UNXD 130 – 01
Prof. Amanda Munroe | M 6:30 pm – 9:00 pm
Contact Amanda Munroe (asm96@georgetown.edu) to enroll. UNXD 130 CBL: Social Action is a 1-credit, community-based, experiential course offered through Georgetown University's Center for Social Justice Research, Teaching, and Service (CSJ): csj.georgetown.edu. UNXD 130 students integrate their academic studies with direct or indirect community engagement work of their choice in Washington, DC. Community work must enhance and deepen the classroom learning of a 3-credit course in which the student is currently enrolled. While most of the learning takes place in the community, UNXD 130 participants meet four or five times for reflective dialogue sessions and complete three reflective activities over the course of the semester. Participation in UNXD 130 requires the completion of an interest form in which students explain the connection between coursework and community-based work. For more information and to express interest, visit http://csj.georgetown.edu/unxd130. This course was previously known as the 4th Credit Option for Social Action, when it was "added" to a 3 credit course. It now stands alone, an is taken as a "pass/fail" type of course.
Philosophy
Human Rights, Global Justice – 35674 – PHIL 144 – 01
Prof. G Madison Powers | TR 11:00 am – 12:15 pm
This course examines both foundational issues in human rights and a number of specific topics of current importance. Foundational issues include the following: What makes human rights different from other moral concerns? What are the grounds or rationales underpinning human rights (e.g., some aspects of human well-being, autonomy, human dignity)? Are there any "positive" human rights (e.g., entitlements to goods and services such as education and health care)? How are human rights violations linked to structural injustices within societies or the global economic order? Are human rights truly universal or merely reflective of the values of Western liberal democracies? Who is responsible for securing human rights? What responses, including resistance, are justified when human rights are violated? Topical issues include the following: immigration and the rights of migrants, human trafficking, climate change, gender inequalities and oppression, rights to a guaranteed income or a standard of living, health and health care access, sweatshop labor and other issues in the organization of global supply chains, control and ownership of water and other vital resources. Other issues may be added.
Climate Change & Global Justice – 33921 – PHIL 127 – 20
Prof. Laura Jane Bishop | TR 2:00 pm – 3:15 pm
This course examines climate change from the perspective of global justice. We will consider questions such as: How do global inequalities impact the way people are affected by climate change? How does this bear on the distribution of responsibility for addressing climate change? How does climate change connect to larger issues global justice?
Gender and Feminism – 31914 – PHIL 112 – 01
Prof. Alisa Carse | TR 2:00 pm – 3:15 pm
Few facts about us are as significant for our identities and life prospects as our gender. Yet what sort of "fact" is the fact of one's gender? Are there only two genders? Are gender differences biological, social, or cultural in origin? Are they all three? How does the significance of gender intersect with other facts about us, such as our ethnicity, level of education, age, socioeconomic status, cultural context, and sexual orientation? This course will bring a philosophic lens to questions about gender and its significance. We will examine aspects of the social and political significance of gender through the study of a range of texts, focusing throughout on analyzing and articulating the moral challenges introduced by the topics we study – e.g., concerning justice, fairness, expressive liberty, courage, and the demands of compassion and respect. Among the topics we will address are the following: taking moral responsibility for gender oppression; the difference between 'sex' and 'gender'; images, myths, and norms of masculinity and femininity; sexual orientation and gender orientation; competing explanations of gender differences; androcentrism and the dynamics of privilege; psychological oppression and self-respect; shame and gender; sexuality, domination, and violence; gender and 'discursive injustice'; gender and the politics of appearance; and conceptions of liberation.
Sociology
Education and Society – 36111 – SOCI 163 – 01
Prof. Leslie R Hinkson | TR 3:30 pm – 4:45 pm
The primary goal of this course is to understand the relationship between education and society. In order to achieve this goal, students will develop the tools necessary to analyze educational processes and practices through the sociological lens, an approach that incorporates individuals, groups, and institutions within its analytical frame. Using both theoretical and empirical texts, we will investigate questions about the role of schooling, the social structure of schools, stratification processes within and between schools, and the outcomes of education. Among the many questions we will explore to this end this semester are: 1) How do schools help to maintain and perpetuate social inequality?; 2) How do factors of race, class, and gender affect the educational experiences of students both within and across schools?; 3) And what is the ultimate purpose of education and how can we as a society best achieve this purpose?
Law and Society – 28138 – SOCI 192 – 01
Prof. Sarah Stiles | TR 2:00 pm – 3:15 pm
This course has three complementary parts. Students begin with an overview of the U.S. justice system. We pay special attention to the last 35 years and the impact of the War on Drugs on society, especially mass incarceration. This is followed by a section focusing on "Hot Topics" in the law. Students will read and brief landmark Supreme Court cases on such topics as, same sex marriage, gun ownership, climate change, campaign finance, and the criminalization of poverty. Students, in small groups, choose one topic they will be an expert in and create an informative website and accompanying short video informing fellow Millennials why they need to know about it and what they can do about it. Finally, students have the opportunity to make it real through mock trials. Playing the roles of attorneys and witnesses, students learn the mechanics of a trial and create legal strategies to best represent their clients. It all comes together when students enact the trials in courtrooms at Georgetown Law with legal professionals serving as judges.
Gentrification Studio – 36600 – SOCI 305 – 01
Prof. Brian James McCabe | W 2:00 pm – 4:30 pm
This three-credit course is a studio-based course designed for students to collaboratively build projects that address issues of gentrification in Washington, DC.
Social Movements – 36110 – SOCI 155 – 01
Prof. Timothy Wickham-Crowley | TR 12:30 pm – 1:45 pm
This course will examine social movements as planned and fairly prolonged mass attempts against the established socio-political systems. They are organized efforts to promote social change, at least in part, through non-institutionalized forms of political action. The major goals of the course are: 1) to acquaint students with major concepts, theories, and paradigms on social movements. Some of the major theories include strain, Marxist, resource mobilization, political process, and "cultural" explanations; 2) to examine significant sociological variables of class, gender, race/ethnicity, age, ideology, and religion within social movements; 3) to analyze the formation process and impact of a number of post-World War II era movements in the U.S., such as the Civil Rights, Women's Liberation, Student and the New Left, the Christian Right, and more recently sporadic "anti-globalization" movement; 4) in addition, some cases in the developing world will be examined to familiarize students with various sociopolitical contexts (and their impact on movement formation). In particular, we look at movements of national liberation, Islamic revivalism in some Middle Eastern countries and the emerging pro-democracy movements.
Public Housing:Theory/Practice – 36115 – SOCI 223 – 01
Prof. Brian James McCabe | MW 3:30 pm – 4:45 pm
Visual sociology focuses on the visual representations of social life. This course will explore society, how we represent ourselves and our social world visually and furthermore investigate how innovative 21st century technology is transforming contemporary social life. We don't just use technology, "we live with it" and it greatly influences society, lifestyles, global business relationships, culture, and social progress. Our scholarly journey will explore methodologies and theories applicable to the analysis of all kinds of visual content from films, advertisements, and television to new media forms. We will examine new and emerging debates on the sociological consequences of technology, and explore how meaning is both made and transmitted in an increasingly visual world and the complex relationship embedded in the social construction of technology.
Spanish
CBL: Spanish in the Community – 34449 – SPAN 380 – 01
Prof. Maria Moreno | MW 11:00 am – 12:15 pm & W 6:00 pm – 6:50 pm
Spanish in the Community is a community-based learning (CBL) course conducted in Spanish that focuses on the dynamic interaction between language, society and identity among the Latinx communities in the U.S. This 4-credit course requires 20+ hours of community-based work outside at work with a local, community-based partner organization in addition to preparation for and attendance at two weekly class sessions. The outside work is considered part of class time for the purpose of course credit with the Registrar's Office, but students will schedule their own work with their partner organizations, according to the organization's needs. In class, we will take a hands-on, discussion-based approach to understanding key sociolinguistic issues that affect and shape Spanish-speaking communities in the Washington, D.C. area, and throughout the U.S. Topics covered include, among others: Latinx identity; immigration, labor and U.S. national identity; access to education; bilingualism, language ideologies, language contact and language shift in the United States. Critical sociolinguistics assumes that race/ethnicity, class and gender are particularly cogent categories of analysis because they are used as tools in the unequal distribution of power, status, and material goods. The production of knowledge for its own sake is not the goal of critical sociolinguistics; rather, social change for the common good is the goal of systematic language analysis and linguistic education.
Theater and Performance
Improv for Social Change: Climate – 35950 – TPST 126 – 01
Prof. Robert Jansen | MW 12:30 pm – 1:45 pm
This interdisciplinary course offers a highly participatory laboratory for individual and group/ ensemble exploration of socially engaged performance with a particular emphasis on the intersection between performance and climate change. Many have commented on the fact that woven inextricably into the global climate change crisis is the particular challenge, and often our collective human failure, at effectively giving this crisis a narrative form, of "telling the story." This failure may stem from the sense of despair and helplessness associated with the topic, or perceived challenges of dramatizing science, or because the dimensions of scale, time, place related to the crisis defy the normal confines of our "well-made" dramas.
Still, increasingly throughout the world artists of all kinds are finding vital and innovative ways of bringing these realities to life at the intersection of artistic practice and social action. Together we will explore how a wide variety of artists and cultural workers are working in dialogue with the work of scientists, policymakers, activists and environmentalists to create new modes of accessing and understanding the global and local environmental crises we face, and in many cases, working to mobilize change. Working in collaboration with Georgetown's Laboratory for Global Performance and Politics, students will interact directly with many of these artists and their creations. Students will be invited to examine their own values and convictions and will develop skills and tools to put them into practice through performance. Inspired in part by curricular offerings and interactions with faculty and students from the other Core Pathways course offerings, we will develop public performance offerings to inspire awareness and discussion. Class exercises and assignments will emphasize experiential learning as we both participate in guided improvisational workshops and develop skills in creating and facilitating our own original performance workshops. No previous performance experience is required and students from all backgrounds and disciplinary perspectives are encouraged to enroll.
Theology
Struggle & Transcendence – 15427 – THEO 041 – 01
Prof. Raymond Kemp | TR 9:30 am – 10:45 am
The course will apply the theological method of Bernard Lonergan, S.J. to four phases of the African-American struggle in order to discern and describe the transcendent presence of God. We will examine how, when, and where God shows up in the experience of African-Americans. We will look at four periods: (1) Contemporary Black Culture, (2) The Civil Rights Movement, (3) Reconstruction and Turn of the Century, and (4) Slavery. We will understand the theological method of Lonergan and apply it to these four phases of the struggle in an effort to understand faith, and its impact on the struggle of African-Americans. Lonergan's notions of cognition, history, dialect, doctrine, conversion, and bias will be treated.
CBL:Courage, Hope, Justice – 36525 – THEO 177 – 01
Prof. Kerry Blair Danner | TR 9:30 am – 10:45 am
How do we become courageous but not reckless? Maintain hope in a world full of despair? This course will explore the philosophical virtues of courage, temperance, prudence and justice and the theological virtues of faith, love and hope. We will study the traditions and praxis of virtue through reflection on our experience and local organizations' efforts to positively impact others and build just communities. Special attention will be given to how discourse, habits and religious practices sustain courage, hope, and justice. While there is an emphasis on Christian ethics, readings and discussion are not limited to Christian approaches. This course is a Community Based Learning course in which students are required to complete at least 20 hours of work with local community organizations, some of which have a specific Christian mission. Partnering opportunities include working with children and after school programming, people experiencing homelessness, or through existing CSJ programs. Transportation costs are covered.
Bible and Social Justice – 32371 – THEO 019 – 01
Prof. Joseph Wimmer | TR 2:00 pm – 3:15 pm
The course focuses on issues of social justice within the Hebrew Scriptures and New Testament as seen within their historical and cultural environments. Biblical texts will be considered in a generally chronological fashion, as determined by contemporary methods of historical literary criticism, with attention to both practical and ideological concerns. Extra-biblical ideals such as those of the Code of Hammurabi and other ancient lawcodes will be examined with reference to the Torah, along with relevant texts of the wisdom literature – also ancient Egyptian and Mesopotamian – but the emphasis will be on deuteronomic and prophetic criticisms and efforts at reform in the Hebrew Scriptures, on the teaching of Jesus and its aftermath as expressed in the Gospels, and on concerns for members of the community within the early Church, as witnessed by Paul's Letters, the Acts of the Apostles, and the Letters of James, John, and the Book of Revelation. Contemporary issues of liberation theology and especially of globalism and proposals for dealing with the poorest nations will also be treated, along with some international texts concerning women's rights.
Disability, Ethics, Eco Justice – 35714 – THEO 074 – 01
Prof. Julia Watts Belser | TR 2:00 pm – 3:15 pm
Environmental justice movements raise a powerful ethical call to challenge entrenched patterns of environmental racism and classism that force marginalize communities to bear the brunt of climate change and environmental harm. This course examine disability as a cornerstone of environmental justice ethics. In an era of rampant endocrine disruptors and persistent organic pollutants, amidst cesium and carcinogens, human health is increasingly imperiled by environmental harm. Disability also intensifies environmental risk. People with disabilities are disproportionately affected by natural disaster, but rarely included in plans for community response. Centering the voices of disability artists and activists, this course asks: Can we build an environmental movement that affirms the dignity and agency of disabled people? What insights might environmental movements draw from disability activism? And how might lived experiences of disability ground an environmental ethic for the Anthropocene?
Jesuits: History/Spirituality – 15439 – THEO 129 – 01
Prof. Charles G. Gonzalez, SJ | WF 12:30 pm – 1:45 pm
Following his own religious awakening in 1521, Ignatius of Loyola developed a way to awaken and direct the spirit, and he founded a group to bring his message to the world. The Jesuits influenced the science, arts, and politics of Europe–as well as India, China, Japan, Africa, and the New World. Students will develop and present a research project.
Religion & Civil Rights – 35718 – THEO 137 – 01
Prof. Larry Perry | TR 3:30 pm – 4:45 pm
The Religion and Civil Rights Course focuses on Religion in the Movement for Civil and Human Rights. The course will give students an over view of the role of religion and the Movement for Civil and Human Rights from 1930s until the early 1970s. Students will gain an acute grasp of religious figures and institutions that fought for equality through the use of pacifism, nonviolent-direct action, political persuasion, and other forms of resistance to demand social justice.
Latinx Theologies – 35721 – THEO 156 – 01
Prof. Carmelo Santos | MW 12:30 pm – 1:45 pm
This course will offer students an overview of the burgeoning field of U.S. Hispanic/Latinx Theologies. In addition to exploring key topics such as migration, cultural hybridity, Mujerista and Queer Theologies, postcolonial/decolonial epistemology, and popular religiosity, the course aims at providing students with opportunities to use the tools of theological reflection to engage in their own analysis of the Latinx experience in the United States. Some of the readings and movies for the class will be in Spanish. There might be opportunities for students to get involved with organizations in the larger Washington DC community working on Latinx issues from a religious perspective.
Women's and Gender Studies
Intro Women's/Gender Studies – 28426 – WGST 140 – 05
Prof. You-me Park | TR 2:00 pm – 3:15 pm
First and second year only This course introduces students to the discipline of women's and gender studies. We will explore the broadly and critically defined "genealogies" of women's and gender studies, and investigate key concepts, theoretical debates, ideologies, and historical significance of the discipline. Learning and borrowing from Sophocles to Virginia Woolf to Audre Lorde to Cynthia Enloe, we attempt to construct a theoretical framework that will be helpful and challenging to our intellectual and practical pursuit of a just world in which both women and men can celebrate themselves and each other. In this endeavor, special emphases will be given to the issues of heterosexism, militarism, human rights, sexuality and body, disability, labor, domesticity, and political activism. The investigation of these issues will be put in the context of related, but distinct, intellectual interrogations of race, class, nationality, ethnicity, and sexual orientations in the disciplines of race theory, postcolonial studies, LGBTQ studies, disability studies, and cultural studies.
Inequality, Gender & Prison – 36431 – WGST 226 – 01
Prof. Nicole C Mason | MW 2:00 pm – 3:15 pm
Explores inequality and gender issues in the US prison system
Prof. Donna Brazile | W 2:00 pm – 4:30 pm
The focus of this course is to examine the role of women in American politics and the participation of women in the electoral process as voters, elected and appointed officials, strategists and party leaders. Topics of discussion will include early pioneers in American politics; Making waves: Running for President; 1922: The Year of the Woman; women's issues in national and statewide campaigns; the women's vote; race, class and gender; women activists and women voters; women as candidates, women as campaign officials: limited seats at the table; the future of American women in politics; and women and media coverage. Throughout this course, the professor will bring in guest speakers and leaders from the world of politics, journalism, and non-profit organizations. Objectives for students include: discuss contemporary issues of gender in American politics; interview a female elected or appointed official to analyze the role of gender in their decision to pursue a career in public policy; analyze emerging issues facing women political activists, as well as women candidates and women voters.
Gender and the Law – 23221 – WGST 251 – 01
Prof. Sara H Collina | W 5:00 pm – 7:30 pm
This course explores how concepts of masculinity and femininity shape the U.S. legal system. We will also examine other factors that influence how individuals view and encounter the law (race, religion, political outlook, sexual orientation, gender identity, socio-economic status, etc.). Specific topics include sex harassment in the workplace and educational institutions, single-sex education, gender and military combat, intimate partner violence, same-sex marriage, and reproductive rights and responsibilities. Our academic focus will be on legal analysis, public policy writing and respectful dialogue about emotionally complex topics. There will be many opportunities to practice these skills during the semester. No prior legal knowledge is required.
Writing and English
Writing and Culture – 34372 – WRIT 015 – 34
Prof. Sherry Lee Linkon | MW 2:00 pm – 3:15 pm
Writing the University: In this course, we'll explore what kinds of writing students produce in college and strategies for doing that well, but we'll also consider how Georgetown addresses your needs and how you can use writing to navigate and influence this institution. How do the structures and practices of this university facilitate your learning and development? What can you do to ensure that you learn the right things and learn them well – and that your experiences help you thrive, in college and beyond? We'll connect your interests and experiences with broader cultural discussions about the purposes and practices of higher education and this campus in particular. For example, how does the practical goal of preparing graduates to thrive in the workplace, which requires strong communication skills, fit with Georgetown's loftier goals of developing "women and men for others"? By exploring these issues, you'll learn about writing and become a better writer, and you'll become a critical and pro-active member of the university community.
Writing for a Cause – 34340 – ENGL 285 – 01
Prof. Dennis A Williams | MW 12:30 pm – 1:45 pm
Section Description: This class will provide an introduction to the craft of fiction writing. Using short stories and prose excerpts by various writers as models, this course will show you how to create fiction for the purpose of social action. You need not be an experienced fiction writer in order to take this course; you need only be excited by the opportunity to advocate for a cause through thoughtful and intentional storytelling. You will write a brief (2-3 pages) response paper for each of 8-10 assigned readings, examining how these artists identify and address injustice in their work. You will also complete a few writing exercises to practice technique and approach. The primary goal of the course, however, will be for each student to produce, through extensive drafts, one solid, 20-page piece of short fiction that takes a position on a public issue.