Make Social Justice Part of Your Spring Semester
Posted in Labor Studies | Tagged Academia, Course List, Course Listings, Economic Justice, Faculty, Georgetown University, Joseph A. McCartin, Labor Studies, Social Justice, Working-Class Studies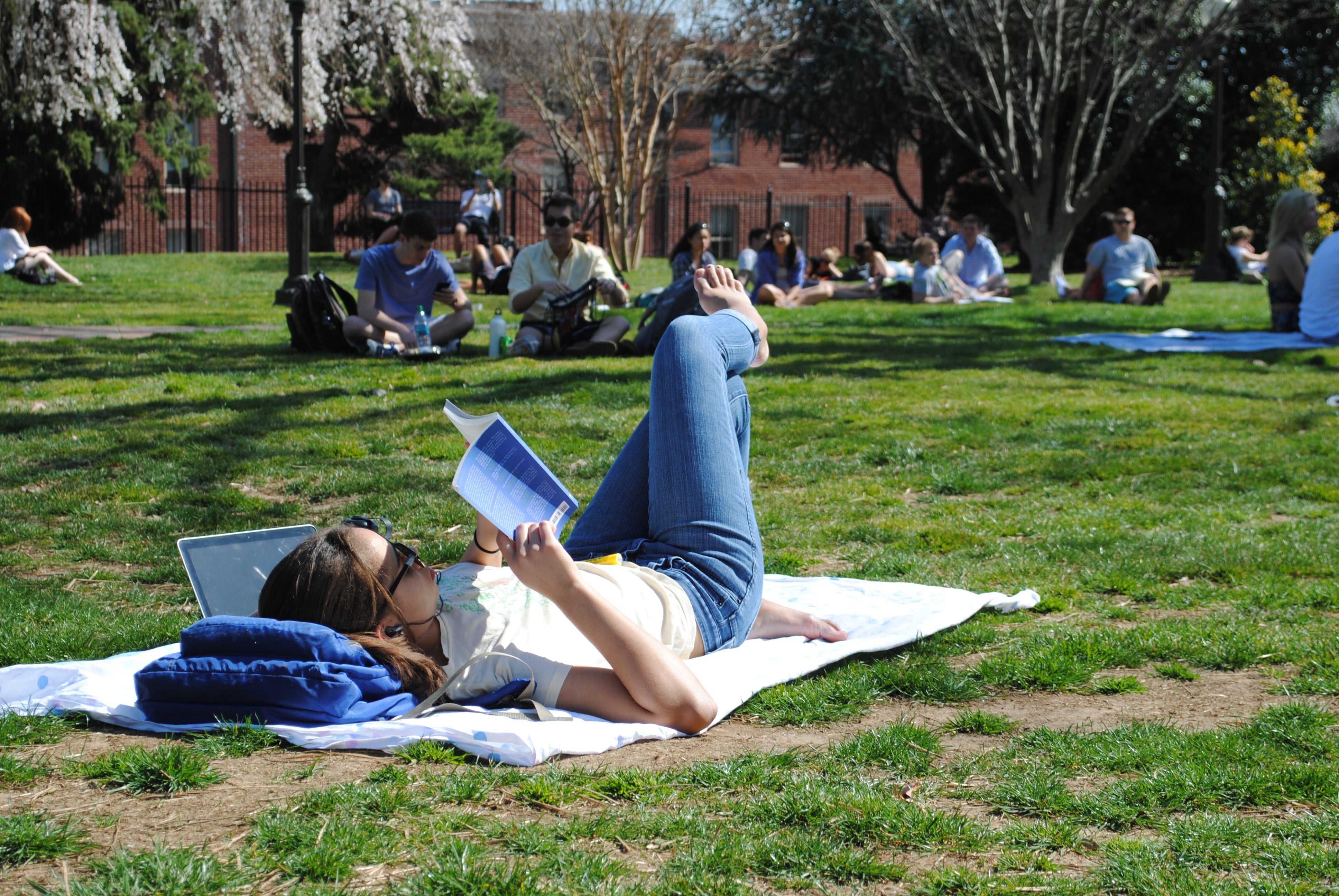 One of the greatest parts about attending Georgetown University is the abundance of undergraduate courses that engage social justice, including labor and worker rights! To make course selection easier, we've compiled a list of such classes here. Please contact us at kilwp@georgetown.edu if you have any questions or suggestions.
African-American Studies
Representations of Love and Marriage in African American Literature and Culture – 31468 – AFAM 201 – 01
Prof. Robert J Patterson | M 5:00 pm – 7:30 pm
This course explores contemporary representations of love and marriage in African American culture, as well as contextualizes the transformations that the institutions of love and marriage have undergone throughout history. We will engage a variety of texts—including literature, music, films, sermons, and magazine articles, to theorize how these different media construct the institutions of "love" and "marriage." We will explore the continuities, fissures, and contradictions that we find within and between the media, and will use the methodologies and analytical tools that literary and cultural studies, sociology, history, gender and sexuality studies, and African American Studies have made available for analyzing texts and cultures.
Prof. Soyica Diggs Colbert | MW 11:00 am – 12:15 pm
Prof. Adam Rothman | TR 9:30 am – 10:45 am
When African women entered the conversation on "feminism" in the 1990s, they turned things upside down by rethinking what it meant to be female, what kinds of issues and values African women prioritized, and whether 'gender' would be interpreted differently in the future that they imagined. Their use of the term "African Feminism" signified a challenge to existing western philosophical and gender norms, and a movement in search of African women's empowerment, and gender empowerment. Using women's voices, ethnography and film from many parts of the African continent, this course examines how these relationships of empowerment are playing out in parts of West, North, Central, East and Southern Africa today. We learn about, and do research papers on how African culture is shifting as women find their voices, and put forward new conceptions of their roles in marriage and partnership, political and civil society leadership, religion, and emerging LGBT issues.
Prof. Amrita Ibraihim | TR 11:00 am – 12:15 pm
In this course, we will explore some of the roots of these divisive issues through key topics, including #BlackLivesMatter, deindustrialization and gentrification, and Islam in America. You will be introduced to these themes through two classic forms of anthropology, the written text – also known as an ethnography – and the ethnographic film. In both, the anthropologist or filmmaker is the primary medium through which we, the readers, gain an intimate glimpse into the lives of others and their practices, and lived experiences. Through each of these forms, you will learn to identify how anthropology approaches questions of structural inequality and injustice and learn the tools by which anthropologists go beyond the headlines to bring us closer in touch with ordinary people who are caught up in the long-term patterns of global and local instability.
This seminar will take a broadly interdisciplinary approach to understanding "Katrina" as both a natural and humanly-engineered disaster—as some have argued, a biopolitical crisis. We will marshal theories and methodologies from Anthropology, History, Geography, Race and Ethnic Studies, Gender and Sexuality Studies, Working-Class Studies, Environmental Humanities, as well as Literary/Cultural Studies, to unlock the complexity of what happened and why. But we will focus particularly on media and cultural representations of the storm and its aftermath to examine how a variety of artists as well as journalists have attempted to document or rewrite the event itself through imagery, narrative, and poetics. At the same time, we will situate such texts within a larger framework of cultural politics that questions the binaries of 'truth' and 'fiction,' destabilizes the convenient shorthand of a definitive "pre-" and "post-" traumatic socio-cultural landscape, and considers how cultural forms themselves shape analysis. Together, we will explore the significance of local cultural practices like Mardi Gras and jazz funerals, read memoir, graphic nonfiction, novels, and poetry, watch plays and films. Music (jazz/brass band, hip hop, Cajun, protest) will be a constant presence in our course but will also close out our seminar in the final weeks.
Prof. Ricardo L. Ortiz | MW 3:30 pm – 4:45 pm
Latinxs represent the largest, and continue to be a fast-growing, cultural minority in the US. English 208 provides students with an introductory, primarily chronological survey of literary and other cultural artifacts produced by U.S.-based writers and/or artists of Latin-x/"Hispanic"/American descent, most of whom write and/or perform in English, supplemented by a selection of scholarly, critical and theoretical writings which position that body of US Latin-x literary and cultural production in larger, more complex interdisciplinary contexts. These latter include fields as diverse and as intersecting as History, American Studies, Political Science, Geography, Linguistics and Popular- and Mass-Cultural Studies. As an introduction both to a set of texts that in part comprises the object of US Latin-x Literary and Cultural Studies, and to the very field and practice of study which names itself thus, English 208 challenges students to think, and work, outside the traditional parameters of more conventional courses in literary history and interpretation. Readings will represent the historical, national, racial, cultural, political, sexual, class-based, linguistic and other differences which make up the heterogeneous forms of US Latin-x experience, and will thus complicate, even as they retain, the presumed coherence of the umbrella term "Latinidad" under which they are usually subsumed.
Prof. Dennis A. Williams and Prof. Elizabeth A. Velez | MR 3:30 pm – 4:45 pm
Perhaps more than any of the artificially framed decades of recent history, "The Sixties," retains the power to evoke, to incite, and to infuriate. Still the good old days (high times) for some and the end of everything for others, it is that creature of time that many, especially of younger generations, wish would just go away and shut up. Our course examines this decade — less a specific period of years than a pivotal moment in history — primarily through movements for social justice that both influenced and were inspired by changes in cultural media, including the emergence of new forms of literature. This exploration will be guided by two "survivors," instructors themselves shaped by the time period who have also studied it. They bring their battle-worn and sometimes conflicting perspectives to writers like Malcolm X, Adrienne Rich, James Baldwin and Tillie Olson, and invite you to discover your own. And we will not resist the temptation to introduce music and film in limited doses to enhance our understanding of the political and social issues at play.
Prof. Angelyn L. Mitchell | M 6:30 pm – 9:00 pm
Prof. Lori Merish | MW 12:30 pm – 1:45 pm
Prof. Amanda D. Phillips | TR 2:00 pm – 3:15 pm
The purpose of this course is to introduce students to the fundamentals of game design through the lens of control systems and strategies of resistance to the often problematic content and practices of the video game industry. The course is part seminar, part workshop that will give students an introduction to the rhetorical devices of video games and virtual spaces and experience in manipulating those devices to create a prototype for a digital game or other interactive experience. Approximately half of the class meetings will engage students in traditional seminar-style lecture and discussion format, with the other half dedicated to guiding student groups in building theoretically-informed projects that will make a persuasive argument about or intervention on a social justice issue of their choice. This will give students experience in connecting theory with praxis, creating collaborative scholarship, working in new modes of literacy, and extending the uses of technology beyond those for which they were originally intended.
This course studies the application of ethics to contemporary issues of international business operating in different economic, political and cultural settings. Drawing on established ethical theory, the course uses normative criteria to evaluate "best choice" options for real-world decisions. Consideration of global economic justice and corporate social responsibility are examined, along with mandatory and voluntary methods of influencing business behavior. Students will examine these issues from the perspective of corporate employees and managers, home and host government officials, and civil society activists."
Prof. Jeffrey Wheeler | W 3:30 pm – 6:00 pm
The fight over labor rights in trade has exposed deeper tensions between and within public and private sector objectives, exemplified by the hotly contested fight over the recently signed Trans-Pacific Partnership (TPP). In the public sector, foreign assistance and diplomacy has focused on the twin goals of promoting effective governance with human rights and a robust civil society and sustainable economic growth. Private sector responses vary greatly, ranging from the fragmentation of production and fissuring of employment to hide violations to developing investment and supply chain codes of conduct that may or may not be effective. The trade-related labor requirements raise opportunities and challenges for both public policy and corporate strategy. This course will help provide students with the knowledge and skills to navigate through them.
Among the topics we shall examine this semester are: Secularization and desecularization; nonviolence, just war and peacemaking; globalization and transnationalism; global human development; migration and refugee flows; religious freedom and human rights; forgiveness and reconciliation; religious institutions and leaders in international politics, and religion and U.S. foreign policy. A distinctive dimension of this seminar will be study of the role of specific religions (e.g., Judaism), formal religious bodies (e.g. the Holy See), denominations (e.g. Mennonites), religiously affiliated organizations (e.g., Catholic Relief Services or World Vision) or religious movements (e.g., Pax Christi International, Interfaith Youth Corps) in world affairs.
Prof. Marc M Howard | F 9:30 am – 1:50 pm
This course is part of a recently-created line of courses in the Department of Government (designated as GOVX) that follow a non-traditional structure and format, based on different methods and schedules of instruction and learning. The Spring 2016 version of the course involved extended class meetings and interactions with a group of incarcerated individuals, leading to a major public event and the cover story of the Washington Post Sunday Magazine. The Spring 2017 version will focus on societal reentry, as Georgetown students will work with people who are returning from prison and adjusting to free society. The class–which is a 5-credit course–is intended for a small number of highly-motivated students who are passionate about criminal justice and prison reform and are eager to leave campus and explore these issues, challenges, and human stories.
Prof. Rosemary Sokas | R 9:00 am – 11:50 am
The world we inhabit, including cities, transportation systems, food supply, energy production, and other aspects of modern life are the product of the work of human hands, as are the wastes and hazards produced. Disparate exposures to the hazards and unequal distribution of the benefits of modern life cause injustice that leads to health disparities. This course will explore how to critically explore hazards, develop collaborative solutions using community-based participatory research principles, and evaluate those solutions to promote environmental justice and reduce environmental and occupational health disparities. Students will work in groups in collaboration with community members impacted by environmental and occupational health issues, utilizing the principles of Community-Based Learning.
This seminar course is designed for first-year students with advanced placement in history who have an interest in pursuing the study of history at the upper level. The course will explore the ways in which Americans dealt with work and the "labor problem" from the era of slavery and artisan production, through industrialization and post-industrialism, to the recent emergence of a "gig economy" enabled by new technologies. It will examine the changing relationship between the organization of work and the direction of the nation's politics over time. The course consists of readings, writing assignments, and class discussions; there are no exams in this course.
Prof. Marcia Chatelain | MW 11:00 am – 12:15 pm
Prof. Adam Rothman | MW 2:00 pm – 3:15 pm
Prof. Andria Kathleen Wisler and Prof. Lahra Smith | One-credit course that meets five times over the course of the semester
This course will provide an opportunity for students to engage in activism around a range of issues in higher education throughout the spring semester, while reading critical literature in the field and reflecting on their activities. The first session is an introduction to the study of the role of nonviolent resistance in diverse international settings such as Iran, the Palestinian territories, the Philippines and Burma, and its application to higher education activism. The remaining three sessions will each be divided into two sub-themes: the first half of each class session will be a skill-building and reflection session, and the second half of the class session will be devoted to guest lectures presenting cases of dynamic student organizing in higher education contexts from around the world. Multiple writing genres will engage students' reflective and critical thinking on the role that activism plays in the lives of those they work with, as well as their own professional and intellectual and social development outside and inside the University. This course is both an academic and a practical opportunity to engage in activism, but also to reflect on the meaning of participating in a values-driven institution and what it means to hold that institution and themselves to those values.
Prof. Kerry Blair Danner-McDonald | TR 11:00 am – 12:15 pm
Prof. Randall J Amster | TR 2:00 pm – 3:15 pm
Prof. Mark N. Lance | MW 3:30 pm – 4:45 pm
Prof. Robert J. Bies | TR 11:00 am – 12:15 pm
The course has three key objectives. First, we will explore the importance of reflection in action, which is central to moral leadership. In addition to the course readings and exercises, this objective will be served in an off-campus retreat conducted by the Reverend Steve Spahn, S.J., Director of Ignatian Programs at Georgetown. Second, we will analyze when and why people engage in moral leadership, including the role of courage in undertaking such action—and how those actions changed the course of history or influenced the day-to-day quality of life in local communities, organizations, and nations. This objective will be served in the "Daring to Resist" and the "Moral Leadership Project" papers. The final objective of this course focuses on how you translate values into actions. More specifically, how to act on one's beliefs—to resist that which is wrong or unjust, and convince others "to stand for something you believe in, the good, the right thing to do."
Prof. Thomas Mulligan | TR 5:00 pm – 6:15 pm
Prof. Alisa L. Carse | TR 11:00 am – 12:15 pm
This course will bring a philosophic lens to questions about gender and its significance. We will examine aspects of the social and political significance of gender through the study of a range of texts, focusing throughout on analyzing and articulating the moral challenges introduced by the topics we study – e.g., concerning justice, fairness, expressive liberty, courage, and the demands of compassion and respect. Among the topics we will address are the following: taking moral responsibility for gender oppression; the difference between 'sex' and 'gender'; images, myths, and norms of masculinity and femininity; sexual orientation and gender orientation; competing explanations of gender differences; androcentrism and the dynamics of privilege; psychological oppression and self-respect; shame and gender; sexuality, domination, and violence; gender and 'discursive injustice'; gender and the politics of appearance; and conceptions of liberation.
Prof. Robin Rotman | R 2:00 pm – 4:30 pm
Prof. Sarah Stiles | TR 2:00 pm – 3:15 pm
Prof. Becky Hsu | TR 2:00 pm – 3:15 pm
Prof. Raymond Kemp | TR 9:30 am – 10:45 am
The course will apply the theological method of Bernard Lonergan, S.J. to four phases of the African-American struggle in order to discern and describe the transcendent presence of God. We will examine how, when, and where God shows up in the experience of African-Americans. We will look at four periods: (1) Contemporary Black Culture, (2) The Civil Rights Movement, (3) Reconstruction and Turn of the Century, and (4) Slavery. We will understand the theological method of Lonergan and apply it to these four phases of the struggle in an effort to understand faith, and its impact on the struggle of African-Americans. Lonergan's notions of cognition, history, dialect, doctrine, conversion, and bias will be treated.
Prof. Joseph Wimmer | TR 2:00 pm – 3:15 pm
Prof. William Joseph Werpehowski | MW 3:30 pm – 4:45 pm
Prof. You-me Park | TR 2:00 pm – 3:15 pm
We will explore the broadly and critically defined "genealogies" of women's and gender studies, and investigate the key concepts, theoretical debates, ideologies, and historical significance of the discipline. Learning and borrowing from Sophocles to Virginia Woolf to Audre Lorde to Cynthia Enloe, we attempt to construct a theoretical framework that will be helpful and challenging to our intellectual and practical pursuit of a just world in which both women and men can celebrate themselves and each other. In this endeavor, special emphases will be given to the issues of heterosexism, violence, militarism, human rights, sexuality and body, disability, labor, domesticity, and political activism. The investigation of these issues will be put in the context of related, but distinct, intellectual interrogations of race, class, nationality, ethnicity, and sexual orientations in the disciplines of race theory, postcolonial studies, LGBTQ studies, disability studies, and cultural studies.
Prof. Emerald L. Christopher | M 6:30 pm – 9:00 pm
Prof. Patricia Biermayr-Jenzano | M 3:30 pm – 6:00 pm
The course will present an overview of gender and development policies worldwide, including the introduction to gender analysis as the central aspect to understanding patterns of land use and conservation strategies, both individual and collective and how male and female farmers contribute differently to conservation and agricultural production efforts. Students will be presented with real case studies from all regions (Latin America, Asia and Africa) documenting gender gaps in relation to access to land, agricultural and natural resources (water, soil), extension services, farm labor, forest, livestock, credit/microcredit, etc. Current international trends and research streams on gender and agriculture and natural resource management (NRM) will be discussed and analyzed with the aim to influence policy to reach lasting change. The course is an interactive experience and students are expected to actively contribute to the class through their involvement in field studies, analysis of particular case studies and innovative presentations skills (videos, posters, maps, etc.)