Just Employment in Action: Adjunct Unionization and Contract Negotiation at Georgetown University
Posted in Just Employment Policy Reports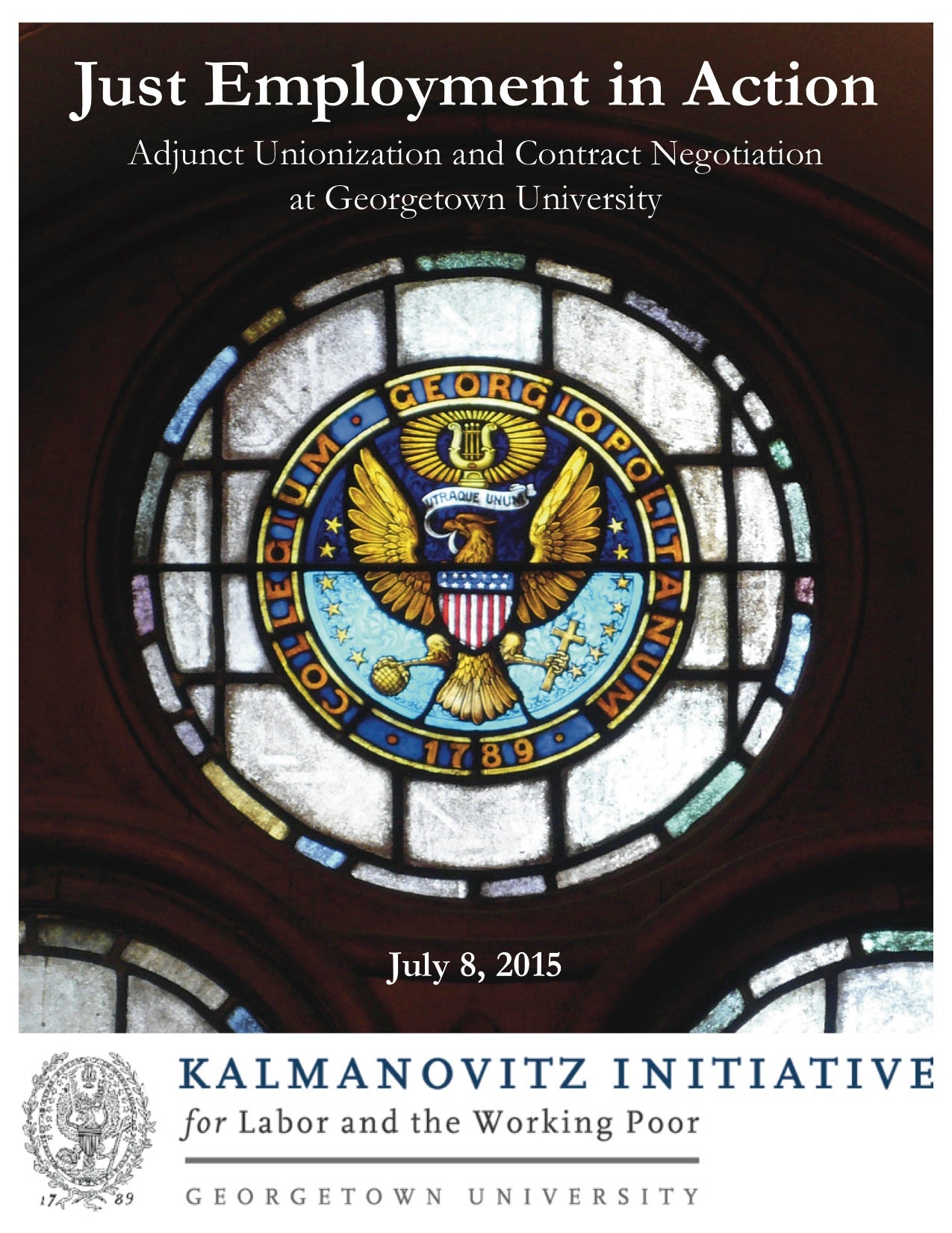 Georgetown University's contract with its union of adjunct professors is a significant model that merits replication in other institutions of higher education, says a new report issued by the Kalmanovitz Initiative for Labor and the Working Poor, entitled Just Employment in Action: Adjunct Unionization and Contract Negotiation at Georgetown University.
Two years after they began organizing with Local 500 of the Service Employees International Union, adjunct professors ratified a union contract with Georgetown University in October 2014. From the beginning of the adjuncts' decision to organize a union, the university's response was guided by its Just Employment Policy, which was adopted in 2005. That policy, which acknowledged the rights of employees to freely associate and organize, helped insure that the union certification and the contract negotiation processes occurred in a notably open and collaborative environment.
This contract between the adjunct union and Georgetown University arrives at a time when other institutions of higher education are strongly resisting adjunct unionization. Some institutions, even those that share a connection to a religious tradition similar to Georgetown's, have argued that their religious identity should exempt them from laws such as the National Labor Relations Act that protect the rights of adjunct faculty. Given this increasingly conflict-laden national context, it is all the more remarkable that the university and the adjunct union were able to reach their contract agreement while maintaining a high level of cooperation and respect on both sides of the bargaining table.
The Kalmanovitz Initiative for Labor and the Working Poor has undertaken this report to better explain the history and the context that led to the Georgetown agreement. This report details how this agreement came about and suggests ways in which other institutions of higher education can fulfill their potential to act as model employers—and as better anchor institutions in their communities—by recognizing the rights of their workers and committing to pay them a living wage.
Read the full report.