What you missed in the world of worker justice over the holidays
Posted in In the News | Tagged Christmas, Daily News, Friedrichs, Harold Meyerson, Holidays, Living Wage, Minimum Wage, NLRB, Wall Street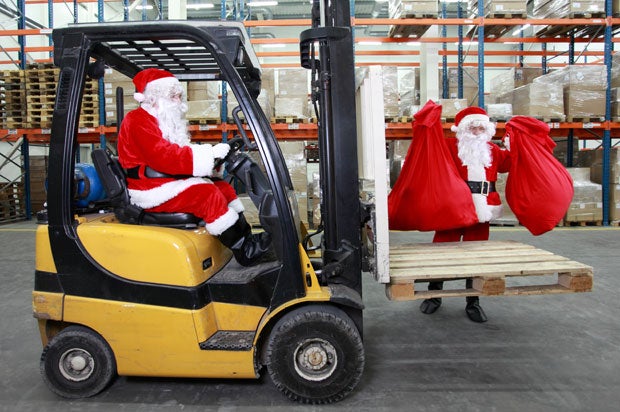 Did you go off the grid for the holidays to spend valuable time with loved ones? Did you neglect your email inbox and Twitter account in favor of baked goods, gift exchanges, and the new Star Wars movie? Don't worry, we've got you covered! Here are the best labor stories you missed.

New York Gov. Cuomo plans to raise the minimum wage for all public university employees in the state (including students) to $15 an hour, raising pay for 28,000 workers.

The Washington Post dismissed Harold Meyerson, a regular columnist who offered a vital, labor-focused perspective to current events.

Mark your calendars: the Friedrichs Supreme Court Case on public-sector collective bargaining takes place on January 11. Read Steven Greenhouse's take on how labor in Wisconsin plan to fight back.
Military subcontractors are accused of violating US labor law by refusing to pay role-playing actors of Middle Eastern descent mandatory overtime and depriving them of adequate meal and rest breaks.
Adjuncts at Loyola University Chicago Want a Union. Will the Jesuit University Respect Their Demands? The Nation covers how the Administration has responded to the unionization drive among its adjuncts.
The NLRB agrees to look at giving graduate students at private universities (Columbia in this case) the right to collective bargaining.
Happy news: 2015 was the year that Wall Street got nothing from its wish list of financial deregulation. Read how its legislative lobbyists reacted:
In retaliation, lobbyists for one bank scaled back a traditionally high-end holiday party they throw for members of Congress and key staffers, downgrading the culinary offerings to mini hot dogs and hamburgers.
DHS proposed rule changes to let certain high-skilled foreign workers to stay in the country and more easily switch jobs as they wait to obtain a green card.
Over 200 Muslim workers at a Kansas meatpacking and distribution plant walked off their jobs to protest workplace changes preventing them from praying throughout the day. Many were subsequently fired, and now CAIR seems to be negotiating on their behalf.
The sudden but well-deserved fall of Rahm: a fascinating piece on why the progressive movement resents the current mayor of Chicago.
A federal bankruptcy judge ruled that a coal company can cancel hard-earned health and retiree benefits for its workers but also pay out $2 million in bonuses to 26 executives.
The NLRB is considering whether to allow unions to represent company employees and part-time subcontracted employees together.

UC students successfully got the University system to divest from private prisons.
The SEC took an important step to ensure financial advisors for localities and school districts advise with the public's best interests in mind (fiduciary duty).
And hedge funds struggle to justify their existence.