KI and DC Jobs with Justice Release Report on Just Hours in Washington, DC
Posted in In the News Reports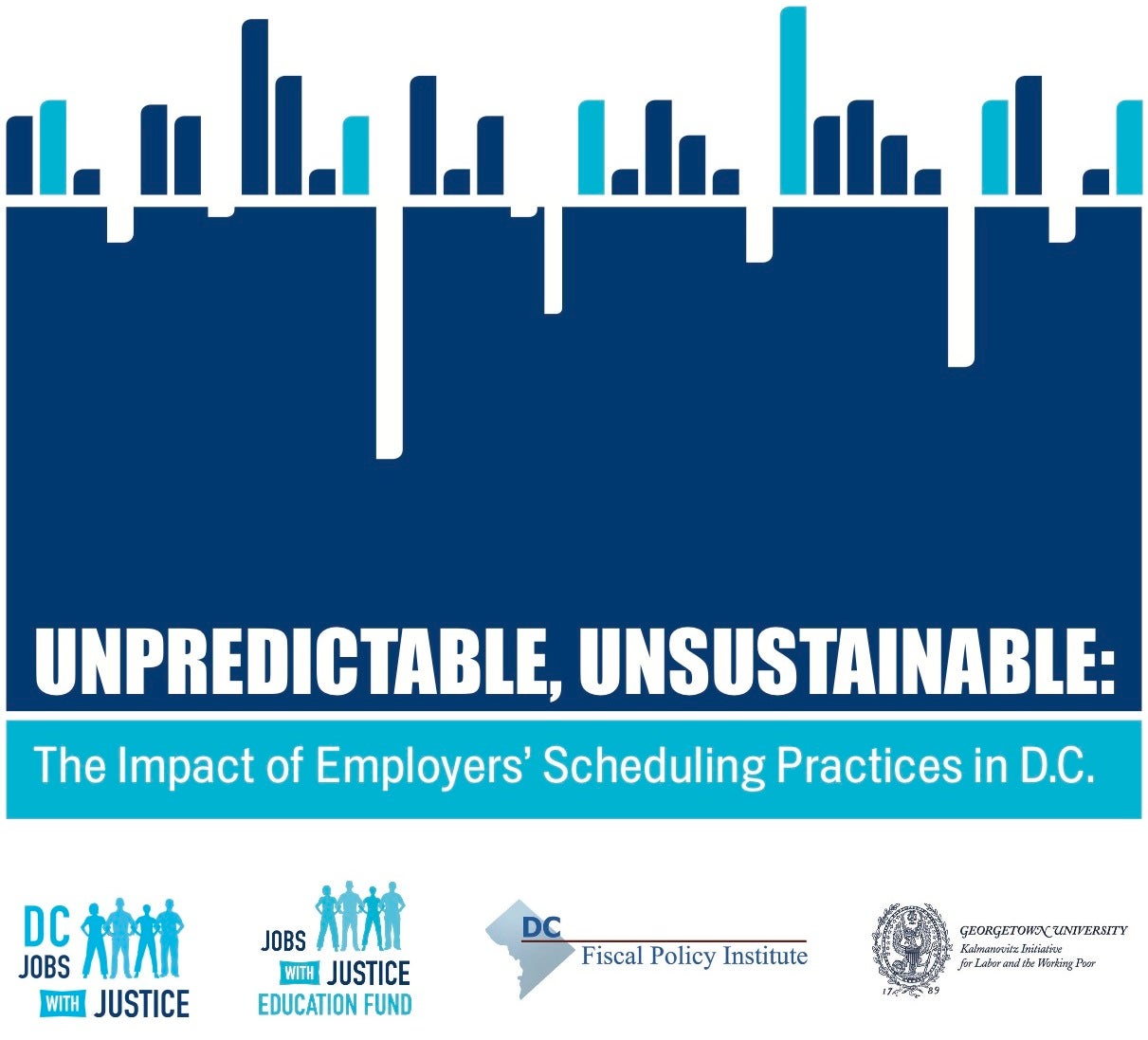 On June 11, DC Jobs with Justice, the Jobs With Justice Education Fund, the DC Fiscal Policy Institute, and the Kalmanovitz Initiative released the first-ever study on service sector scheduling practices in Washington, DC.
The report, "Unpredictable, Unsustainable: The Impact of Employers' Scheduling Practices in DC," draws on a survey conducted in 2015 with hundreds of people employed in the District, focusing on the retail and restaurant/food service industries—the broadest citywide study of scheduling practices in the service industry to date. The findings received widespread media coverage, including from the Washington City Paper and the Washington Post.
In line with previous research, it finds that "just in time" approaches to scheduling negatively impact many DC employees' lives, often resulting in erratic and unpredictable hours for the women and men who serve our food, stock our shelves, and sweep our floors. Employees are granted too few hours on too short notice, resulting in unpredictable incomes and work schedules that make it hard to budget, arrange childcare, continue with education, or hold down a second job to try to make ends meet.
Key findings include:
Low Pay Common
The typical employee works 32 hours per week at a pay rate of $10 per hour resulting in an annual income of approximately $16,000.
More Hours Needed
Four out of five people said it was very important or somewhat important to get more hours.
Second Jobs Required
Nearly one-quarter of individuals work at least one additional job.
Unpredictable Schedules
A typical respondent faces a 13 hour range in weekly hours per month, receiving as little as 25 hours some weeks and a high of 38 hours in other weeks.
Lack of Advance Notice
Nearly half of employees reported first learning of their work schedules less than one week in advance; one-third receive initial work schedules with less than three days' notice; and nearly one-third of retail and restaurant/food service employees reported receiving less than 24 hours' notice of schedule changes.
Life On Hold For On-Call Shifts
Individuals assigned on-call/call-in shifts appear to have a 50/50 chance of getting paid to work, despite holding time each week for their employers.
Shortened Shifts
Half of those working in the restaurant/food service industry reported being sent home before working their full shifts.
Part-Time Work, Full-Time Availability
Sixty percent of individuals said they must always be available to fulfill any assigned work schedule—regardless of the days or hours—in order to be considered for full-time hours or the best shifts available.