Women in Labor and Community Organizing at Georgetown
Posted in Events Student Leaders | Tagged Alumni, Black Lives Matter, BLM, Community Organizing, DC Fair Food, Erin Riordan, Georgetown Women's Alliance, GWA, Karina Lopez, Labor, Lane Windham, Maria Ochoa, Organizing, Sarah Vazquez, SEIU Local 1199, Showing Up for Racial Justice, SURJ, Taylor Griffin, UFCW Local 400, Women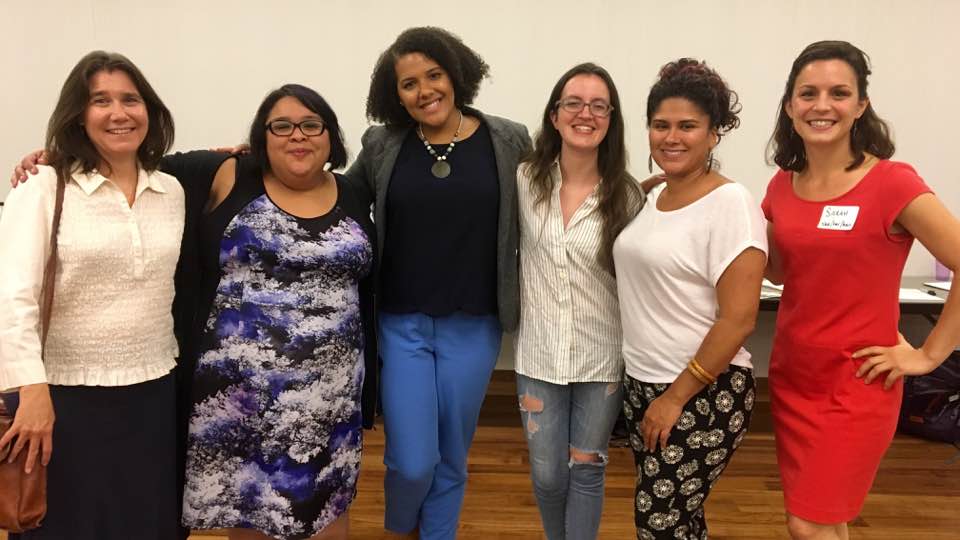 In partnership with the Georgetown Women's Alliance, the Kalmanovitz Initiative hosted a discussion that addressed women's leadership in labor and community organizing. The event aimed to encourage, inspire, and offer substantive ideas to women in the Georgetown community who are interested in social justice organizing and activism. By modeling women's leadership as organizers, we hope to make the vocation of organizing accessible to tomorrow's future women leaders across the United States.
We were honored to welcome back to campus Taylor Griffin (COL '14), Freedom Fighter for Black Lives Matter; Erin Riordan (COL '15), organizer for Showing Up for Racial Justice; and Sarah Vazquez (COL '13), educator and organizer for DC Fair Food. It was inspiring for students to hear about the social justice advocacy of recent Georgetown alumnae. We were also delighted to host poderosa union organizers Karina López from UFCW Local 400 and María Ochoa from SEIU Local 1199 and hear them discuss the particular challenges that women face in organizing spaces. The panel was moderated by Dr. Anna Lane Windham – the KI's newest fellow in residence. Dr. Windham spent nearly twenty years working in the labor movement and organized unions among clothing and textile workers throughout the South in the 1990s.
Special thanks to the Georgetown University Chapter of Student Farmworker Alliance and the Georgetown Solidarity Committee for kindly cosponsoring this event with us.