Community and Labor Organizers Plot to Bargain for Racial Justice
Posted in Bargaining for the Common Good Events | Tagged ACRE, AFT, Bargaining for the Common Good, BCG, CIWO, Conference, NEA, Public Sector, Racial Justice, SEIU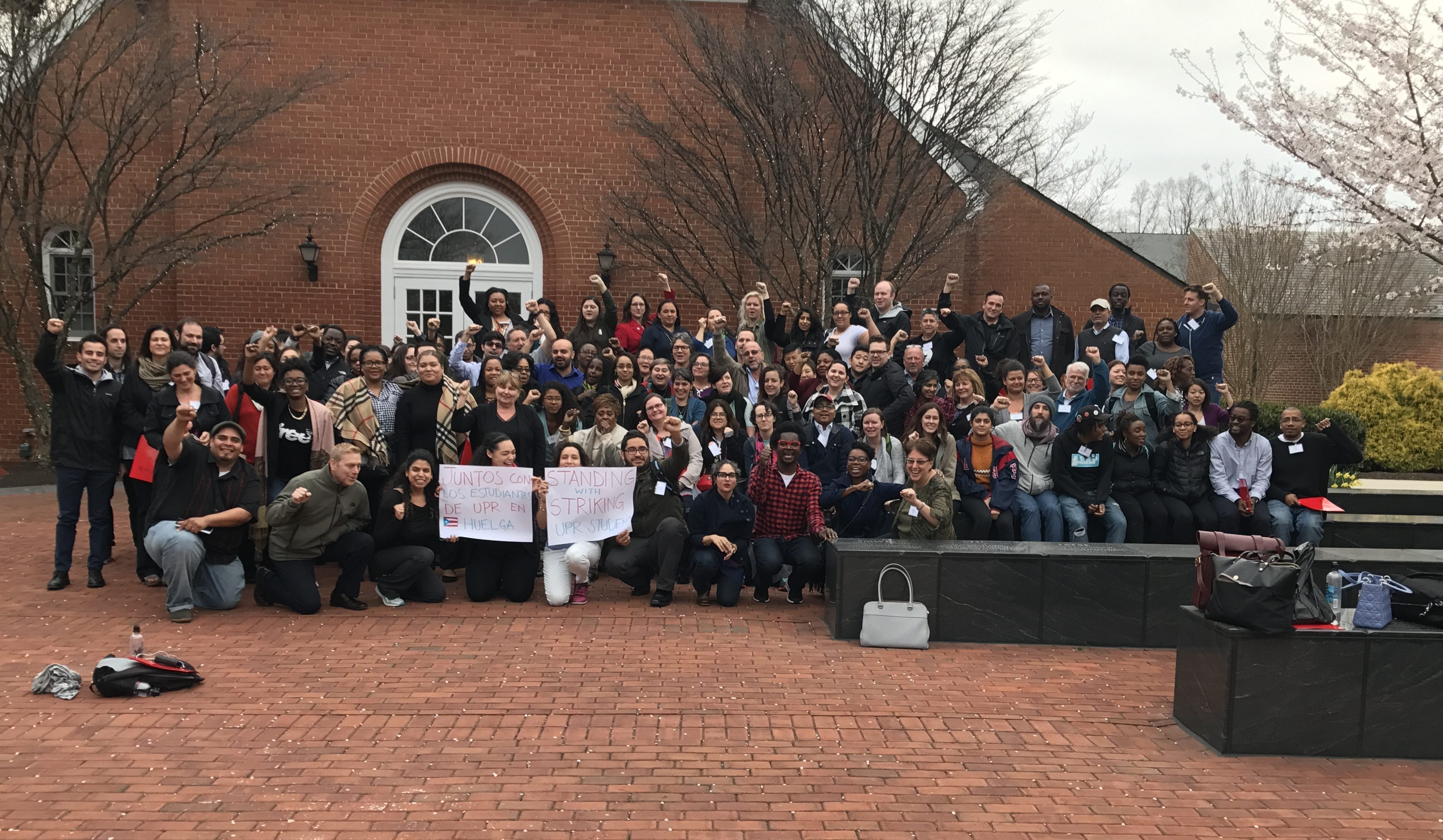 130 activists from local unions, worker centers, and community groups around the country gathered last month to strategize how to use the power of labor-community partnerships to make our organizations stronger and advance racial justice.
---
Attendees of the three-day conference converged at the old National Labor College, which has been renovated as the Tommy Douglas Conference Center. The gathering was hosted by a steering committee of representatives from labor and community organizations and convened by Georgetown's Kalmanovitz Initiative for Labor and the Working Poor, the Rutgers School of Management Labor Relations' Center for Innovation in Worker Organization, and the Action Center on Race and the Economy.
The conference expanded on the Bargaining for the Common Good strategy, which is about forming long-term community-labor alignments around a common vision for the change we need to see in our schools, cities, and states – then fighting for that change both at the bargaining table and in the streets. In recent years, contingents in Los Angeles, Chicago, St. Paul, Seattle, and Oregon have developed successful Common Good campaigns. This meeting was an effort to build on that work and highlight aspects that truly center racial justice in both their analysis and demands.
The conference was unique in that organizations applied to attend in 'cohorts' with other groups from their city or region. That way when it came time to plan campaigns that center racial justice in their respective communities, attendees had a de facto coalition already present and eager to take on unjust systems that profit from racism and exploitation. We were also fortunate to have the support of national unions such as SEIU, AFT, and NEA, which have tremendous experience coordinating Common Good campaigns. They were able to share best practices and many of the Common Good demands from their bargaining efforts.
Participants will take home the plans and alliances they formed at the conference to implement them to win intersectional victories for their members and communities.
You can see highlights of the conference in the photos below and a selection of tweets from those who attended.
We are deeply grateful to SEIU, NEA, AFT, Open Society Foundations, the Ford Foundation, and the Arca Foundation. Without their support this conference could not have taken place.