Workers in Hard Times
Posted in Announcements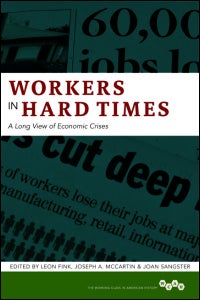 As the world economy struggled to cope with and recover from the "Great Recession," the Kalmanovitz Initiative in conjunction with America's leading academic journal of labor history, Labor: Studies in Working-Class History of the Americas, gathered more than fifty top scholars from four continents for the Workers and World Crises conference.
These scholars discussed the present crisis in light of other crises that have afflicted working people over the past two centuries, putting the present recession in perspective. The conference marked the last public appearance by the renowned labor historian David Montgomery of Yale University.
Selected papers from the conference were published by the University of Illinois Press as Workers in Hard Times: Nineteenth-Century Panics to the Twenty-First Century Great Recession. The International Labor History Association announced Workers in Hard Times as the ILHA Book of the Year Award for 2014.