WCP: Losing More than a Paycheck: Race and Class Conflict in Two New Plays
Posted in Visiting Scholars | Tagged Economic Inequality, Inequality, John Russo, Race, Reading, Sherry Linkon, Skeleton Crew, Sweat, Theater, WCP, Working-Class Perspectives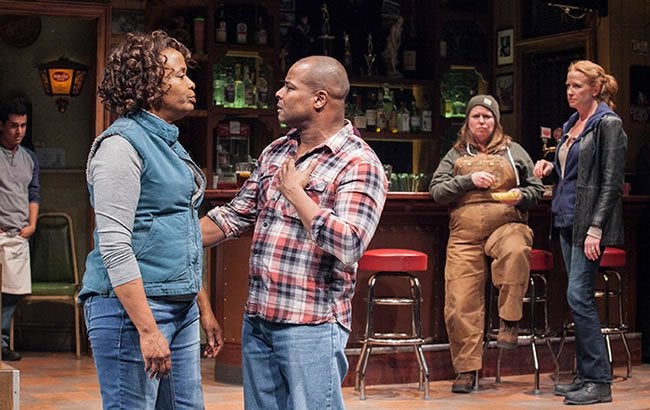 In the United States, we perceive deindustrialization to be behind us, but the recent closing of the Carrier plant in Indiana (new window) reminds us that industrialization is a continuing phenomenon. In this week's Working-Class Perspective, Prof. Sherry Linkon explores how two new plays – both authored by African-American women – use factory closings to explore economic inequality and the complex role that race and class play in working-class culture.
Both plays reflect the writers' engagement with individuals and communities that had experienced the economic and social losses of deindustrialization. Nottage set her play in Reading because the U.S. Census identified it as the poorest city in the country.  She spent two years interviewing locals, including the locked out workers at a steel mill, and collecting images and stories. For Morisseau, Skeleton Crew completes a three-play sequence focused on black lives in Detroit.  In the program notes for the play, she writes that the talked with experts and United Auto Worker activists, as well as friends and acquaintances, about their experiences with the industry's decline.  She describes the play as being "about the people behind the unions," and she acknowledges that "there is more to the auto world than I could ever capture," but she wants to "salute the story behind the play," too. By engaging directly and thoughtfully with working-class communities, these playwrights honor the experiences and voices of working-class people.
You may read the post in its entirety (new window) and see other Working-Class Perspectives posts on our website.
The Working-Class Perspectives blog (new window) is brought to you by our  Visiting Scholar for the 2015-16 academic year, John Russo, and Georgetown University English professor, Sherry Linkon. It features several regular and guest contributors.