Meet Our 2013 Worker Justice DC Leaders
Posted in Student Leaders Worker Justice DC
Meet Julia Hubbell and Erin Riordan, the students leading our 2013 Worker Justice DC Alternative Spring Break!
Julia Hubbell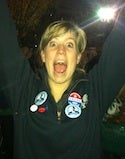 Julia Hubbell (COL '15) is majoring in English and Theology. She first came to the Kalmanovitz Initiative through participation in Worker Justice DC her freshman year. This past summer she spent working on the Obama campaign as an Organizing Fellow, and during the year she is involved in the Georgetown Solidarity Committee and their fight for worker justice. Of special interest to her are issues surrounding labor and immigration and the struggles of domestic workers, especially as they are experienced in her native Los Angeles. She hopes to eventually translate the skills she learned at the KI into a job as a grassroots community organizer.
Erin Riordan

Erin Riordan (COL '15) is interested in studying government, women's and gender studies, and education. She is a member of the Georgetown Solidarity Committee, and last summer was a student organizer with UNITE HERE's Organizing Beyond Barriers program with Local 23 in Washington, DC. She is also a tutor with Prison Outreach's GED tutoring program. She recently co-founded a blog, Feminists-at-Large, with her friend Kat Kelley. Her involvement with the Kalmanovitz Initiative through Worker Justice DC has sparked her interest in organizing social justice movements.