Meet Our 2013-2014 Student Researchers
Posted in Research in Action Internship Student Leaders
The Kalmanovitz Initiative is excited to welcome Shalina Chatlani, James Gadea, and Katharine Viles as our student researchers for 2013-2014.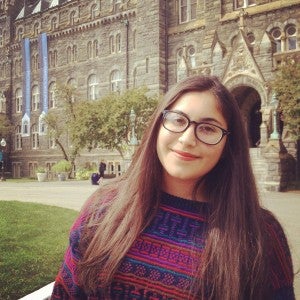 Shalina Chatlani (SFS'17) is from Jackson, Mississippi. She plans on majoring in Science, Technology and International Affairs and pursuing a certificate in International Development. She has written about DC labor issues for the Georgetown Voice and has participated in Georgetown Solidarity Committee. She is currently interning at the Smithsonian Air & Space Magazine. Shalina's fellowship research focuses on the convergence of the Labor Rights and Civil Rights Movements, how they complemented each other, and specific instances where they may have been unable to reach certain demographics. Her research centers on the Memphis Sanitation Workers and current day labor, civil rights issues involving the Mississippi Nissan Plant, and tomato farmers in Florida. Click here to view Shalina's final paper.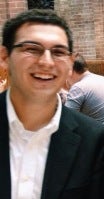 James Gadea (SFS '16) is from Atlanta, Georgia. He is interested in the historical relationship between Eastern Europe and the Middle East and how this relationship has affected global power structures and immigration. He has volunteered with the KI's Day Laborer Exchange where he has connected with day laborers from a variety of backgrounds. In addition to serving as the Financial Director for GU's Undergraduate Research Symposium, James is currently the Regional Director of Compass Partners in the DC area, managing regional events for the Compass Fellowship, which trains and mentors student entrepreneurs to encourage socially conscious business. James is passionate about international relations, history, social entrepreneurship, and film. James loves learning the Hebrew language, the smell of new books, and when movie characters say the title of the films that they are in.
Katharine Viles (SFS '16) is a Culture and Politics major with a concentration in Justice and Peace Studies from Boston, Massachusetts. She has worked with immigrant communities on issues of labor and education in Boston and Lawrence, MA. On campus, she tutors for DC Reads, a literacy intervention program focusing on elementary school kids in Ward 7, and works with female students at Duke Ellington Magnet High School to help develop a supportive, empowering community. Katharine's fellowship research concerns the issues surrounding the implementation of DC's 2004 Language Access Act, which states that government service agencies may not discriminate against people based on their native language, and how it affects hiring services within the Department of Employment Services for non-English-speaking or limited-English-speaking workers. Click here to view Kat's final paper.