Meet Our 2011 Worker Justice DC Leaders
Posted in Student Leaders Worker Justice DC
Meet Rahul Vasireddy and Vail Kohnert-Yount, the students leading our 2011 Worker Justice DC Alternative Spring Break!
Vail Kohnert-Yount

Vail Kohnert-Yount (SFS '13) is from Houston, Texas. She is majoring in Science, Technology, and International Affairs with a certificate in Justice and Peace Studies. At Georgetown, Vail is involved with the Center for Social Justice, the Georgetown Journal of International Affairs, and the College Democrats. In addition to leading the Worker Justice DC alternative spring break trip, Vail has also been part of the Coalition for One Georgetown campaign to unionize campus dining service workers.
Rahul Vasireddy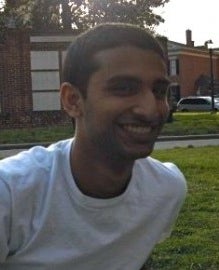 Rahul Vasireddy (NHS '12) is a transfer student from Virginia Commonwealth University and majoring in international health. His interest in fair and equal access to health care led him to issues of workers' rights and the working poor. Outside of school, Rahul enjoys the outdoors and likes to run, hike, and kayak.