Lowe Mill, Then and Now: Reimagining Industrial Spaces for the 21st Century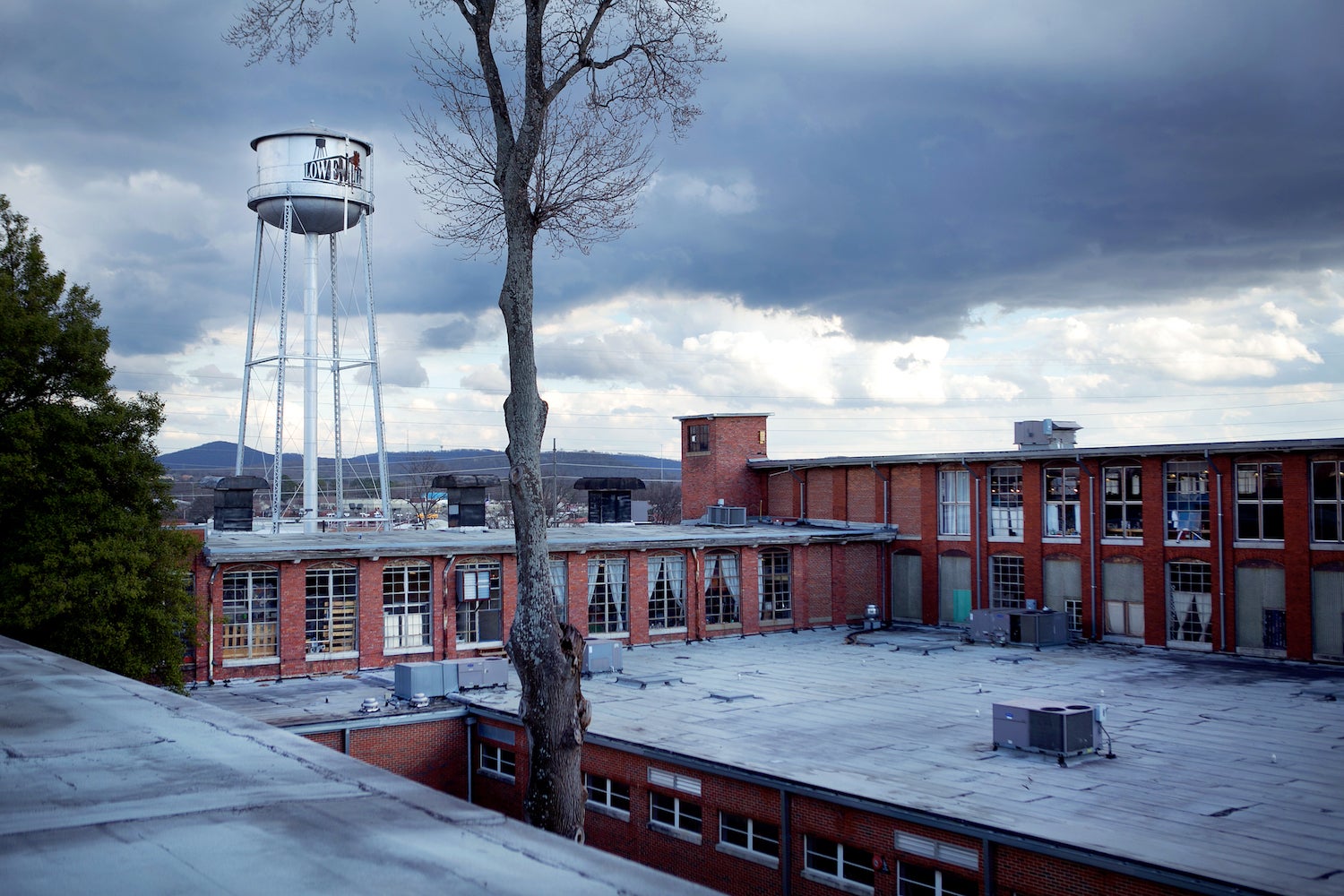 Posted in News Research in Action Internship
In my hometown, Huntsville, Alabama, one of the most popular attractions is a revitalized factory. While the hallmark exhibit of the area is the U.S. Space and Rocket center, this unlikely building has captured the attention of locals as a part of larger urban redevelopment efforts. With an industrial past spanning various uses, Lowe Mill has been transformed into an art and cultural center over the past two decades thanks to the effort of residents, local officials, and preservationists.
Originally created in 1900 by the Lowe Manufacturing Company under the direction of Arthur H. Lowe, Lowe Mill's earliest beginnings are as an early 20th century cotton gin, the fifth textile mill to be built in the city. It has a storied history, with operations beginning in 1901 when the first textiles were produced. Rapidly expanding over the following years, thousands of additional spindles were added and Lowe Manufacturing Company and Eastern Manufacturing Co. later merged into Lowe Manufacturing, Inc. in 1907. In 1911, a series of numerous other acquisitions began. Further, because workers were originally granted company housing, the local area began to develop around the mill, creating a village of sorts.
With the broader rise of unionization in the 1920's, workers of Lowe Mill also engaged in several of their own minor labor strikes. At the height of the Depression, the company's bankruptcy meant yet another reincorporation. Demands for improved working conditions were not progressing under new management and union bargaining was unsuccessful. Workers were unsatisfied by the lack of action by the United Textile Workers union (UTW), and 4,000 workers walked off, declaring strike in July 1934. The UTW did not follow with a nationwide strike until later, after voting to join the Alabama strikers on September 1, a movement which spread quickly throughout the South and as far north as Maine. This Textile Strike of 1934 was short lived and unsuccessful, leading to little in the way of substantive improvements for workers, especially those in the South.
Lowe Mill itself did not fare much better – by 1937, textile manufacturing was over and the building was repurposed into a warehouse. By 1946, the building was again given a new use, this time as a shoe factory by the names of General Shoe Company and later Genesco. Producing shoes intended for the military in some of this time, production was sustained until 1978, including the creation of combat boots for some American soldiers in Vietnam. But similarly to the rest of the site's history, this did not last, with Genesco closed and the site converted to an HVAC warehouse.
After being purchased by Jim Hudson in 2001, founder of the HudsonAlpha Institute for  Biotechnology, the site began its transformation to its current state. As a mixed-use site, the  Flying Monkey Arts Center opened its doors in 2004, and additional floors and studios were  gradually added in the following years. The city of Huntsville contributed to neighborhood improvements over these years with more substantial involvements beginning in the 2010's through expansions to affordable housing and infrastructure. A low-income area, the city hoped  these large capital investments would improve quality of life for residents while attracting new  businesses and creating a model mixed-use community.  
Their efforts have largely paid off, in a fairly short amount of time. Now, the area around the mill has reemerged in recent years as a trendy neighborhood featuring popular local shops and restaurants. Featuring 152 studios, 7 galleries, 200 artists, and 4 performance venues, the venue was granted status on the National Register of Historic Places in 2011 and is the largest privately owned arts facility in the South. And despite difficulties of the COVID-19 pandemic, the strong community and creativity of independent artists, musicians, and others has allowed the space to persevere and return to much of its normal programming and offerings. One can visit an art exhibit, adopt a cat from a cafe, and attend the concert of a local musician, all while in the same building in the same day, supporting local businesses. Peculiar yet ordinary, Lowe Mill has become a model for how these spaces can be preserved and repurposed to serve local communities while paying homage to industrial roots.
Across the United States, revitalization stories such as this are testaments to the modern potential of industrial spaces and manufacturing communities. When combined with community investment, these spaces can provide immense economic and cultural value when creatively reimagined as places including libraries, art centers, and hotels. I encourage everyone to explore their hometown history through these intriguing spaces and maybe even pay a visit or two.
---
Anna Catherine Snyder is a Summer 2021 KI Research in Action Intern.