The Pending Departure of Vail Kohnert-Yount
Posted in Our Staff | Tagged Vail Kohnert-Yount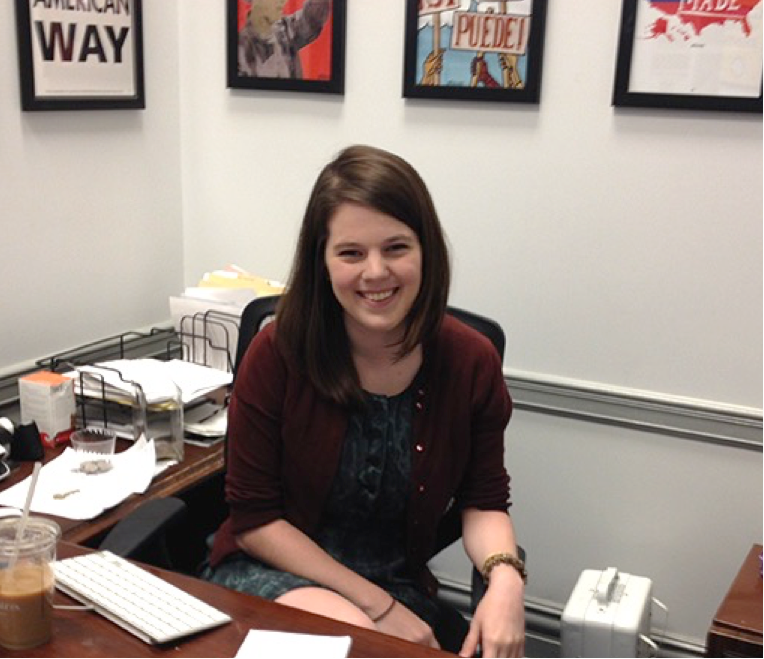 By Joseph A. McCartin, Executive Director
As many who follow the Kalmanovitz Initiative have already learned, our beloved program officer, Vail Kohnert-Yount will be leaving us later this month to pursue a challenging and exciting opportunity at the U.S. Department of Labor.
We are sad to see Vail go. She has been a crucial part of the KI team for the last two years, first as our office administrator and then as our program officer. Many of those who have gotten to know Vail through her KI work might not realize that her association with KI in fact goes back to her days as a Georgetown undergraduate, when she served as co-leader of our Worker Justice DC alternative spring break program. As an undergraduate, Vail developed a passionate commitment to the cause of worker justice. That passion expressed itself in both her activism on behalf of Georgetown dining hall workers when they organized a union and in her role as vice president of the Georgetown University Student Association.
When she joined the KI staff after her graduation, our initiative became the beneficiary of her abundant energy, organizing, and communicating ability. As administrator, she brought a sense of order and good humor to our office. As program officer, she stepped up our efforts to spread the Just Employment Policy on other college campuses, and she completely revamped our communications and outreach, with this blog, our Facebook page, Twitter accounts, monthly newsletter, and the websites of the KI and its affiliated projects.
Vail has left her distinctive mark on the work of this initiative and on all of those who've had the opportunity to work with her, and we are much better for our association with her. We wish Vail all the best as she moves on to her exciting new work, and we look forward to maintaining our relationship with her as a colleague in the broader effort to advance worker justice.