Spring into Action with Labor-Related Courses
Posted in Labor Studies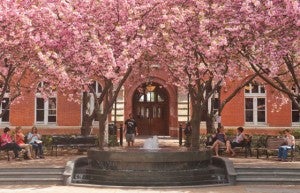 Preregistration for spring courses begins today! For those of you seeking interesting courses to round out your schedule, you're in luck. The following is a sampling of undergraduate courses that touch on labor and economic justice issues in line with the Kalmanovitz Initiative's mission. Please contact us at kilwp@georgetown.edu if you have any questions or suggestions.
African-American Studies
AFAM-306 | Advanced Topics in African American Studies | 28451
Professor Robert Patterson | M 2:00 – 4:30 PM
The purpose of this course is to examine, from a variety of theoretical and disciplinary perspectives, how Black Americans have experienced race and (in)equality since the modern civil rights movement. We will foreground how historical experiences of racial disenfranchisement remain embedded throughout American institutions, and think energetically about ways to redress racial inequalities. Our investigation of primary and secondary texts will consider how racial identities (as they intersect with other identification categories) have been constructed and portrayed (biological, sociological), and to what ends have those constructions have been used (racism, discrimination, classism).
After examining contemporary discourses on race, we will turn our attention to ante-bellum America and chronologically trace the production and consumption of racial identity from the ante-bellum period until the present. By situating our discussion of the contemporary moment in the context of a long history, we will consider the historical, social, economic, and ideological factors that have shaped and continue to shape our understanding of what it means to be a Black American, a category of identity that is becoming increasingly more difficult, if not impossible, to define.
Anthropology
ANTH 220 | Dangerous Kids | 28403
Professor Susan Terrio | TR 11:00 AM – 12:15 PM
The course uses first person accounts or non-fictional portrayals of children who were labeled as dangerous kids by virtue of their status as undocumented child migrants (Sonya Nazario, Enrique's Journey), street vendors (Katherine Boo, Beyond the Beautiful Forevers), child soldiers (Susan Shepler, Childhood Deployed), racial or ethnic minorities (Claude Brown, Manchild in the Promised Land; first generation immigrants (Sonya Sotomoyer, My Beautiful World) or displaced refugees (Helene Cooper, The House at Sugar Beach; Dave Eggers, What is the What). All of the accounts center on the normative social roles and gender ideologies that children learn in their home culture(s) and confront as they move across class, national, and ethnic boundaries. It gives particular attention to the way these issues intersect with expectations and opportunities for labor.
ANTH-256 | Disability & Culture | 28409
Professor Sylvia Onder | TR 12:30 – 1:45 PM
This course will take an anthropological approach to issues of culture and identity, with a particular emphasis on the field of "Disability Studies," which encompasses varieties of difference in physical, mental, and other forms of ability. Examples will come from around the world and close to home. Guest speakers, fieldtrips, performances, and interesting class projects are being developed for the course. Topics to be addressed will include: Deaf culture and the issue of ableism in the majority hearing population; autism, spectrum disorders, and neurodiversity; disability rights and justice; veterans with disabilities; caregiving, services, and dependency; and visible and invisible identities.
ANTH-305 | Class/Culture/Race in America | 26214
Professor Susan Terrio | T 2:00 – 4:30 PM
This course focuses on the intersection of economic restructuring, labor market change, national security politics, and the ongoing formation of class divisions in contemporary America but adds race and ethnicity to that mix. It examines recent anthropological theories of race as real structures in American society and culturally ordered systems of meaning. We will study recent ethnographic studies of race and racisms in minority neighborhoods, public schools, criminal and immigration enforcement, government agencies, and legal systems. Drawing on book-length monographs, documentaries, and literature we will consider the experiences of African Americans, Latino Americans, Muslim Americans, Native Americans as well as immigrants, new and old, from Central America, Europe, and the Middle East.
Arab Studies
MAAS-564 | Economics of the Middle East | 26329
Professor Joseph Sassoon | W 3:30 – 6:00 PM
This course will provide a general overview of the economies of Arab countries since 1945. Given the wide scope of the topic and the number of weeks we have, not all countries are covered, and some, such as the countries in North Africa or the Gulf states, are banded together. The first two classes will set the historical and general background for the period under study. The next seven classes will be focused on the following countries: Egypt, Syria, Lebanon, Iraq, Jordan, Saudi Arabia and the Gulf Countries, and finally North Africa. In each of those classes, we examine the economic history of the country, its main political economy issues, and look at its current economic situation. The last four classes deal with general topics that are important across the board such as globalization, labor and migration, Arab economic integration, Islamic economics and finance, and finally the performance of those countries in the last half of the century on an absolute and relative basis.
Catholic Studies
CATH-350 | Contemporary Faith, Work and Life Questions | 26399
Professor Ennio Mastroianni | R 2:00 – 4:30 PM
Professor and students will form a scholarly community to study select writings of Catholic spirituality in the context of contemporary human culture. This course also entails readings from theology, philosophy, psychology, sociology, and literature. Students will have an opportunity to search systematically through perennial Christian themes and challenges to encounter the living God and to shape contemporary culture from the vantage point of a person of faith. Each student will write and present a research paper (15 pages of text) that enables one to engage more fully in current and future life. Students also contribute significantly to the class by reading assigned texts prior to each class, by engaging in class discussions, and by assisting with class presentations.
Culture and Politics
CULP-348 | The Other: Immigrant Integration | 26665
Professor Elzbieta Gozdziak | T 2:00 – 4:30 PM
With a record 200 million people living outside their country of birth, immigration is a global phenomenon with profound demographic, economic, social, and political implications for both sending and receiving countries. The debates over immigration policies have become increasingly volatile and, in some instances, characterized by misinformation, hate, and xenophobia. Beyond the politics of immigration, genuine challenges to immigrant integration abound.
Successful integration of immigrants is critical to the long-term prosperity of host countries that rely on immigrants as workers, consumers, taxpayers, innovators, and entrepreneurs in light of their aging native-born populations and lower birth rates. In this course we will explore the cultural and historical basis for conceptualizing immigrants as the Other. We will also explore the ways, in which both the term and the concept are translated into contemporary policy towards immigrant "others" and how immigrants, refugees and asylum seekers now claim to speak as Others. We will raise questions about traditional understandings of nationality, loyalty, place and identity; discuss models of multiculturalism citizenship, as well as transnationalism and post-nationalism, paradigms that challenge an integrationist reading of migration. Theoretical writings, ethnographies, and works of fiction will inform our discussions. We will focus on case studies of France, Germany, the United States, and Canada. This course is an upper-level seminar and is structured around active student participation and discussion. It is of interest to students of anthropology, sociology, international relations, government, public policy, gender studies and ethnic studies.
English
ENGL-208 | U.S. Latino Literature & Culture | 28235
Professor Ricardo Ortiz | TR 3:30 – 4:45 PM
According to the Pew Research Center's Hispanic Trends Project, there were 54 million people living in the United States in 2013 who identified as Latin@ or Hispanic, making Latin@ Americans the largest cultural minority in the country, as well as a growing and increasingly potent political, social, cultural and economic force in American life. ENGL233 offers students a broad, comprehensive, and representative introduction to the US Latino experience (one that arguably begins with the roots of New World history in the first encounters between European and indigenous American civilizations, and continues through the fraught histories of British and Spanish colonialism, the long tragedy of the African slave trade, the rise of independent American national states from 1776 on, and finally through a complex, common history of geopolitical, demographic, economic, cultural and technological interaction across the 19th, 20th and now 21st centuries) as represented in a diverse collection of mostly literary and other expressive cultural texts and across a wide variety of genres: novels and short stories, poetry, plays, creative non-fiction, films, graffiti, popular music, and more recent digital expressive forms.
ENGL-297 | Issues in Education | 28326
Professor John Hirsh | TR 5:00 – 6:15 PM
This course, Issues in Education is a continuation of the fall semester course Reading, Teaching and Social Reflection, and like it is intended for students who are considering, or have decided, to spend part or all of their career in Education, entering it either through graduate school, or through Teach for America, the Inner-City Teaching Corps, or a like program. It involves studying current issues and trends in Education, considering Language Arts strategies, and working throughout the semester as a teachers' aide in one of two urban schools here in Washington. Students who have already elected Reading, Teaching and Social Reflection in any semester are welcome to enroll, as are Seniors who are intending to enter teaching (or a teaching program) in the near future. Other students are encouraged to elect Reading Teaching and Social Reflection before taking Issues in Education, however.
ENGL-430 | Testimonial Fictions | 28338
Professor Ricardo Ortiz | TR 5:00 – 6:15 PM
Testimonial Fictions argues that, since the early 1990's and the end of the Cold War, a select group of US Latin@ literary writers has embarked on a project of historical retrieval, using the resources of the literary imagination to document the histories of extreme state-sponsored violence in homelands as various as Cuba, Haiti, the Dominican Republic, El Salvador and Guatemala, in ways that reflect the influence of Cold War geopolitics on the regimes in question, and in ways that continue to haunt immigrant and diasporic communities fleeing from those countries to the United States. Primary material consists mostly of literary fiction (Julia Alvarez's In the Time of the Butterflies, Hector Tobar's The Tattooed Soldier, Edwidge Danticat's The Dew Breaker, Junot Díaz's Brief, Wondrous Life of Oscar Wao, Cristina García's The Lady Matador's Hotel), but the syllabus also includes work in alternative genres like testimonio (I, Rigoberta Menchú), literary memoir (Reinaldo Arenas' Before Night Falls), poetry (Forché, The Country Between Us, Archila, The Art of Exile) and both feature and documentary film (Schnabel, Before Night Falls, Demme, The Agronomist, Fukunaga, Sin Nombre). And while the course will focus on the complex intersection of transnational geopolitics and the kinds of complex social, cultural and even artistic formations they can generate in what might immediately pass for the more local politics of intra-national multiculturalism and diversity, it will also pay serious attention to the more intimate, private, and non-official spaces of human experience where these larger forces often most violently play out, including: the erotic, the familial, the emotional, the spiritual and the environmental. Finally, the course argues that the historical processes it traces in their unfolding from the 1990's on are still ongoing, and as recently as the summer of 2014 manifested in the unprecedented and still-unresolved humanitarian crisis of unaccompanied Central American children arriving in mass numbers on the US southern border.
Film and Media Studies
FMST-399 | Social Justice Documentary | 22345
Professor Bernard Cook | W 2:00 – 4:30 PM
The course will enable students to collaborate with members of DC-based community organizations in order to create documentary video projects and learn about non-fiction video as a tool for social action. Students in Social Justice Documentary will work in small teams to produce short documentary videos about social justice issues as related to the work of Washington, DC-based Community Organizations. At the end of the course students should be able to define, summarize, and interpret documentary theories; have a working knowledge of pre-production, production, and post-production processes that are part of making a documentary video; and be able to formulate and demonstrate ways through which documentary video can be used to meet social justice ends. In addition, students will have gained experience in working as members of video production team—as successful video production heavily depends on cooperation, collaboration, and respect among team members. This is a 4-credit course and will require substantial time outside of scheduled class meetings. This course will include hands-on workshops on camera, lighting, sound, and editing scheduled in additional to regular course meetings.
Government
GOVT-240 | Politics of Inequality | 27793
Father Matthew Carnes | MW 11:00 AM – 12:15 PM
Inequality – economic, social, and political – has emerged as a major political concern around the globe in recent years. What is inequality, and what factors contribute to it? What are its impacts, and how concerned (or not) should we be about them? This course examines the politics of inequality in comparative perspective, examining evidence and cases from Latin America (historically the most unequal region in the world), Europe, Asia, Africa, and the United States. Drawing mainly on the disciplines of political science and economics, students will analyze competing definitions of inequality, explore the political and social causes that give rise to it, examine policies designed to combat it, and trace out its implications for economic opportunity and political participation.
GOVT-342 | Department Seminar: The Politics of Social Protection | 27818
Father Matthew Carnes | MW 3:30 – 4:45 PM
This course will study how different countries seek to protect the weak and vulnerable in society: the young, the aged, the unemployed, and the ill. We will examine both welfare state policies (pensions, health care, and education) and targeted programs at poverty alleviation, and seek to understand their successes and shortcomings. We will give particular attention to the political dynamics that allow for certain programs to emerge and work in some settings but be unthinkable or unsuccessful in other settings.
We will study how social actors – including labor unions, employers, bureaucracies, and elected officials – can have competing interests in the design, finance, and reform of social policies, as well as examine how policies can "create politics" by investing these social groups with incentives to foment or block change. Regionally, we will focus first on Europe and the US, which were the earliest regions to develop welfare state policies, and then we will study the developing world, including Latin America, Southeast Asia, and the Gulf States. These latter regions have presented remarkable innovation in social programs in recent decades.
GOVT-362 | Department Seminar: Poverty and the World Economy | 26168
Professor Nita Rudra | T 12:30 – 3:00 PM
This course evaluates the prevalence of widespread poverty in the global economy and uses tools from political economy to explore why it continues to plague so many countries throughout the world. The emphasis is on the kinds of questions scholars and practitioners ask about poverty and development and how they have attempted to answer them. Issues of poverty are analyzed as both internal and external political, economic, and social phenomena. The readings cover many of the classic texts in the field, policy- related issues, debates on North-South relations, and case material on Latin America, Africa, East Asia, and South Asia. Students will be encouraged to think critically about issues of poverty and evaluate the merits of different strategies intended to alleviate it.
History
HIST-284 | History of American Labor Since 1870 | 27897
Professor Joseph McCartin | MW 12:30 – 1:45 PM
This course surveys the history of American labor from the nineteenth century to the present. It examines the history of work, unions, and labor relations and connects the story of workers and their struggles to the larger history of the United States from the era of industrialization to globalization.
HIST-383 | What Is an American? Cultural Identity in the United States | 27925
Professor Ronald Johnson | TR 5:00 – 6:15 PM
This course will explore the evolving question of what constitutes American identity from the time of the American Revolution to the present. The focus will be the history of community, group experiences, major American autobiographies, and the continuing shifts and changes in how Americans defined and redefined their understanding of the nation. The American Revolution, slavery, white-Indian relations, Civil War, industrialization, gender and race, Civil Rights and the "cultural wars" of the late twentieth century will be examined in depth.
HIST-494 | The African-American Great Migration | 27954
Professor Marcia Chatelain | W 5:00 – 7:30 PM
This course examines the African-American Great Migration, the mass movement of African-Americans from the South to Northern cities. The course will begin with an examination of the conditions that compelled African-Americans to flee the South, particularly World War I, Northern industrialization and the codification of Jim Crow laws. Then, students will read texts, memoirs and original documents about Great Migration cities–New York, Chicago, Milwaukee, Pittsburgh and Detroit. The course will emphasize thew ways in which the Migration informed African-American religion, gender relations, business, educational opportunities and politics.
Human Science
HSCI-332 | Health Impacts of the Environment | 18406
Professors Phil Hagan and Wei-Han Liu | W 3:30 – 6:00 PM
Health Impacts of the Environment explores physical, chemical, biological and psychological hazards, their impact on human health, and approaches to prevention. The course builds on a scientific foundation of biology and chemistry, introduces the spectrum of disciplines collaborating to address environmental issues, and utilizes teamwork to examine the most urgent topics of the day.
HSCI-419 | Environmental Justice | 24359
Professors Laura Anderko and Rosemary Sokas | R 12:30 – 3:00 PM
The world we inhabit, including cities, transportation systems, food supply, energy production, and other aspects of modern life are the product of the work of human hands, as are the wastes and hazards produced. Disparate exposures to the hazards and unequal distribution of the benefits of modern life cause injustice that leads to health disparities. This course will explore how to critically explore hazards, develop collaborative solutions using community-based participatory research principles, and evaluate those solutions to promote environmental justice and reduce environmental and occupational health disparities.
HSCI-440 | Occupational and Environmental Toxicology | 23037
Professor Rosemary Sokas | R 9:30 AM – 12:00 PM
Occupational and environmental toxicology addresses the manner in which human exposures to chemicals in the workplace and the environment result in adverse health outcomes. The course uses both an organ systems approach and an exposure/outcome approach to examine the pathophysiology of common occupational/environmental diseases, criteria and methods of diagnosis, epidemiology, prevention, and research questions related to emerging exposure-outcome associations. As an advanced level course, students will form teams at the outset and will be responsible for readings and for team presentations throughout the semester.
International Affairs
INAF-412 | Social Policy in Europe | 28091
Professor Jorge Ferrer | W 9:30 AM – 12:00 PM
The objective of this course is to provide an understanding of the main characteristics of the "Social Welfare Model" in the European Union, focusing on the historical perspective and the emergence of the Welfare State in Europe. In the first part of the course we will analyze the concept and origins of the Welfare State, its development and crisis. We devote special attention to the so-called "European social dimension" as a backbone feature of the institutional architecture of European identity from an historical, political and economic point of view. Then, we will analyze the different models of the Welfare State in Europe: Anglo-Saxon, Mediterranean, Continental, Nordic and the emerging model of Central and Eastern European countries. These models show a social Europe that runs and operates at different speeds and therefore how Europe faces the challenge of future convergence or complementarity of these models, whose social budgets acquire huge differences from one country to another. Students will learn the latest European institutional and social policy developments as well as the social and economic planning through the so-called "Agenda 2020." The second part of the course includes a description and critical analysis of European sectorial social policies that represent major challenges for the next seven years, such as employment policy, the challenge of poverty reduction of young people, the educational policy, social security-social services policy and health policy, emphasizing the problems facing Europe such as active aging and long-term care, declining fertility or long-term unemployment and increased poverty in children. Students will finish the course with a full understanding of why Europe is an international benchmark for the institutional social model and will have a complete understanding of European Social Policy from a sectorial perspective.
INAF-504 | IBD Outsource/Offshore/SrvTrade | 24488
Professor Lindsay Oldenski | M 2:00 – 4:30 PM
Popular media and political rhetoric often reference outsourcing, both as a potential source of growth and a potential source of job destruction. This course goes beyond the buzz words to examine what we really know about global production networks. What is meant by the terms "offshoring" and "outsourcing"? Are traditional models of trade sufficient to handle increasing complex global production strategies? How do we measure trade in intangibles such as intellectual property and business services? What are the impacts of offshoring on both the countries doing the investing and the countries receiving the investment? How worried should you be about losing your job to someone in India? Is the world getting "flatter"? What policy responses are appropriate? These and other related questions will be addressed using both theory and empirical evidence.
Justice and Peace Studies
JUPS-224 | Labor/Sexuality/Globalization | 13819
Professor You-Me Park | TR 11:00 AM – 12:15 PM
This course explores the junctures of globalized labor, national "development," and the "postcolonial" world system by exploring the concepts of labor, sexuality, and bodies. When and how do we become "workers"? How do we imagine and represent sexualities and bodies in the contexts of national developments and policy making procedures? How do third world workers negotiate their agency from the positionality of the "subaltern"? We will read and discuss literary and cultural texts, fact-finding documents, and theoretical investigations so that the more rigorously historicized concepts of labor, sexuality, and globalization enhance our understanding of social justice, equality, and violence prevention.
Pyschology
PSYC-347 | Schools, Poverty, and Policy | 24915
Professor Anna Markowitz | WF 11:00 AM – 12:15 PM
This course brings key research from developmental psychology to bear on questions of education reform and income achievement gaps in America. It begins with identifying the purpose of school and its role in American cultural and political life. It then presents information about the income achievement gap—the gap in academic performance between high and low income youth—the socio-emotional skills gap, and gaps in related outcomes. We then move to analysis of developmental research and what it tells us about the performance of low-income children in American schools. Finally, we assess current policy debates and policy solutions designed to "fix" schools and close the income achievement gap, linking these solutions to their assumptions about causes and the evidence we have for their efficacy. This class is designed to encourage critical thinking about the causes of social inequality, and the application of evidence to the assessment of solutions put forth by policymakers and in popular discourse. In particular, students should walk away with the ability to analyze both the causes and possible solutions to the income based academic achievement and socio-emotional skills gaps.
Sociology
SOCI-140 | Social Inequality | 28130
Professor William McDonald | TR 2:00 – 3:15 PM
The goals of this course are to critically examine the answers given to the following questions: Why do some people have more of the good things in life than others? Why are the poor poor? How did inequality in society begin? What does inequality look like in America? Are we a classless society? How do you recognize social class? How differently do people of different social classes experience and react to the world? What are your chances of moving up or down in the class order? Is there a ruling class in America? Is there a new class war underway in America? Do the Soviets have more or less inequality than we have? How does the international economic order affect inequality in the third world?
SOCI-144 | Race and Ethnic Relations | 24066
Professor Leslie Hinkson | TR 11:00 AM – 12:15 PM
In this course we will explore several themes, although the overriding theme will be the transformed nature of racism in the United States and how it creates, reinforces, and perpetuates racial inequality. After discussing the socially constructed and problematic nature of racial categorization, we will focus on how race and racism is learned. We will trace how racial difference is created and eventually generates socially segregated patterns by adolescence, which in turn become solidified in adulthood. We will then explore, in detail, racism and privilege as systemic, institutionalized features of U.S. society. In particular, we will examine how modern racism has been coded and masked itself in seemingly race-neutral, color-blind language and practices. In doing so, we will translate the subtle racial meanings of this code. We will then look at how this color-blind racism, coupled with structural obstacles in arenas such as housing, the education system, the economy and job market, and the criminal justice system, help to maintain racial inequality.
SOCI-155 | Social Movements | 25880
Professor Howard Caro-Lopez | TR 2:00 – 3:15 PM
This course will examine social movements as planned and fairly prolonged mass attempts against the established socio-political systems. They are organized efforts to promote social change, at least in part, through non-institutionalized forms of political action.
The major goals of the course are: 1) to acquaint students with major concepts, theories, and paradigms on social movements. Some of the major theories include strain, Marxist, resource mobilization, political process, and "cultural" explanations; 2) to examine significant sociological variables of class, gender, race/ethnicity, age, ideology, and religion within social movements; 3) to analyze the formation process and impact of a number of post-World War II era movements in the U.S., such as the Civil Rights, Women's Liberation, Student and the New Left, the Christian Right, and more recently sporadic "anti-globalization" movement; 4) in addition, some cases in the developing world will be examined to familiarize students with various sociopolitical contexts (and their impact on movement formation). In particular, we look at movements of national liberation, Islamic revivalism in some Middle Eastern countries and the emerging pro-democracy movements.
SOCI-157 | Global Power Elites | 28131
Professor Peter Cookson | TR 8:00 – 9:15 AM
Today global power is exercised by political and economic elites networked together through institutions and interpersonal relationships. Many members of the new power elite are wealthy: the public policy think tank, Oxfam, recently published a report featuring an astounding statistic – 85 billionaires worldwide have as much wealth as the bottom half of humanity. This fact, however, should not blind us to the complex relationship between wealth and power because power is never absolute, but, as history shows us, consistently questioned and challenged by the powerless and those eager for reform. In today's complex and fast moving social and economic global environment, power is not one directional; grassroots movement and democratic institutions are developing throughout the world, challenging the status quo and calling into question institutional arrangements that reinforce the concentration of power.
SOCI-173 | Food, Farms, & Society | 28137
Professor Danielle Berman | T 6:30 – 9:00 PM
Food, its production and consumption, is at the very core of our existence and inherently cultural, political and social. It is among our biggest industries; our most frequently indulged pleasure; a central ingredient in the social construction of identity and community; and also the object of major concern for disease, the environment, and world hunger. This stimulating course will give you an intellectual overview of the main issues and topics relevant to studying the cultural, political, economic and social forces that shape our food system. Our scholarly journey through the food system will explore methodologies and theories applicable to the analysis of food as we critically examine the following questions: How do such factors as ethnicity, class, religious beliefs, place, the media, and corporate capitalism affect what – and whether – people eat? In what ways do the practices and patterns of food production, distribution, and trade affect global and local inequality? How can changes to the food system contribute to social and economic change? What are some of the prevailing sociological approaches that enrich our understanding of the global food system and our place within it?
SOCI-178 | Capitalism: Culture, Markets, Power | 28657
Professor Dameon Alexander | MW 5:00 – 6:15 PM
Max Weber and Emile Durkheim offered a concise definition of Economic Sociology: "the sociological perspective applied to economic phenomena." Early sociologists were interested in the causes and consequences of the rise of capitalism. Interest in economic effects viewed through a sociological lens was thin as the 20th century progressed. But, by the 1980s economic sociology began to gain more attention as capitalism spread into various aspects of global society. This course covers economic sociology's general concerns amid economic systems, institutions, and behavior in the capitalist system. We will also explore intersections to the economy such as education, religion, and technology. Aspects of this course will be conducted more like a seminar than a traditional lecture. The expectation is that students not only sit and take notes, but participate and be able to discuss the topics covered in class. Students are expected to complete all assigned readings for critical discussion in class. While economic sociology encompasses a breadth of theory and methodology this course will be an experience more closely related to a food tasting tour. We will sample different paradigms, methods, and topics each week looking at economic situations and causation through the lens of a sociologist. In some ways this course will be similar to socioeconomics where we will consider very specific economic situations and examine the potential sociological effects.
Theology
THEO-041 | Struggle and Transcendence | 15427
Father Raymond Kemp | TR 9:30 – 10:45 AM
The course will apply the theological method of Bernard Lonergan, S.J. to four phases of the African-American struggle in order to discern and describe the transcendent presence of God. We will examine how, when, and where God shows up in the experience of African-Americans. We will look at four periods: (1) Contemporary Black Culture, (2) The Civil Rights Movement, (3) Reconstruction and Turn of the Century, and (4) Slavery. We will understand the theological method of Lonergan and apply it to these four phases of the struggle in an effort to understand faith, and its impact on the struggle of African-Americans. Lonergan's notions of cognition, history, dialect, doctrine, conversion, and bias will be treated.
THEO-709 | Religion, Work, Workers | 27966
Professor Gerard Mannion | R 9:30 AM – 12:00 PM
This class explores how different religious traditions have perceived human work, focusing especially on the place, dignity and welfare of workers. We will look at ancient, historical, modern and contemporary understandings of and engagements with work and workers alike. The course will seek to employ an expanded conception of the comparative theological method and comparative approaches to the study of religions. In order to do so, the class will take an interdisciplinary approach to its subject matter. We will therefore also engage studies of sacred texts, historical approaches to the study of religion and society, religious studies, historical theology, theological anthropology, moral theology and religious ethics. We will also encounter differing philosophical, social scientific, cultural, and political approaches along the way. Looking at sacred writings, authoritative teachings, commentaries, scholarly discussions and ethical critiques alike, key themes to be explored will include religious understandings of creation, human nature, meaningful existence, rest, leisure, contemplation and work itself. Parts of the course may also explore religious (and secular) conceptions of authority, community, the common good, class, hierarchy, power, social stratification, exploitation, subjection and oppression, including slavery and its more recent forms that go by different names. Working conditions, terms and reward will be explored. Issues such as migration, worker-oriented communities, society, places of work, questions of economics, hours and remuneration will feature in a number of the modern and contemporary texts engaged with. We will also engage more specific questions pertaining to the dignity of workers and their work, the notion of 'decent work', social justice and human liberation. Theories, movements and practical experiments in shaping a more just and fulfilling model of work will be explored. These include communes, monastic life, cooperatives, labor movements and the like. Again, we will also engage various secular approaches to the core issues to be explored along the way. The class may feature some guest speakers and visits to organizations and sites of especial interest.
Women's and Gender Studies
WGST-224 | Labor/Sexuality/Globalization | 13819
Professor You-Me Park | TR 11:00 AM – 12:15 PM
This course explores the junctures of globalized labor, national "development," and the "postcolonial" world system by exploring the concepts of labor, sexuality, and bodies. When and how do we become "workers"? How do we imagine and represent sexualities and bodies in the contexts of national developments and policy making procedures? How do third world workers negotiate their agency from the positionality of the "subaltern"? We will read and discuss literary and cultural texts, fact-finding documents, and theoretical investigations so that the more rigorously historicized concepts of labor, sexuality, and globalization enhance our understanding of social justice, equality, and violence prevention.
WGST-251 | Women and the Law | 23221
Professor Sara Hoverter | W 7:00 – 9:30 PM
This course will introduce students to the law of sex discrimination and women's rights, with particular emphasis on issues of employment discrimination (including sexual harassment), violence against women, marriage and divorce law, and reproductive and abortion rights. It will consider the assumptions and biases that have shaped the law in these areas, tracing the historical development of constitutional and statutory protection for women's rights, and exploring feminist and liberal critiques of the current state of the law. Finally, while the course's primary focus will be on American law, it will also introduce students to other countries; approaches to rape law and abortion rights, comparing and contrasting the assumptions about women that underlie different legal systems.
WGST-253 | Women's International Human Rights | 24984
Professor Laura Ardito | M 6:00 – 9:30 PM
Women's human rights issues have been conspicuously absent from post-World War II efforts to promote and protect human rights. This course looks to the critical work of activists and scholars from around the world to assess the human rights framework in terms of its successes and failures in advancing women's rights. We will examine country-specific cases of human rights abuses and activism in order to develop an understanding of the nature of sex-specific human rights abuses, including violence against women in conflict, trafficking of women and institutional discrimination and the different means used to combat them.