Spring into a Semester of Social Justice
Posted in Labor Studies | Tagged Course List, Course Listings, Higher education, Labor Studies, Social Justice, Spring Semester, Working-Class Studies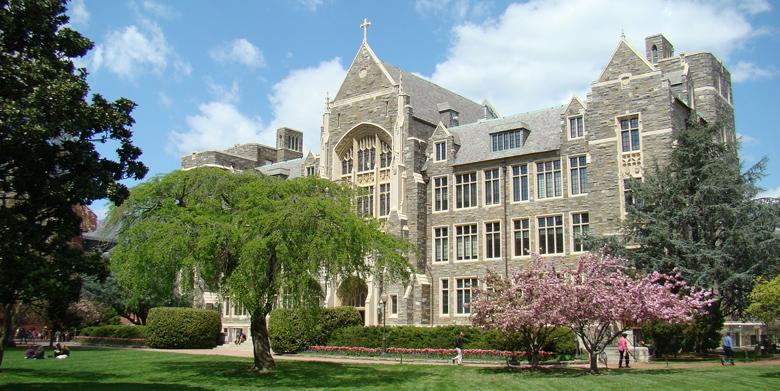 With hundreds of courses offered each semester, it can hard to identify classes and professors that center issues of worker rights and social justice. We compiled this list to make that a bit easier for you. Please contact us at kilwp@georgetown.edu if you have any suggestions for our list.
African-American Studies
The Psychic Holds of Slavery – 33761 – AFAM 315 – 01
M 5:00 pm – 7:30 pm | Prof. Robert J Patterson and Prof. Soyica Diggs Colbert
We examine what it would mean to "get over slavery" and whether "getting over slavery" is even possible or desirable. We consider how the perception of the psychic holds of slavery function as mental manacles that hold us back from imagining (and experiencing) a post-racist America. Related, we will also conceptualize the psychic holds of slavery as tools that assist us in understanding the systemic racial inequalities and restricted liberties that persist in the present day. Exploring film, drama, fiction, performance art, historical documents, cultural artifacts, and popular culture, this course maintains we insist that our understanding of the past informs our understanding of the present—and vice versa. Spanning historical epochs from the antebellum period to the 21st century, we will place slavery's historical legacies in conversation with twenty-first-century manifestations of anti-black violence, dehumanization, social death, and racial (in)equity.
Race & Radical Feminisms – 33759 – AFAM 214 – 01
MW 2:00 pm – 3:15 pm | Prof. Rosemary N Ndubuizu
Using primary and secondary sources, this undergraduate course examines post-1960s radical feminists' efforts to address and theorize race. While this course centers and highlights the theories of race feminists of color, particularly radical black feminists, offered, this course will address how white radical feminists theorized how race impacted their feminist theories and praxis. In order to understand how radical feminists articulated their radical politics, students will review these feminists' efforts to understand how race shapes their understanding of sexuality, family, labor, politics, (intimate) violence, and marriage. And lastly, this course will expose students to how feminists of color practiced radical politics internationally.

Anthropology
CBL: Refugess/Asylees/Migrants/Trafficking – 32147 – ANTH 351 – 01
W 2:00 pm – 4:30 pm | Prof. Denise Brennan
This community-based research seminar on migration combines anthropology and principles of activist research. With 65 million people forcibly displaced, and over 244 million more migrants living abroad worldwide, migration in its various forms is one of the most pressing human rights issues today. As an anthropology class, we will read about the lived experience of migration – spotlighting the distinctions and commonalities between migrants, refugees, asylees, and trafficked persons. And as members of a 4-credit community-based research class, students will conduct field research and create advocacy opportunities on behalf of migrants in the Metropolitan D.C. area. In this way, you will learn from the communities around you while contributing in ways that they identify.
Race & the Black Diaspora – 32146 – ANTH 283 – 01
TR 12:30 pm – 1:45 pm | Prof. Gwendolyn Mikell
Are the notions of "race" and "blackness" just American pre-occupations resulting from the experience of Trans-Atlantic slavery, as many in the U.S. and in Africa have charged? Was W.E.B. DuBois correct is saying that "the problem of the 20th century is the problem of the color line? How have ideas about race changed in the Americas of today? This course explores how anthropologists have contributed to this debate, as they conducted engaged fieldwork in black communities of the United States and the Caribbean. We discover that a number of black and non-white anthropologists have pulled together the threads of history, politics, religion, and the arts, to show us the cultural energy within black communities of the Americas. Although people struggled to triumph over racial discrimination, they also made major contributions to popular, political, and national cultures throughout this hemisphere. Students are required to do research projects that document how the dynamics of race were lived and interpreted, contested or altered in a particular place within the African diaspora.

Economics
Labor Economics – 29694 – ECON 481 – 01
TR 11:00 am – 12:15 pm | Prof. Susan Vroman
This course will examine the main theoretical and empirical issues regarding how labor markets work. The material will cover standard topics such as labor demand, the decision to work, human capital, discrimination, migration, unions, wage setting practices within a firm, and unemployment. The course will also examine how human capital and labor market outcomes interact with marriage, divorce, fertility, and crime. An emphasis will be placed on the dramatic changes in the wage and employment structure of the labor market over the last four decades. Empirical techniques will be covered to enable students to evaluate and conduct an empirical analysis.

Environmental Studies 
Gender and Sustainability – 26352 – ENST 350 – 01
M 3:30 pm – 6:00 pm | Prof. Patricia Biermayr-Jenzano
The course will present an overview of gender and development policies worldwide, including the introduction to gender analysis as the central aspect to understanding patterns of land use and conservation strategies, both individual and collective and how male and female farmers contribute differently to conservation and agricultural production efforts. Students will be presented with real case studies from Africa, Asia and Latin America, documenting gender gaps in the access to a large range of agricultural resources, including extension services, land and farm labor, forest, livestock, and other assets. Current international trends and research streams on gender and agriculture and natural resource management (NRM) will be discussed and analyzed with the aim to influence policy to reach lasting change.

Film and Media Studies
CBL:Social Justice Documentary – 22345 – FMST 399 – 01
W 2:00 pm – 4:30 pm | Prof. Bernard Joseph Cook
The course will enable students to collaborate with members of DC-based Community Organizations in order to create documentary video projects and learn about non-fiction video as a tool for social action. Students in Social Justice Documentary will work in small teams to produce short documentary videos about social justice issues as related to the work of Washington, DC-based Community Organizations. At the end of the course students should be able to define, summarize, and interpret documentary theories; have a working knowledge of pre-production, production, and post-production processes that are part of making a documentary video; and be able to formulate and demonstrate ways through which documentary video can be used to meet social justice ends. In addition, students will have gained experience in working as members of video production team—as successful video production heavily depends on cooperation, collaboration, and respect among team members.

Global Business
Trade and Worker Rights – 31572 – GBUS 464 – 01
W 3:30 pm – 6:00 pm | Prof. Jeffrey Wheeler
Work is central to trade, human rights, business, diplomacy and development.  While worker rights are universal in theory, they are both ballyhooed and abused in practice.  Indeed, they have served as flash points in epic battles over trade, including the suspension of unilateral trade preferences, the sinking of the Trans Pacific Partnership (TPP) and the renegotiation of NAFTA.  As global production further fractures, corporations and brands are developing increasingly more detailed corporate social responsibility (CSR) for their supply chains. As employment fissures into a wide range of contracting arrangements, regulators struggle to determine how to protect worker rights and enforce the law.  Are the factories, brands, shareholders or financiers the ones with the power to ensure compliance? Meanwhile, worker organizations and their allies struggle to address the growing imbalances of power and wealth, seeking a seat at the table and a voice in national and global affairs as well as their workplaces. Workers are attempting to adapt with a mix of traditional union organizing and new forms of representation and advocacy, forging new alliances and experimenting with new efforts.  What is working and how are governments and employers responding?
Ethical Decisions: Global Business & Governance – 31586 – GBUS 493 – 01
M 11:00 am – 1:30 pm | Prof. John Kline
Should foreign companies try to influence a country's domestic political process on issues such as democratic elections, religious freedoms, the treatment of indigenous peoples, or the domestic allocation of tax revenue? Should large international retailers seek to impose "living wage" standards on their foreign suppliers? Do the marketing practices of international companies impose inappropriate choices on vulnerable consumers in developing countries, or enhance their free choice of products? Should corporations decide how a developing country balances trade-offs between current economic growth and longer-term environmental goals? Who should decide, What should be done, When and Where? Why? This course studies the application of ethics to contemporary issues of international business operating in different economic, political and cultural settings.

Government
Prison Reform Project – 30498 – GOVX 400 – 01
F 9:30 am – 1:50 pm | Prof. Marc Howard
The Spring 2018 class will center on the issue of wrongful convictions. A small group of Georgetown students will work together to expose the legal mistakes and human tragedies that resulted in a set of likely wrongful convictions. The course will be co-taught by Professor Howard and his childhood friend Marty Tankleff, who was himself wrongfully convicted and incarcerated for almost 18 years before being exonerated. This 5-credit course is intended for a small number of highly-motivated students who are passionate about criminal justice and prison reform and are eager to leave campus and explore these issues, challenges, and human stories.

History
Making of Latinx America – 33725 – HIST 382 – 01
T 5:00-7:30 PM | Prof. Patrick Daniel Scallen
The Making of a Latinx America delves into the recent history of Latin American immigrants to the United States through a comparative study of urban Latinx communities in the Midwest and on the East Coast. We will assess reasons for migration and the evolution of U.S. immigration policy since 1950, trace the journeys of migrants northward, and probe the transnational characteristics of those communities migrants leave and those they form upon arriving in the U.S. The course will seek a deeper understanding of the personal and collective dilemmas faced by immigrants and investigate how they reconcile those tensions, focusing on gender, racial and ethnic identity, civil rights, and labor issues. It will conclude with an examination of Latinx immigration to the Washington, D.C. area during the 1980s-1990s, analyzing how that has shaped the District today. The class will also assess the impact of recent proposed executive and legislative changes in immigration policies in the past year.
Black Politics and Culture – 33715 – HIST 293 – 01
MW 12:30 pm – 1:45 pm | Prof. Maurice Jackson
The study of African American culture and its interaction with American and world society as a whole will be the mission of this class. We will look at the syncopated rhythms of the African people transferred to American shores by enslaved Africans, starting with the "Negro Spirituals. Political debates between W.E.B. DuBois and Booker T. Washington, between DuBois and Marcus Garvey and between Dr. Martin Luther King Jr. and Brother Malcolm X will also be demonstrated how history and politics affected the culture of Black people. We will look at white America's perception of African Americans and analyze how these ideas were formed and why they continue to exist and why they persist. We will look at the major intellectual, cultural, and performance arts during the Harlem Renaissance (performers such as Paul Robeson, Blind Lemon Jefferson, Marian Anderson, and Bessie Smith). We will watch films and film clips of Louis Armstrong, Duke Ellington, Charles Mingus, John Coltrane, Ornette Coleman, Miles Davis and Thelonius Monk. We will also listen to the music of people who have been influenced by major Black artists. The role of artists and painters like Romare Bearden and Jacob Lawrence, and stage and theater performers like Lena Horne will also be reviewed. The roles and images of Blacks in films will be analyzed. We will also review poetry, literature, and the sports. Finally, we will take a look at the social and political meanings of Black culture, from the Negro Spirituals to Marvin Gaye, from Nina Simone to Tupac Shakur, from Jack Johnson to Muhammad Ali, from Dick Gregory to Chris Rock, and from Motown to Mos Def.

International Affairs
Religion, Ethics, and World Affairs – 26675 – INAF 438 – 01
R 3:30 pm – 6:00 pm | Prof. Drew Christiansen
Recent decades have seen a resurgence of religion in world politics. With the end of the Cold War, the attacks of September 11 and the acceleration of globalization, issues with a religious and ethical dimension have moved up the national and international agenda. Wars in Afghanistan and Iraq; the Arab Spring; the rise of religious movements with a political agenda in Egypt, India and the US; the explosive success and territorial gains of the Islamic State; immigration to Europe; refugee status in the U.S., and "culture wars" in the United States– these are only some of the issues and areas in which religion plays a key role. Among the topics we shall examine this semester are: Secularization theory and the persistence of religion; religion and violence; nonviolence, just war and peacemaking; globalization and transnationalism; global human development; migration and refugee flows; religious freedom and human rights; forgiveness and reconciliation; religious institutions and leaders in international politics, and religion and U.S. foreign policy.
Organizing for Peace & Justice – 34017 – INAF 436 – 01
T 2:00 pm – 4:30 pm | Prof. Shaun Casey
This course will consist of a series of historical case studies examining the strategy and tactics employed by a diversity of American social justice movements with special attention to how they worked with religious actors. These case studies will be drawn from The Catholic Worker movement, Martin Luther King, Jr., J Street, Industrial Areas Foundation, Malcolm X, and Black Lives Matter.

Justice and Peace Studies 
CBL: Immigration & Social Justice – 34386 – JUPS 410 – 01
W 6:30 pm – 9:00 pm | Professor To Be Determined
This course will examine the history, policies, and social forces that have shaped migration to the United States, focusing in particular on the post-1960s period. We will discuss the socio political and economic factors that contribute to the movement of people, and social movements and campaigns to protect migrants' rights. Given the contentiousness of the issue of undocumented immigrants in the U.S., we will focus on understanding the social and legal construction of one's immigration status, responses to past and current waves of migration, federal and local efforts to control unauthorized migration, and the immigration reform debate. As a community-based learning course, students will have the opportunity to study the DC immigrant community and partner with organizations that serve immigrants to learn first-hand of their challenges and aspirations. Class discussions will be based on guest speaker presentations, documentary films, and assigned readings, including books, research articles, reports, ethnographies, and testimonies
Justice & Technology – 34388 – JUPS 414 – 01
F 11:00 am – 1:30 pm | Prof. Randall J Amster
In recent years we've seen a technological explosion that has reformulated every aspect of human life, from healthcare and commerce to education and entertainment. Half a century ago, Martin Luther King Jr. reflected on the potential for technology to eclipse our sense of humanity: "We have to face the fact that modern man suffers from a kind of poverty of the spirit, which stands in glaring contrast to his scientific and technological abundance. We've learned to fly the air like birds, we've learned to swim the seas like fish, and yet we haven't learned to walk the Earth as brothers and sisters." As King inferred, scientific progress could give the illusion that equivalent gains had been made in the social, cultural, and political realms, thus rendering the realization of justice even more elusive. When such concerns are expressed, one may hear the retort that it's "just technology" in the sense that any ethical concerns are dependent upon what we do with it. Yet what if we took this notion and inquired what "just technology" would look like in practice, if it was produced, consumed and utilized with justice infused throughout the chain? How might values of access, mobility, collaboration, and equity transect the aims of technology and justice? How are movements for justice using technology, and how are they regulated with it?

Philosophy
Oppression & Justice – 33918 – PHIL 115 – 01
TR 5:00 pm – 6:15 pm | Prof. Keyvan Shafiei
What does it mean to be oppressed, and what forces coalesce to create, reinforce, and maintain oppression? Do all experiences of oppression look the same? How can an oppressed individual break free from societal shackles? How should those in the privileged class respond to these injustices? In this course, we will explore philosophical conceptions of oppression, taking into account its manifestations in both explicit and implicit policies, practices, and behaviors. Specifically, we will look at discrimination against persons based on race, sex, gender, sexual orientation, disability, and mental illness. We will look at historical and contemporary discussions about the types of obstacles facing these groups. Additionally, we will study different models of personal responsibility and consider to what extent it makes sense to hold a perpetrator or bystander responsible for oppressive conditions. Readings for the course will include contemporary philosophical texts as well as commentaries written by activists.
LGBTQ Philosophy – 33930 – PHIL 183 – 01
MW 5:00 pm – 6:15 pm | Prof. Joseph N Rees
In this course, we will use the tools of philosophy to think through important and complex questions that can arise in the course of LGBTQ individuals' lives. What social mechanisms oppress LGBTQ people? Why should I "come out of the closet," and what is required to be fully out? What role should the struggle to legalize same-sex marriage play in our political struggle overall? What unites the LGBTQ community into a single political movement? What does drag do? What is the value of monogamy? Is adoptive parenting morally different from biological parenting? We will think through these issues in conversation with both philosophical texts and documentary films. We will read texts by John Corvino, Talia Mae Betthcer, Jacob Hale, Dean Spade, Alice MacLachlan, Rachel McKinnon, Cheshire Calhoun, and Judith Butler, among others. Students will be assessed on the basis of three five-page papers and regular, informal reading reflections. This course proceeds on the assumption that there is nothing morally objectionable about LGBTQ behaviors, identities, or relationships as such.

Sociology
Law and Society – 28138 – SOCI 192 – 01
TR 2:00 pm – 3:15 pm or 3:30 pm – 4:45 pm | Prof. Sarah Stiles
This course has three complementary parts. Students begin with an overview of the U.S. justice system. We pay special attention to the last 35 years and the impact of the War on Drugs on society, especially mass incarceration. This is followed by a section focusing on "Hot Topics" in the law. Students will read and brief landmark Supreme Court cases on such topics as, same sex marriage, gun ownership, climate change, campaign finance, and the criminalization of poverty. Students, in small groups, choose one topic they will be an expert in and create an informative website and accompanying short video informing fellow Millennials why they need to know about it and what they can do about it. Finally, students have the opportunity to make it real through mock trials. Playing the roles of attorneys and witnesses, students learn the mechanics of a trial and create legal strategies to best represent their clients. It all comes together when students enact the trials in courtrooms at Georgetown Law with legal professionals serving as judges.
Culture and Consumption – 30060 – SOCI 171 – 01
MW 11:00 am – 12:15 pm or TR 12:30 pm – 1:45 pm | Prof. Yuki Kato
This course uses sociological theories to explore the production and consumption of culture. It introduces how sociologists answer central questions about the relationships between culture and society with a focus on three issues: institutional fads, how we talk about love, and children's consumption. We will explore questions such as; What is the relationship between social change  and the kinds of culture people produce and consume? Is there something unique about the contemporary America that produces a particular set of cultural practices, and if so what do these practices tell us about the immediate and distant futures of this society? How do everyday actions we take and decisions we make reflect and also shape the culture in which we live in? How aware are we of the structural forces and the relational contexts that guide our decisions? The course will primarily focus on the contemporary American culture, but with a keen awareness of how it is situated within a global context. Course readings and writing assignments will encourage students to question what we so often take for granted, or not recognize as being a powerful force that shapes and situates our everyday actions. Finally, the course treats culture as a serious and a concrete topic of academic inquiry, not something that is solely for entertainment and leisure or an abstract concept that cannot be defined or studied scientifically.
Seminar in Transgender Issues – 32352 – SOCI 261 – 01
T 6:30 pm – 8:30 pm and F 11:00 am – 1:30 pm | Prof. Kathleen Guidroz
No course description available.
Spanish
CBL: Spanish in the Community – 34449 – SPAN 380 – 01
MW 11:00 am – 12:15 pm and W 6:00 pm – 6:50 pm | Prof. Maria Moreno
Spanish in the Community is a community-based learning (CBL) course conducted in Spanish that focuses on the dynamic interaction between language, society and identity among the Latinx communities in the U.S. This 4-credit course requires 20+ hours of community-based work outside at work with a local, community-based partner organization in addition to preparation for and attendance at two weekly class sessions. The outside work is considered part of class time for the purpose of course credit with the Registrar's Office, but students will schedule their own work with their partner organizations, according to the organization's needs. In class, we will take a hands-on, discussion-based approach to understanding key sociolinguistic issues that affect and shape Spanish-speaking communities in the Washington, D.C. area, and throughout the U.S. Topics covered include, among others: Latinx identity; immigration, labor and U.S. national identity; access to education; bilingualism, language ideologies, language contact and language shift in the United States. Critical sociolinguistics assumes that race/ethnicity, class and gender are particularly cogent categories of analysis because they are used as tools in the unequal distribution of power, status, and material goods. The production of knowledge for its own sake is not the goal of critical sociolinguistics; rather, social change for the common good is the goal of systematic language analysis and linguistic education.

Theology
Justice & Consumer Culture – 33957 – THEO 060 – 01
TR 11:00 am – 12:15 pm | Prof. Kerry Blair Danner-McDonald
Material goods surround us; they are necessary for our well-being and express identity and status. In today's global economic market, we are all entangled in webs of consumption, production, and the disposal of goods that often harm the environment and others. How do we ethically navigate this shifting terrain when the environment and human person are increasingly subject to commodification? In this course we seek to understand inequality and identity in consumer culture, particularly in light of Christian economic ethics. Practices of religious and secular resistance will be covered and special attention will be given to how both religion and dissent are also commodified.
Struggle & Transcendence – 15427 – THEO 041 – 01
TR 9:30 am – 10:45 am | Prof. Raymond Kemp
The course will apply the theological method of Bernard Lonergan, S.J. to four phases of the African-American struggle in order to discern and describe the transcendent presence of God. We will examine how, when, and where God shows up in the experience of African-Americans. We will look at four periods: (1) Contemporary Black Culture, (2) The Civil Rights Movement, (3) Reconstruction and Turn of the Century, and (4) Slavery. We will understand the theological method of Lonergan and apply it to these four phases of the struggle in an effort to understand faith, and its impact on the struggle of African-Americans. Lonergan's notions of cognition, history, dialect, doctrine, conversion, and bias will be treated.
Francis, Catholic Social Thought & Public Life – 33961 – THEO 085 – 01
TR 3:30 pm – 4:45 pm | Prof. John Carr
A seminar of less than 20 students which will analyze and discuss the principal themes of Catholic Social Teaching and their relationship to the leadership of Pope Francis. The seminar then will explore their applications to key issues in American public life, for example, poverty and the economy, immigration and religious freedom, protection of human life and the environment, war and peace. The seminar will also examine and discuss links between faith and politics, religion and the Trump Administration and the uses and misuses of Catholic Social Thought in American politics and policy debates.
Peacemakers & Peacemaking – 33954 – THEO 038 – 01
TR 2:00 pm – 3:15 pm | Prof. William Joseph Werpehowski
This course studies the personal and social character of the religious commitment to nonviolence in relation to concrete struggles for social justice. We will take up a trajectory of reflection and practice that extends from L. Tolstoy and M.K. Gandhi through Martin Luther King, Jr., and then, with important modifications, onto to Roman Catholic prophetic witness in the works and life of Dorothy Day, Thomas Merton, and Daniel Berrigan. Buddhist approaches to nonviolence and political life follow–with and without overlap. Some specific issues we will address include the meaning of peace; the meaning of violence and nonviolence; religious understandings of the relation between love and justice in personal and political life; the significance and efficacy of nonviolence as a moral virtue and a political strategy.
Bible and Social Justice – 32371 – THEO 019 – 01
TR 2:00 pm – 3:15 pm | Prof. Joseph Wimmer
"We live with love as if we knew what it was about," Jean-Luc Marion writes in Prolegomena to Charity. This course will engage the question of what love is about from a distinctively Christian theological perspective, reading both classic religious texts on love and 20th century theology, spirituality, and literature. An always present undercurrent in the course will be love's response to evil, sin, and suffering—a response made most explicitly in the revelation of love upon Christ's cross. We will focus special attention both on the relationship of human love with the love of God and on the idea of love as gift.

Women's and Gender Studies
Intro Women's/Gender Studies – 28426 – WGST 140 – 05
TR 2:00 pm – 3:15 pm | Prof. You-me Park
Introduction to Women's and Gender Studies explores the broadly and critically defined "genealogies" of women's and gender studies, investigating key concepts, theoretical debates, ideologies, and historical significance of the discipline of Women's and Gender Studies. Drawing from multidisciplinary perspectives and materials, we attempt to construct a theoretical framework that will be helpful and challenging to our pursuit of a just world in which both women and men can celebrate themselves and each other.
Gender, Race, and Feminism – 30143 – WGST 238 – 01
MW 2:00 pm – 3:15 pm | Prof. Emerald L Christopher
This course will explore the intersection of gender and race and other components of social identity from an interdisciplinary perspective. We will address the inter and intra relationship of women of color with feminism, locally and globally. While examining theories and bodies of knowledge, we will analyze how historical and contemporary realities of women of color are influenced by a legacy of structural inequalities. Students will learn the importance of applying knowledge from a variety of theoretical and political standpoints. The approach to this course will pay particular attention to sociological aspects of identity as well as cultural representations that are manifestations of systems of oppression. This course aims to move us from being limited in feminist theory and text as a variation on the theme of "woman" or being a component in referencing gender, race, class, and sexuality, into the realization that it is possible not only to hope for but also to make change.