Our Statement on Police Brutality, Recent Unrest, and Racial Justice
Posted in In the News Race and Economic Empowerment Project | Tagged George Floyd, Police Brutality, Racial and Economic Empowerment Project, Racial Justice, REEP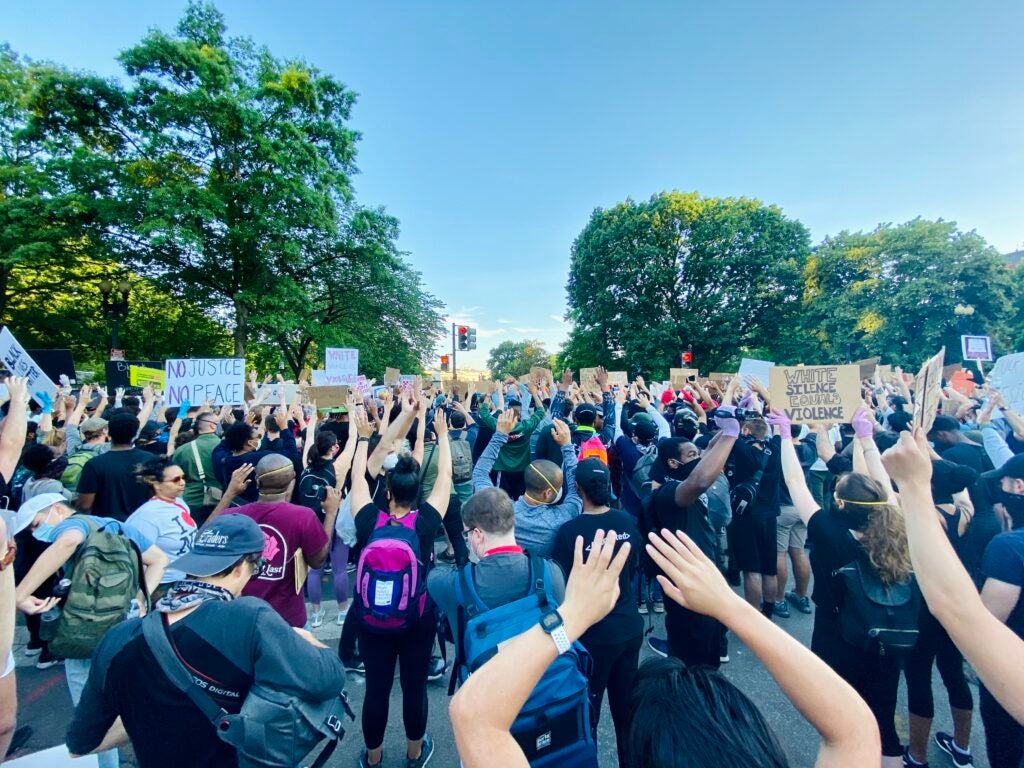 The killing of George Floyd by a Minneapolis police officer is yet another tragic chapter in the long, sad history of lethal violence meted out to African Americans. This act of police brutality, a contemporary manifestation of the historically unfair and racist treatment of Black people by law enforcement and the criminal justice system, has sent people to the streets once more in protest, demanding to right this systemic wrong.

We at the Kalmanovitz Initiative for Labor and the Working Poor join the protesters in solidarity and say, plainly and unequivocally: Black Lives Matter – yesterday, today, and forever.

The communities where police brutality occurs, and where unfair treatment in criminal justice unfolds, are also places where economic violence is committed daily against our nation's poor. Since the 1970s, as the rich have gotten richer and the middle class struggles to stay afloat, this nation and its institutions, aided by politicians and abetted by many voters, has unleashed unprecedented economic warfare on its most vulnerable people. Whether in the guise of supply-side economics, tax cuts, deregulation, austerity, or assaults on worker rights, all have had significant and punitive effects on the poor: urban and rural; immigrant and native-born; Black, Brown, Indigenous and White alike.

At the same time, tough political posturing against drugs, crime, and terrorism have led to a significant militarization of our police forces. Police once considered "guardians" responsible for protecting people and communities now behave like "warriors" trained to protect property, and see threats everywhere they look. In community after community, economic shifts have reduced opportunities for both workers and students ill prepared for the new economies they face.

The end result is widening inequality that can affect quality of life – and a person's life itself – largely based on race or ethnicity, gender, socioeconomic status, or even the ZIP code where they live. That inequality leads to despair, hopelessness, and a rejection of the possibility of reform.

Now comes the killing of George Floyd amid a pandemic that, thanks in part to an incompetent, inconsistent, and lethargic governmental response, has led to 105,000 deaths (and counting) nationwide. It has decimated poor, Black, Brown, and Native communities already facing inequalities in health, housing, community development, and employment – conditions that continue to place the most vulnerable in harm's way. These events are unfolding as the country enters what may be the sharpest economic collapse in more than 80 years. More than a quarter of the nation's workforce is unemployed. As corporations collect billions in federal stimulus payments and lay off workers, underemployed and jobless families nationwide are forced to choose between paying the rent, food, medicine, or bills – if they were fortunate enough to receive a $1,200 payment or a $600 weekly unemployment supplement.

In Black neighborhoods, inequality, lack of jobs, underfunded services, and inadequate education places increasingly daunting odds before communities that were just beginning to recover economically from the Great Recession, more than a decade ago. Ongoing police brutality – including killings in police custody, "jump-outs" harassing residents, punitive fines and penalties, local police collaborations with brutal law enforcement agencies like ICE – further destabilizes working-class communities and only adds to the challenges that working people face. Enough is enough.

Numerous calls for peace, calm, and order have come in the wake of nationwide disturbances since George Floyd's death. The Kalmanovitz Initiative for Labor and the Working Poor believes in, and calls for, a peace that flows from justice: a justice that honors equality and equity for everyone; a justice that properly values work and upholds the dignity of workers; a justice that ensures all have access to basic needs; a justice that fortifies communities by helping people thrive to the best of their potential. Most of all, we need justice to end the police brutality aimed at so many African Americans: a justice reflecting the principle that "the law is meant to be my servant and not my master, still less my torturer and my murderer," as James Baldwin once wrote.When this nation secures economic, social, and political justice for all, justice will roll down like the waters – and the peace that so many have sought will be at hand.