Workplace Flexibility Conference
Posted in Events | Tagged Work-Life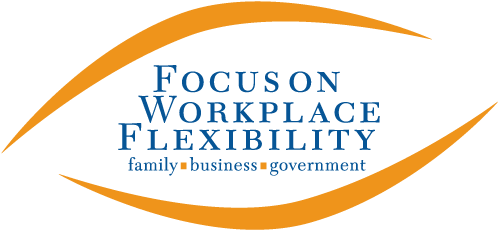 On November 29-30, 2010, Workplace Flexibility 2010 in partnership with the Alfred P. Sloan Foundation hosted "Focus on Workplace Flexibility," a one-and-a-half day conference that convened scholars, policy practitioners, as well as leaders from government, business and labor to discuss work-life integration in the face of social and economic changes that affect the way work is done. The conference began Monday night with a dinner at the Corcoran Gallery of Art.
After remarks from the presidents of the Sloan Foundation and the Families and Work Institute, attendees listened to a panel discussion featuring Admiral Mike Mullin, Chairman of the Joint Chiefs of Staff; Valerie Jarrett, Senior Advisor to President Obama and Chair of the White House Council on Women and Girls; and Ted Childs, retired Vice President of Global Workforce Diversity at IBM. The panel was moderated by Claire Shipman, senior ABC news correspondent and author of Womenomics.
Admiral Mullin discussed his belief that flexibility is crucial to retaining personnel in the all-volunteer military and he spoke of several pilot programs the armed forces have launched to offer more options to service members. He also spoke of his own efforts to achieve a work-life fit, such as avoiding working on weekends. Ms. Jarrett discussed efforts the Administration is taking to bring attention to this issue, including the White House Forum on Workplace Flexibility, and she talked about the challenges she faced as a working mother in the 1980s legal and political world in Chicago. Mr. Child emphasized the need for a results-based approach to flexibility that measures success by the numbers of women executives with children.
The conference continued on Tuesday with a full day of panel discussions and audience participation. The first two panels highlighted research that has been conducted on workplace flexibility in recent years. Topics ranged from demographic changes to the human toll of rigid work schedules in different industries and at different levels within organizations. The first panel of the afternoon addressed ways that employers have allowed for more flexibility for their workers, through both formal and informal means, and the positive effects these adjustments have had, among other metrics, on productivity and employee loyalty. While many advances have been made, the employer discussion brought into sharp relief the challenges of extending flexible programs to hourly workers and mid-level managers, and a consensus emerged that much more needs to be done to make work-life integration a reality for all workers. The conference ended with a discussion of flexibility as a national priority. Experts from government, labor, the philanthropic community and work-life groups agreed that the time for action is now.