Wisconsin On: The Politics of Collective Bargaining in the Public Sector
Posted in Events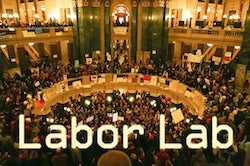 A little over a year ago, about a thousand people stood outside the Wisconsin State Capitol to protest Governor Walker's proposal to limit state employees' right to collective bargaining. Within a week, tens of thousands of people—teachers, firefighters, students, veterans, and activists—continued the protest inside, gathering in the Capitol rotunda and capturing the nation's attention.
By spring, the Wisconsin Budget Repair bill had passed, the mass protest had subsided, and local unions were assessing their options under the new legal regime. But the events of February 2011 reverberated beyond the borders of Wisconsin, triggering a nationwide dialogue on collective bargaining. By the fall, Ohio voters repealed Governor Kasich's bill—SB 5, a similar rewrite of the state's public employee collective bargaining law—by a fair margin, and a recall of Governor Walker was underway. And many believe the events in Madison sparked a revival of the American labor movement and a renewed appreciation of the right to engage in collective bargaining. But fierce debates on the role and value of public sector bargaining continued in state capitals across the country.
On February 13, 2012, the Kalmanovitz Initiative brought together a panel to discuss these issues. Speakers included Craig Becker, former Member of the NLRB; Mahlon Mitchell, State President of the Professional Fire Fighters of Wisconsin; Joseph P. Rugola, Executive Director of the Ohio Association of Public School Employees and International Vice President of AFSCME; and Eleanor Clift, Contributor for Newsweek and The Daily Beast.
Wednesday, February 13
4:00 – 6:00pm
Georgetown Law
Gewirz Center, 12th floor (Directions)
Reception to Follow
Joseph McCartin, Associate Professor of History and Director of the Kalmanovitz Initiative for Labor and the Working Poor, Georgetown University
Craig Becker, Visiting Associate Professor of Law, Georgetown Law and former Member of the National Labor Relations Board
Mahlon Mitchell, State President of the Professional Fire Fighters of Wisconsin
Joseph P. Rugola, Executive Director of the Ohio Association of Public School Employees, (OAPSE) and International Vice President of the American Federation of State, County and Municipal Employees (AFSCME)
Eleanor Clift, Contributor for Newsweek and The Daily Beast
> view all event photos (new window)