Teachers, Unions, and School Reform: A Dialogue
Posted in Events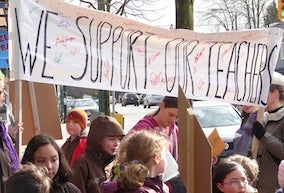 This event has been CANCELLED due to the illness of one of the panelists.
Apr 22, 2013 | 4:00 PM
Lohrfink Auditorium (new window)
Georgetown University
Join Kaya Henderson, Chancellor of DC Public Schools, Nathan A. Saunders, President of Washington Teachers Union, and Alexandra Fuentes, Biology Teacher at Cesar Chavez Public Charter High School for a roundtable discussion on the conditions of teaching today, the future of education reform and the role of the labor movement in ensuring excellent and equal opportunity for all children. Through a frank discussion of the challenges confronting schools, teachers, district leaders and children we hope to identify issues where the agendas of reformers, unions, and teachers might align and to probe the concerns that currently thwart efforts to improve educational outcomes for children. Our conversation also hopes to explore ways that actors such as Georgetown University might help advance our mutual efforts to create a just, excellent and equitable educational system.
Featuring:
Doug Reed, Moderator
Associate Professor of Government
Director of Georgetown's Program in Education, Inquiry and Justice
Kaya Henderson
Chancellor, DC Public Schools
Georgetown SFS '92, G '07
Nathan A. Saunders
President, Washington Teachers' Union
Alexandra Fuentes
Biology Teacher, Caesar Chavez Public Charter High School for Public Policy
Check out the Facebook event here (new window)!
Photo credit: brent_granby (new window)