Screening of Paycheck to Paycheck with GU Women's Center
Posted in Events | Tagged Center for American Progress, National Women's Law Center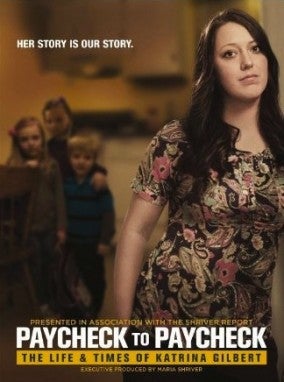 Wednesday, March 25, 2015
6:30 PM – 8:30 PM
Healey Family Student Center Social Room
Join the Georgetown University Women's Center for a special screening of HBO's Paycheck to Paycheck as part of Women's History Month. Paycheck to Paycheck was born out of The Shriver Report: A Woman's Nation Pushes Back from the Brink. The documentary features single, low-income mother Katrina Gilbert as she tries to provide for her children on meager earnings.
After the film, a moderated discussion on the state of women's employment and pay in America will be held by Melissa Boteach of the Center for American Progress and Katherine Gallagher of the National Women's Law Center. Light snacks and drinks will be provided. Please RSVP via Facebook.
Sponsored by the Georgetown University Women's Center and the Biondi-Copeland Family Fund in partnership with GU Women in Public Policy, the Women Policy Makers House, Women in Politics, the Center for Social Justice, and the Kalmanovitz Initiative for Labor and the Working Poor.