Screening of Food Chains with DC Fair Food
Posted in Events Worker Justice DC | Tagged Coalition of Immokalee Workers, Student Farmworker Alliance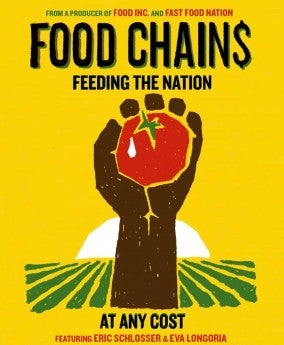 Tuesday, March 17, 2015
6:00 PM – 8:00 PM
White-Gravenor 201B
Join the Kalmanovitz Initiative for Labor and the Working Poor, the Georgetown Solidarity Committee, and DC Fair Food for a screening of Food Chains, a documentary about the Coalition of Immokalee Workers Fair Food program, which partners with growers and retailers to improve working conditions for farm laborers in the United States.
Come learn more about the CIW's worker-led movement and how you can get involved by joining DC Fair Food's caravan to St. Petersburg, Florida, for the annual CIW spring action mobilization from March 19-22! In addition, participants in the Georgetown University Alternative Breaks Program from Worker Justice DC, City Seeds, and Fair Food: Migration, Labor, and Advocacy will share reflections from their trips.
Please RSVP via Facebook. For questions about the Campaign for Fair Food, please contact info@dcfairfood.org.