Labor Lab Series
Posted in Events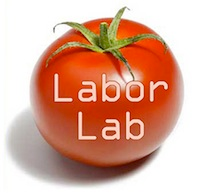 In the 2011-2012 academic year, the Kalmanovitz Initiative's Labor Lab series brought scholars, writers, activists, and artists to campus for eight events with a combined audience of over 1,000 interested faculty, students, and community members attending.
Speakers included U.S. Poet Laureate Philip Levine, who led a workshop for Georgetown students and workers and gave a public reading. Mike Daisey, the monologist who became famous for his one-man show, "The Agony and the Ecstasy of Steve Jobs," joined us in March to talk about the notion of solidarity in a globalized economy and own up to his own failing to accurately document the labor conditions at Apple factories in China. The Labor Lab series also included discussions with members of Occupy DC, Midwestern public sector labor leaders, the Coalition of Immokalee Workers (tomato pickers from South Florida), and an innovative labor activist organizing around issues related to Wall Street and the banking industry.
In 2012-2013, the Kalmanovitz Initiative will continue its Labor Lab conversations.
2012-2013 Labor Lab Series
Caring for America: A Dialogue on Justice, Dignity, and Health Care Policy
Together, We Are Super-Human: How Technology Gives Communities Super Powers
2011-2012 Labor Lab Series
We Are One Georgetown: Celebrating Workers' Contributions to Campus Community
Food Justice: Growing a Movement
The PATCO Legacy and the Future of Collective Bargaining
An Evening with Poet Laureate (and former auto worker) Philip Levine
Wisconsin On: The Politics of Collective Bargaining in the Public Sector
A Hammer With Which To Shape It: Art and the Human Voice in the Global Labor Struggle
99% Spring: Whose Streets? Labor, Civil Disobedience and Social Change