KI Hosts Reading by US Poet Laureate Philip Levine
Posted in Events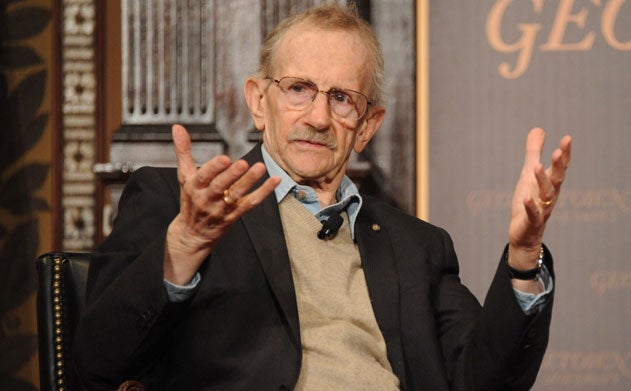 On Monday, November 7, 2011, the Kalmanovitz Initiative for Labor and the Working Poor brought the nation's Poet Laureate, Philip Levine, to Georgetown as part of its Labor Lab series.  Mr. Levine is the author of numerous collections of poems, including On the Edge, Not this Pig, and, most recently, News of the World.
Mr. Levine spent the afternoon with Georgetown students and workers who are aspiring poets.  He helped workshop their work and spoke about his experiences as a poet.
In the evening, Mr. Levine gave a public reading in Gaston Hall to an audience of some 200 faculty members, students, workers, and community members.  Jennifer Luff, Research Director of the Kalmanovitz Initiative, framed the event within the Initiative's Labor Lab series, which aims to look at labor from different angles.  While poetry may not be able to guide policy directly, it can help us communicate and recognize the humanity of workers.  John J. DeGioia, President of Georgetown University, thanked the Initiative and welcomed Mr. Levine to the stage.
Mr. Levine spent much of his youth working in auto factories in Detroit.  He recounted how this experience left an indelible mark on him and his identity.  And yet he did not feel comfortable writing poems about work until much later in his life.  Mr. Levine read a selection of poems, many of which draw on his recollections from his youth in Detroit.  He also spoke of his time in college and said that some of the most inspiring classmates he had were World War II veterans.
After the reading, Maureen Corrigan, book critic for NPR's Fresh Air and critic-in-residence and lecturer at Georgetown, engaged Mr. Levine in a discussion of his work and took questions from the audience.  While he has been identified as one of the few modern poets to examine work, Mr. Levine was quick to point out that he is not the voice of other workers.
Taylor Griffin, a second-year student in the College, said of his visit, "It was a crucial time to have him come and share his experiences in the working world through the lens of poetry."
Click here to see a video of Levine's reading.