KI Hosts Discussion of the PATCO Strike
Posted in Events | Tagged Collision Course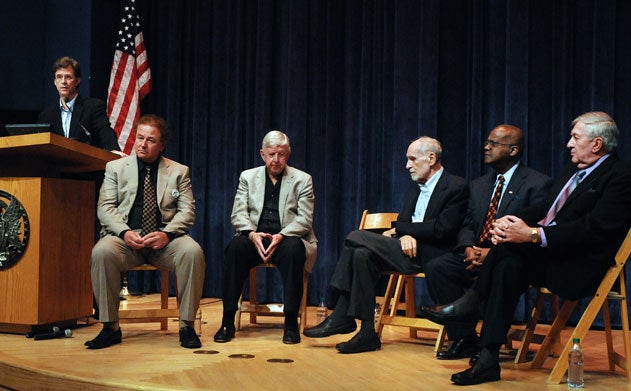 On Tuesday, October 18th, the Kalmanovitz Initiative sponsored its third event in the Labor Lab series.  KI Executive Director Joe McCartin lead a discussion with a panel of former air traffic controllers and a government mediator, all of whom played crucial roles in the 1981 Patco strike.
In his new book, Collision Course: Ronald Reagan, the Air Traffic Controllers, and the Strike that Changed America, McCartin investigates this strike and its crucial influence on the future of American public sector unions and the fight for workers' rights.
The panel included Jim Stakem, who lead the strike at the Washington Air Route Traffic Control Center; Ken Moffett, who mediated the failed negotiations; Stanley Gordon, who helped organize Patco in New York; Richard Jones, who co-founded the Coalition of Black Controllers and did not participate in the 1981 strike; and John Leyden, PATCO's president from 1970-1980.
The panel spoke in vivid detail about their day-to-day experiences leading up to and during the strike.  Some panelists described their shock and feelings of betrayal by the president who had once lead the Screen Actors' Guild and who PATCO endorsed in the 1980 election.
Professor McCartin emphasized that the effects of this strike went far beyond the 11,000 controllers who lost their jobs.  Reagan's hard hand gave private-sector employers the confidence to quash strikes.  Indeed, the strike has largely disappeared from labor's toolbox over the past thirty years.
Click here to see Professor McCartin discuss the PATCO strike on the Dylan Ratigan Show.