KI Holds Undergraduate Research Conference on Work, Organizing, and Struggle
Posted in Events Labor Studies People Student Leaders | Tagged Barbara Anne Kozee, Donn Worgs, Nick Wertsch, Obed Ventura, Student Leaders, Undergraduate Research Conference, Vincent DeLaurentis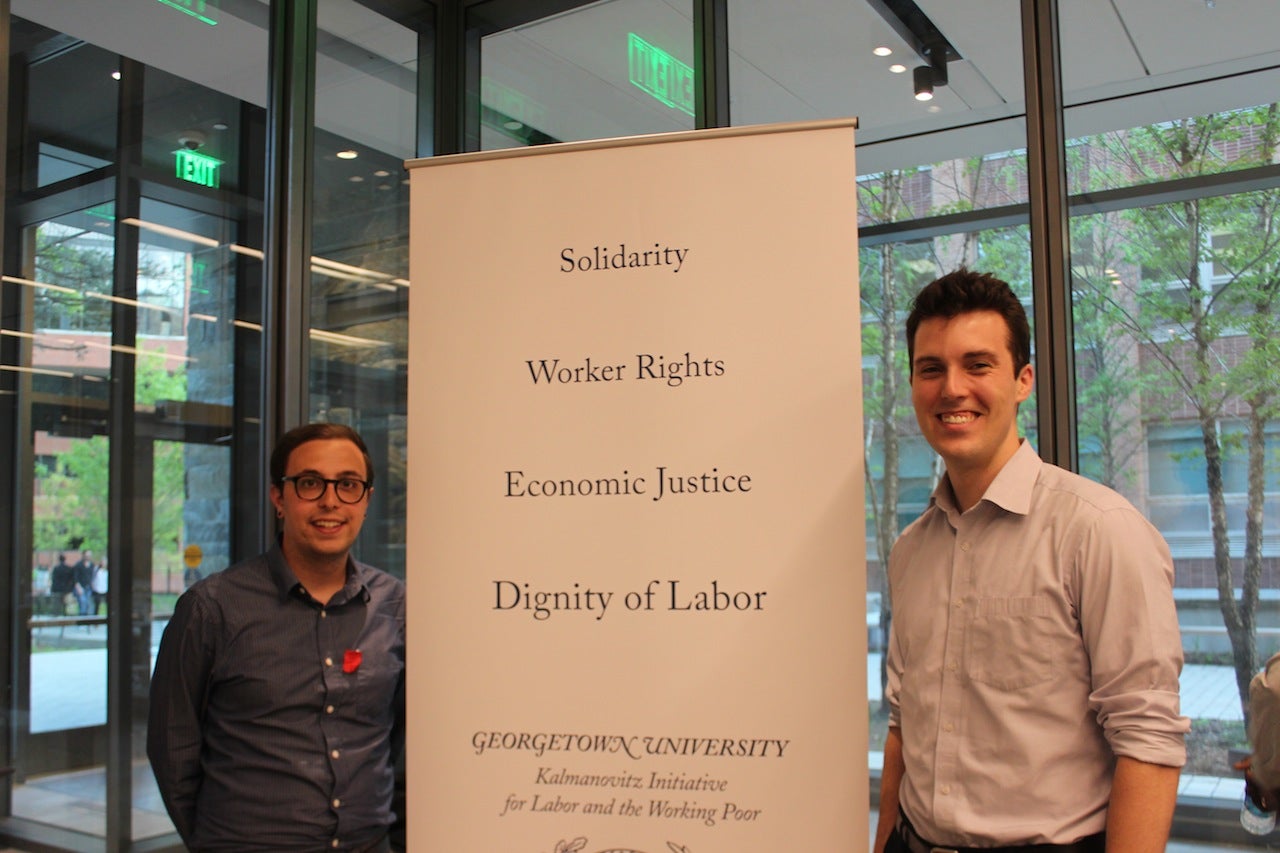 Students are the lifeblood of the Kalmanovitz Initiative. Never was that more clear than on April 21 when the 2017 KI Undergraduate Research Conference took place. The conference was envisioned and planned by a student, featured exclusively student research, and all panelists and moderators were current Georgetown University undergraduate students. The insights on activism and organizing that students shared speak to their incredibly sophisticated and principled understanding of solidarity and struggle.
---
Allow us to share a reflection from conference organizer Vincent DeLaurentis (SFS '17) and a selection of photos of the conference.
On Friday, April 21st, the Kalmanovitz Initiative hosted its inaugural Undergraduate Research Conference. The conference featured student work confronting the theme "Work, Organize, Struggle: Student Perspectives". The day included panels addressing the topics of Envisioning Just Economies, States of Existence/States of Resistance, and Latinx Metropolitanisms. In addition to student work, the conference featured a keynote address by Dr. Donn Worgs of Towson University, whose remarks addressed his own experiences and critical reflections of working to combine an academic life with organizing and activism.
The conference was an exciting opportunity to recognize and highlight work completed by students that addressed themes of community solidarity, collective resistance, and radical scholarship, bringing together critical thought and some of the most pressing issues of our unique and unsettling political moment. I was personally impressed by how student presenters and moderators eschewed technocratic condescension and expressed democratic solidarity with people and communities in struggle.
Throughout the day, students weaved together their own experiences as organizers, activists, and advocates and the work that they are completing in the classroom, bringing together nuanced reflections on their experiences and well-researched arguments. As Barbara Anne Kozee, a student presenter, stated, bringing together organizing and scholarship is important "to create a larger framework of how we can view community organizing — what worked, what didn't work and what we can take into the future."
Not only was the conference an important opportunity to hear student reflections, it was also a space in which to build an intellectual community dedicated to collective liberation. Student moderator Obed Ventura reflected, ""In all these cases, struggle means fighting the existing structure in order to create a better world for the marginalized among us and at times, ourselves. It also means demanding space in a world that often denies or distorts narratives of the oppressed."
As the conference organizer, I wanted the conference act as a space to build networks of radical intellectual solidarity and offer examples and resources to students who wish to expand the radical character of their academic work. I am optimistic that the conference helped to build networks that will spur an expansion of radical and critical scholarship by students on campus. I am excited to see what is to come from our presenters, moderators, attendees, and all other members of the intellectual community that surrounded and participated in the conference.
To conclude, I would like to thank the Kalmanovitz Initiative for recognizing the importance of this conference and for hosting the conference. I would also like to thank all of the student presenters and moderators for sharing their timely and passionate reflections.
Dr. Donn Worgs is also owed my gratitude for his key note address, which offered concrete examples and helpful reflections on how students might combine thought and struggle. Finally, I would like to thank the conference attendees for investing their time in building a critical intellectual community dedicated to collective liberation. We look forward to seeing everyone at the conference next year!
Solidarity Forever,
Vincent DeLaurentis
Conference Organizer