Guestworkers, Immigration, and the Future of Workers' Rights 
Posted in Events | Tagged CWA, National Guestworker Alliance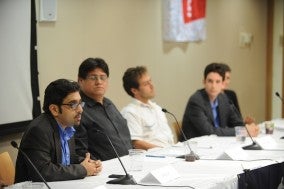 July 25, 2013
6:00 PM – 8:00 PM
Communications Workers of America
501 3rd St NW, Washington, DC
Join the National Guestworker Alliance, Dissent Magazine, and Georgetown University's Kalmanovitz Initiative for Labor and the Working Poor in a discussion about the future of workers' rights in the United States.
Saket Soni, Executive Director of the National Guestworker Alliance
Josh Eidelson, journalist covering labor for The Nation, Salon, and Dissent Magazine
Guestworker whistleblowers and leaders of major workplace campaigns
Janice Fine, Associate Professor, Rutgers School of Management and Labor Relations
Moderated by Sarita Gupta, Executive Director of Jobs with Justice
Guestworkers show us where the new economy is headed — unless we organize. As the nature of work in the U.S. shifts from permanent to contingent, the conditions of guestworkers are more and more what work looks like for all workers. Today, 24 million U.S. workers work alongside guestworkers in critical sectors of the economy. Immigration reform will come with a vastly expanded guestworker program. Hear from guestworkers who have blown the whistle on giant corporations — like Walmart and McDonald's — and are helping shape the future of workers' rights and organizing. They will be joined by a panel of experts and labor rights activists.