From the Fields: An American Journey
Posted in Events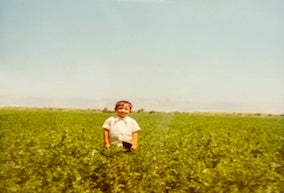 A film screening and conversation with:
Carolyn Brown, filmmaker, American University
Damian Trujillo, NBC News reporter and former farmworker
April 8, 2013
6:30 PM, ICC 106
Please join the Kalmanovitz Initiative for a screening of From the Fields: An American Journey, a documentary film by American University professor Carolyn Brown.
About one hour South of the wealthy Silicon Valley, and twenty minutes east of the affluent Monterey/Carmel area, home of the famous Pebble Beach Golf Course, sits the head of the fertile Salinas Valley. This is where journalist Damian Trujillo's family first settled in 1972 after coming to the United States from Mexico, through the Bracero Program.
Known as the "salad bowl of world" for it's production of lettuce, broccoli, and many other crops, The Salinas Valley is home to thousands of Mexican American and immigrant families with strong ties to agriculture. Growing up in Greenfield, Damian worked in the fields starting when he was in seventh grade. Both his father and mother struggled to support their family of ten while laboring in the fields. Damian dreamed of doing anything other than working in the fields like his parents and older siblings.
This 30-minute documentary will follow the life of Damian Trujillo: from farmworker in the Salinas Valley to San Jose State University to the NBC Newsroom.
This project intervenes in popular stereotypes that depict Latinos as "illegals," or "gang members," among other negative representations. From the Fields: An American Journey deconstructs common perceptions of Latinos by reframing the American success story, and telling Damian Trujillo's story.
This film goes beyond the hateful rhetoric surrounding the immigration debate and into a deeper exploration of what it means to work, to support family and contribute to our American society.
The film screening will be followed by a conversation with Carolyn Brown and Damian Trujillo.