Fighting Trafficking through Rights Work: A Roundtable Discussion of Denise Brennan's Life Interrupted
Posted in Events People | Tagged CASA de Maryland, Denise Brennan, Institute for Policy Studies, National Domestic Workers Alliance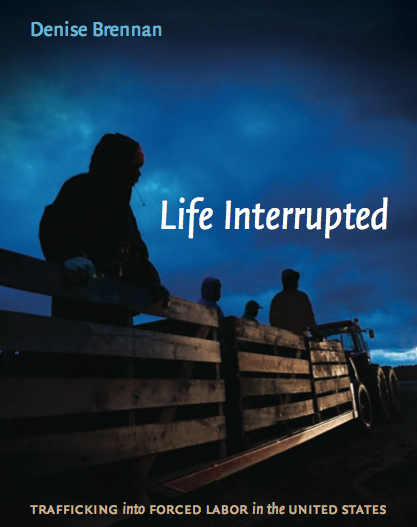 Friday, April 25, 2014 | 3:00 PM
CCAS Boardroom, Intercultural Center 241
Georgetown University
Though the term "trafficking" is often assumed to mean sex trafficking, Professor Denise Brennan moves beyond the sex trade to explore forced labor in farms, factories, and homes across America in her new book, Life Interrupted: Trafficking Into Forced Labor in the United States.
Please join the Kalmanovitz Initiative and GU United Feminists on Friday, April 24 at 3:00 PM in ICC 241 for a panel discussion featuring Professor Brennan, our Kalmanovitz Initiative faculty fellow and professor of anthropology at Georgetown University, on how immigration reform and basic rights work across labor sectors will help prevent trafficking into forced labor.
Professor Brennan will welcome Ashwini Jaisingh, lead organizer at CASA de Maryland; Evelyn Chumbow, a human trafficking survivor and advocate; and Darby Hickey, policy analyst for the Best Practices Policy Project, to join her for a panel discussion. Tiffany Williams of the Institute for Policy Studies and the National Domestic Workers Alliance will moderate the conversation.
All royalties will be donated to the trafficking Survivor Leadership Training Fund administered through the Freedom Network.