DC Justice for Janitors Celebration
Posted in Events Justice for Janitors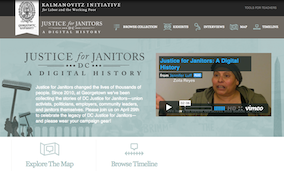 April 29, 2013 | 1 PM – 5 PM
Lohrfink Auditorium | Georgetown University
Justice for Janitors changed the lives of thousands of people. Since 2010, at Georgetown we've been collecting the stories of DC Justice for Janitors—union activists, politicians, employers, community leaders, and janitors themselves. We've dug up old newspaper clippings and video footage and collected photographs and flyers, and assembled all of it into a digital history website. On April 29, we'll launch "Justice for Janitors DC: A Digital History Project."
Join us for an afternoon of discussion, reminiscence, and reflection on the meaning of JforJ for the past and future. Everyone is welcome. A dinner reception will follow in the ICC Galleria (new window) at 5:00 PM.
Check out the website at georgetownlaborhistory.org (new window).