An Evening with Poet Laureate (and former auto worker) Philip Levine
Posted in Events | Tagged Philip Levine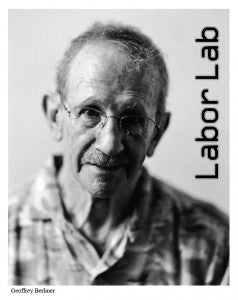 Monday, November 7
5:00 PM
Gaston Hall

On November 7, 2011, the Kalmanovitz Initiative invited 2011-2012 U.S. Poet Laureate Philip Levine to campus for a public reading. Prior to the reading, Levine led a workshop for Georgetown students and workers.
Levine, a Detroit native, worked in auto factories in his youth, an experience that shaped his poetic voice. "I believed even then that if I could transform my experience into poetry, I would give it the value and dignity it did not begin to possess on its own," he recalls. "I could embrace it with some degree of joy."
Levine is a recipient of the Pulitzer Prize and the National Book Award. The Librarian of Congress, James H. Billington calls him "one of America's great narrative poets," someone whose "plainspoken lyricism" has illuminated "the hard work we do to make sense of our lives."
Levine joined us to read a selection of his poetry and discuss his life's work with Maureen Corrigan, book critic for NPR's Fresh Air and critic-in-residence and lecturer at Georgetown. After the reading and discussion, Mr. Levine held a book signing.
In an interview with the Library of Congress (new window), Levine later said about Georgetown University and the Kalmanovitz Initiative, "I didn't know there were still little groups of people coming to college to learn how to make our society more equitable and democratic.
"I'd thought of Georgetown as the home of basketball, the place where John Thompson and his son raised great centers like Ewing, Mutombo and Mourning.
"It is much more, for the place has a powerful social conscience, and the folks there take their ethical and civic duties very seriously. This may be one side of Christian faith that we need more of, the side committed to hope, charity and humility – when those virtues are harnessed to intelligence, energy and willpower, you get something astonishing.
"I went away asking myself if I were doing enough to enrich my community and help my fellow citizens. I was humbled."
Watch a video of the event here (new window).