A Conversation with Hector Verdugo of Homeboy Industries
Posted in Events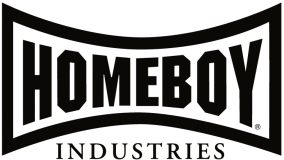 Friday, April 17 | 3:00 – 4:00 PM
Please join the Campus Ministry Catholic Chaplaincy, the Center for Social Justice, and the Kalmanovitz Initiative for Labor and the Working Poor for a conversation with Hector Verdugo, the associate executive director of Homeboy Industries. We hope you will join us for an inspiring and enriching conversation about Homeboy Industries and Hector's work for restorative justice.
Hector Verdugo has been working at Homeboy Industries for more than eight years. Mr. Verdugo was promoted to Associate Executive Director in 2009. His duties include overseeing the training program and trainee population, mentoring, and overseeing Homeboy Industries' day-to-day operations. He is part of Homeboy Industries' Executive leadership team. Mr. Verdugo's work at Homeboy is personal in nature as he was born and raised in the Ramona Gardens Housing Project in East Los Angeles.
"Halting just one kid from taking a step into the gang life is the peak of my accomplishments, if there are any that I can claim," he said. "If I can help shed light on someone's assumptions and work to have them gain an understanding of the dark side of gang life, that's an important aspect of the work I do. Whenever I can calm down a situation or help youth take a positive step, that's my personal definition of an important accomplishment."
Please RSVP to Dr. Andria Wisler, executive director of the Center for Social Justice, at akw28@georgetown.edu. Space is limited, so please kindly only RSVP if you are certain you will attend. The conversation will be held in Professor Joan Riley's faculty-in-residence apartment in Copley Hall, #G022 on the B level toward Red Square.