Apply for the Fall 2014 Day Laborer Exchange Program
Posted in Day Laborer Exchange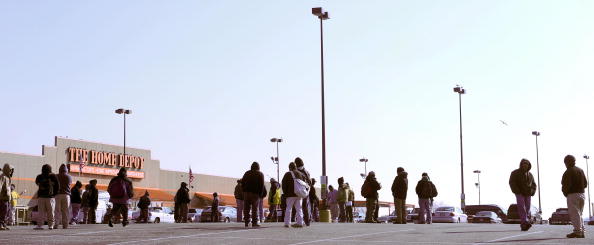 Applications are now available for the fall 2014 semester of the Kalmanovitz Initiative's Student-Day Laborer Exchange Program! We encourage all students interested in social justice, migration, and workers' rights to apply.
DLE is a community-based education and organizing program that fosters collaboration among students and jornaleros towards the empowerment of Washington's day laborer community. In conjunction with Trabajadores Unidos de Washington, DC, participants will facilitate know-your-rights workshops and ESL trainings at a site where day laborers are seeking work, attend union meetings, and participate in worker-led direct action.
Participation in this program requires the following commitments:
• Traveling to the day laborer site at least one morning per week (Monday, Tuesday, Wednesday, or Thursday) throughout the fall semester, leaving campus at 8:00 AM and returning by 10:00 AM.
• Attending evening meetings, the time and location of which will be based on participants' schedules, focused on specific projects supporting the day laborers.
• Participating in three catered evening reflection sessions throughout the semester.
In total, students will be expected to commit a minimum of five hours per week to this program. Participation is capped at a limited number, and both Spanish speakers and non-Spanish speakers are encouraged to apply. The program begins with a mandatory orientation on Sunday, September 14, 2014 from 5:00-7:00 PM. Students will begin going to the program site that same week.
Applications are due by 11:59 PM on Monday, September 8, 2014 to nmw9@georgetown.edu. Please direct any questions to Nick Wertsch at 202-687-4987 or  nmw9@georgetown.edu.