International Labor History Association Names KI's "Workers in Hard Times" Book of the Year
Posted in Books | Tagged Joseph A. McCartin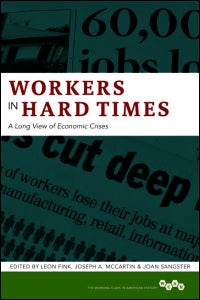 The International Labor History Association announced Workers in Hard Times as the ILHA Book of the Year Award for 2014. The volume, edited by Leon Fink, Joseph McCartin, and Joan Sangster (University of Illinois Press, 2014), emerged from the Workers and World Crises conference held at the Kalmanovitz Initiative in 2011.
Since 1988 the ILHA has periodically recognized authors with a "Book of the Year" award. Past award-wining authors include Mildred Beik, Joel Beinin, Carolyn Brown, Dana Frank, James Green, Darryl Holter, Tera Hunter, Peter Linebaugh, Zachary Lockman, Elizabeth Perry, and Marcus Rediker. Books recognized contribute new and engaging research on labor history matters.
The current award-winning book consists of twelve essays in four distinct sections: Depressions and Working-Class Lives; Economic Dislocation as Political Crisis; Social-Welfare Struggles from the Liberal and the Neoliberal State; and Workers and the Shakeup of the New World Order. Particularly revealing are essays by Gaetan Heroux and Bryan Palmer on Toronto labor; David Montgomery on workers' responses to depressions; Melanie Nolan on worker resistance in the antipodean state; and Lu Zhang on recent Chinese auto worker strikes. David Montgomery's essay is his last written before his death; his son, Edward Montgomery, provides a piece in the volume as well, on worker reactions to industrial decline. In sum, the edited collection covers North America, New Zealand, Australia, Europe, and Asia in a valuable cross-section of worker engagements in past and contemporary socio-economic challenges.
Purchase Workers in Hard Times from the University of Illinois Press.