Bargaining for the Common Good
Bargaining for the Common Good unites labor unions and community groups across the country to use the leverage of collective bargaining to win demands that benefit the community as a whole.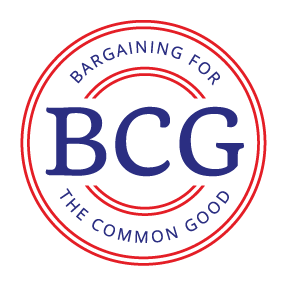 In May 2014, the Kalmanovitz Initiative and its partners convened 140 organizers and researchers from labor unions and community organizations across the country at Georgetown University to plan a new approach to public budget campaigns that unites public service workers and the communities they serve. The new approach would be championed by local coalitions demanding fair-share revenue solutions and advancing community fights such as affordable housing, improved city services, and universal access to prekindergarten, as just a few examples. Because coalitions would use the leverage of collective bargaining with municipalities to benefit the broader community, this initiative would be known as Bargaining for the Common Good.
Since the conference was held, participants have put the principles of Bargaining for the Common Good to work in California, Minnesota, New Jersey, Oregon, Washington, and many other parts of the country. In Los Angeles, an alliance of labor, community, and faith groups came together to successfully restore vital public services such as maintenance and sanitation workers that keep the city clean and functional. In Washington state, teachers collaborated with parents and students to pass a statewide referendum that reduces class sizes with a priority on schools that have high poverty rates. In Chicago and Los Angeles, teachers are partnering with parents, students, and communities to fight for housing, safe schools, and equitable cities. These and other bold campaigns have helped restore public support for labor as unions become a transformational force for justice in our communities.
If you want to learn more about Bargaining for the Common Good, visit our website and follow us on Facebook or Twitter to stay updated on the action.